Far Cry 6 Mysterious Key is an item obtained while playing the Fetch Quest Yaran Story in Madrugada, and even though you may ignore it, Chorzio's Mysterious Key is an item that you should not overlook.
As such, if you wonder how to use the Mysterious Key in Far Cry 6 or what to do with the Key Chorizo finds for Dani, below we'll discuss this specific item and why it is so important for you.
But first, let's go quickly over the Fetch Quest Yaran Story.
Far Cry 6 Fetch Quest: How To Get The Mysterious Key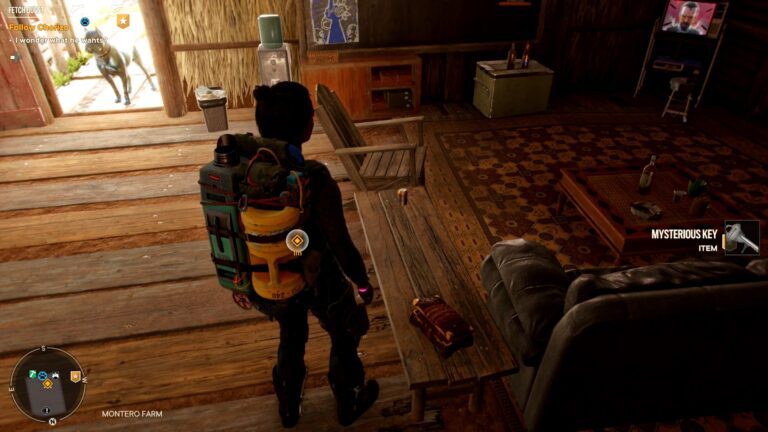 Far Cry 6 Fetch Quest is a Yaran Story or a side quest you can access in Madrugada.
This side-quest becomes available after you meet two requirements:
Unlock your camp at Montero Farm by completing the Main Operation named Meet The Monteros
Finish the Who's a Good Boy? Yaran Story and feed Chorizo
Upon feeding Chorizo some crocodile meat, you'll immediately unlock the Yaran Story named Fetch Quest.
Which, as you can guess, is just that. A fetch quest.
Start by pressing the pet button while near Chorizo, and he'll ask you to follow him.
From time to time, you'll see Chorizo digging up some items you may want to collect.
First, he'll stop near his house and dig 1 Supremo-Bond
Up, on the hill nearby, he'll stop again and reveal some Meat
Next, he'll reveal another treasure inside the large house on the same hill. This treasure is near the couch, and it contains the Mysterious Key in my screenshot above
Now, he'll go outside and enter another house where you'll be able to retrieve some Gun Powder
Finally, he'll go outside once more, and he'll show you the location of Chorizo's Stash, which contains Chorizo's Tag Charm
As you can notice, the items above are more or less important, with one exception: the Mysterious Key.
Now that you know where to find it let's see how you can use it.
Mysterious Key: How To Use
The Mysterious Key Chorizo helps you find, unlocks a specific chest, and requires a bit of backtracking.
Once you get it, open your map and fast-travel to Clara's Camp on Isla Santuario.
From here, travel north towards Casas Cove and locate Guau-Guau Island on my map below.
Swim to this island if needed (although you can also Air Drop since now you know how to get the Wingsuit) and locate the locked chest by the small campfire.
You can see it in the next screenshot.
This is the chest you must unlock using the FC6 Mysterious Key found by Chorizo.
Or simply put, the Gau-Gau Island locked chest is unlocked by finding Chorizo's Mysterious Key.
Want to know what's inside? It is the Fuck Anton Unique Rifle you see in my image below.
It may not be the best Rifle in Far Cry 6, but it looks fantastic and has a descriptive name. For all other Far Cry 6 Unique Rifles locations, refer to this guide.
You have to keep in mind that without this weapon, you won't be able to unlock the Armed to the Teeth achievement/trophy, which means that you may want to open the said chest the moment you get the key.