After you get the Far Cry 6 FND 2ND Armored Division Yaran Contraband Chest (explained here), it's time to collect another Unique Weapon which is found inside the FI Escudo Steel Plant FND Base.
As the name implies, the Far Cry 6 F.I. Escudo Steel Plant is a steel factory; but if you think that is used by Castillo's soldiers to make weapons, then you are wrong.
Simply look around to see how they use the steel.
So taking this facility down as soon as possible is the best thing to do. Not only that you are going to save some lives, but you'll also be able to unlock one of the 49 Unique Weapons in Ubisoft's video game.
Let's see where it is.
Far Cry 6 F.I. Escudo Steel Plant Chest Location
On the map below, you can see that FI Escudo Steel Plant FND Camp is located on the southwestern side of Aguas Lindas or the northwestern side of Madrugada.
This is where you'll find the Yaran Chest in question.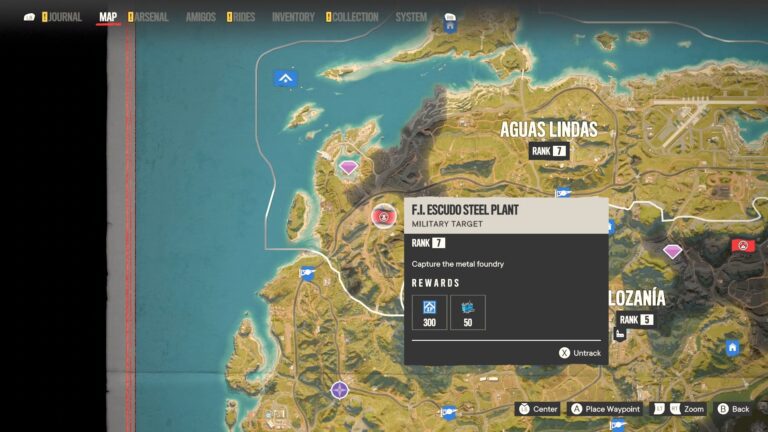 The Steel Plant is basically found northeast of Colinas Plains Checkpoint and south of the crocodile farm where you start the Crocodile Tears Treasure Hunt.
Obviously, the first thing you'll need to do here is to deal with Castillo's soldiers and stop them from torturing the Yarans.
Once you claim the base is time to look at the Yaran Contraband Chest, which is inside a locked Storage Room.
How To Get The FI Escudo Steel Plant Yaran Contraband Chest
So, to get this chest, the next thing you'll need is the Far Cry 6 FI Escudo Steel Plant Storage Locker Key.
You can find it in the small building across the street from the large factory.
While looking at the factory with the steel statues, turn around to spot a small building.
Above the entrance is a wooden sign, and on it, you can read Oficinas.
Check the desk inside the room with the TV, and you'll find the F.I. Escudo Steel Plant Storage Locker Key.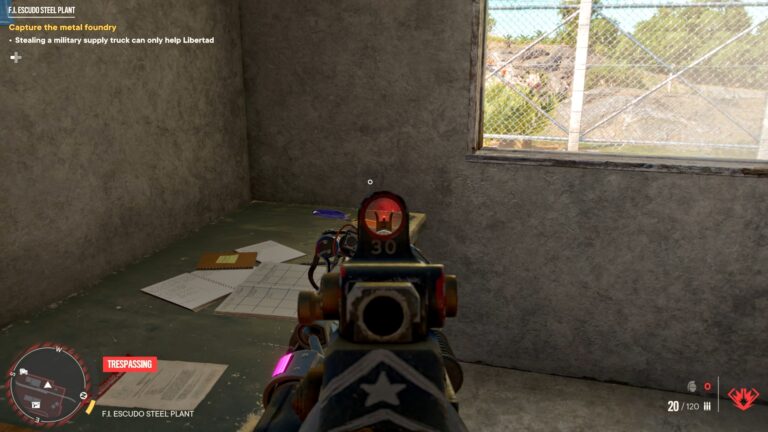 After you get this key, you may also want to read the Request for Reassignment note nearby. Disgusting right?
Now head outside, and behind the large factory building, you'll spot a shed.
Use the key to open the F.I. Escudo Steel Plant locked door, and claim the El Caballero Unique Grenade Launcher in my screenshot.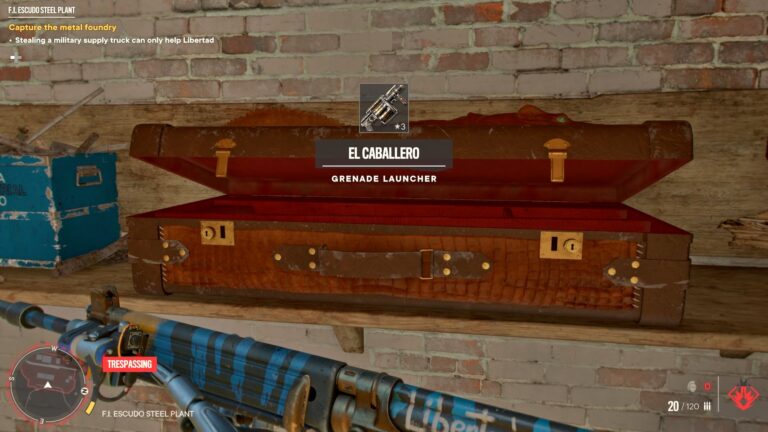 Once you get this weapon, head north to the Croc Farm to finish a funny Treasure Hunt named Crocodile Tears and unlock the Surf & Turf Unique Rifle, or get inside the Anti-Aircraft Site PSI for a Unique Pistol.