Far Cry 6 Quito Ventura Summit Criptograma Chest is one of the trickiest chests you'll need to unlock on Isla Santuario because it comes with a small puzzle you'll have to figure out.
Basically, this is the first Far Cry 6 Criptograma Chest you'll have to open in the video game developed by Ubisoft, but there is a total of 15 Criptograma Chests, as you can see on this list.
The Far Cry 6 Quito Criptograma Chest is relatively easy to find, but to open it, you'll need to locate two Criptograma Charts that act as keys.
As such, below, I'll tell you everything you need to know about the Isla Santuario Criptograma Chest, including how to unlock it and where to find the two keys.
Far Cry 6 Isla Santuario Criptograma Chest Location
The first thing you'll have to do for this Far Cry 6 Criptograma Chest is to find its location.
This is done by either bribing Castillo's soldiers or by saving some inhabitants.
Make sure they have an exclamation mark on your mini-map.
Obviously, you can also find this chest using the location marked on my map below.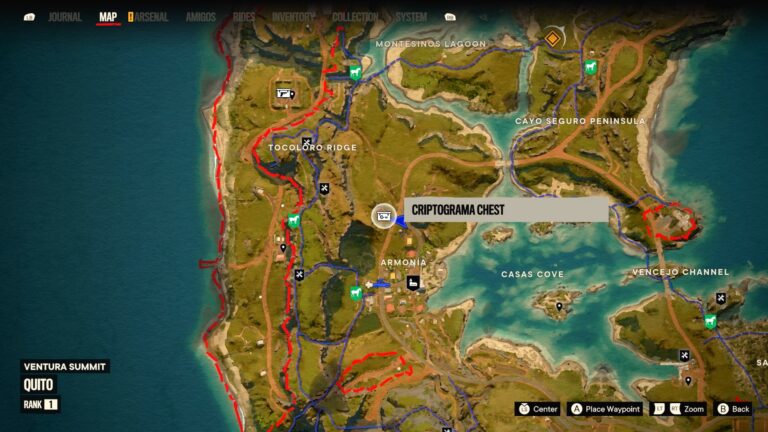 As you can see, the chest is found northwest of Armonia in Ventura Summit (Quito Province).
When you get to the location marked on my map, look by the road to spot a small encampment.
If you pay close attention, you'll see a green house and, near the front door, the chest pictured below.
Approach the chest and try to open it to trigger a small tutorial.
To idea here is pretty simple. To open the Quito Ventura Summit Criptograma Chest, you'll need two Criptograma Charts that are, in fact, keys.
Here is where to find them.
Where To Find The First Criptograma Chart For The Quito Chest
From your current location (in front of the chest), step back and climb on the roof of the house.
The first Chart is sitting by a chair, and it's quite easy to spot.
It's on top of a brick, as you can see.
Once you pick up the Royal Palm Criptograma Chart, it's time to find the second one.
Where To Find The Second Chart For The Ventura Summit Criptograma Chest
Head back to the ground and once again look at the chest.
Now, turn right and go around the house to spot a rather large white pipe (also pictured).
Head inside, crouch, and move forward. On the wall on the other side is the second Criptograma Chart for this chest.
This is the Yaran Flag Chart.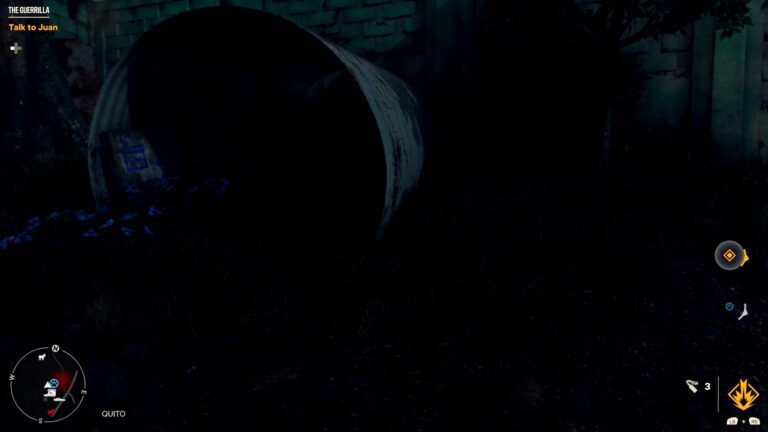 Quito Ventura Summit Criptograma Chest Content
Now that you have both charts head back to the chest and open it.
This specific crate contains the Hazmat Gloves MKII Wrist Gear you may want to equip.
Once you are done with this chest, head north to Madrugada to get the one at El Dorado Cabins.