If you wonder how to start Vaas Insanity DLC in Far Cry 6 or how to play it, then don't worry because, throughout the guide below, I'll tell you what you have to do.
Vaas Insanity DLC was released on November 16, 2021; however, playing as Vaas is not an easy job, mainly because you can't access this Far Cry 6 DLC via the game's menu.
Furthermore, even if you purchased the Season Pack, which includes the Vaas Insanity DLC, you may encounter an unusual problem when trying to access it.
So, let's see how we can get you inside Vaas's mind.
Far Cry 6 Vaas Insanity DLC – How To Download
The first thing you'll need to do is download the FC6 Vaas Insanity DLC; however, make sure you actually own it.
It is not a free DLC, so you have to buy it via your console's store or as part of the Season Pass.
Once you do that, double-check that the Vaas Insanity DLC is downloaded.
If not, follow these steps (on Xbox):
Press the central button to return to your console's dashboard (Home)
Now press the small side button showing three lines (Start) on the Far Cry 6 pictogram
Select Manage Game And Add-Ons
Pick Far Cry 6
Finally, check at the bottom of the list (pictured above) to see if Far Cry 6 DLC Episode 1 Insanity is installed
If not, select and install it, then restart the game
DLC Episode 1 Vaas Insanity – How To Start
Once you return to the game while playing as Dani, travel to one of your camps.
For the sake of this guide, we'll use the one in Madrugada, at Montero Farm.
While in Dani's Guerilla Camp, go to the central area where the Foreman is located.
Behind his desk is a rather large house.
Head inside through the door on the left side of the Foreman, and you'll see a small TV in the corner (pictured below).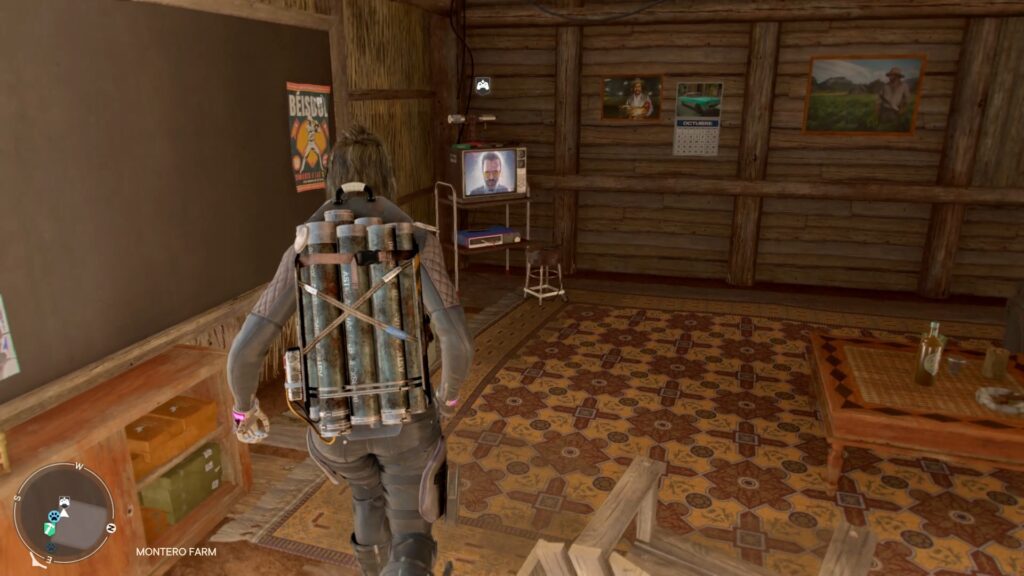 Interact with the TV and select Vaas Insanity DLC to be transferred to Vaas' mind.
DLC – How To Return To Yara
Luckily, returning to Yara while playing Far Cry 6 Vaas Insanity DLC is a lot easier.
If, for any reason, you wish to go back to Yara, open the game's menu, then select System.
From here, simply pick Return to Yara, and you're done.
Remember that to play Far Cry 6 Vaas Insanity DLC, you must own it or buy it as well as download it; otherwise, you'll receive an error or a screen with the following message: Looks like you already own this.
This message appears if Ubisoft's DLC is purchased but not installed.