Resident Evil 8 Village Castle Dimitrescu Dining Room Search Completed is achieved once you find the two secret items in this section while playing the video game developed by Capcom. Although one of the smallest areas of the Castle, the Resident Evil Village Dining Room, requires a keen eye in order to clear it or turn it blue on your map, so if you want to know where to find the hidden items in the RE8 Village Dining Room, this guide will help you get them.
In the Dining Room, you'll have to get a Gunpowder Box, which is not hard to find; however, there is also a Crystal Fragment here that is a total pain. As you remember from our Castle Dimitrescu Collectibles Guide, all rooms in the Castle are reached by following the story's objectives.
The Dining Room is no different, and you'll get here from the Kitchen after you find the bottle of Sanguis Virginis. Here is what you need to find in this room to get the Search Completed blue marker on your map.
Gunpowder (Crafting Material)
On the southeastern side of the Dining Room, you'll find the cabinet below. Open the right drawer to find some Gunpowder.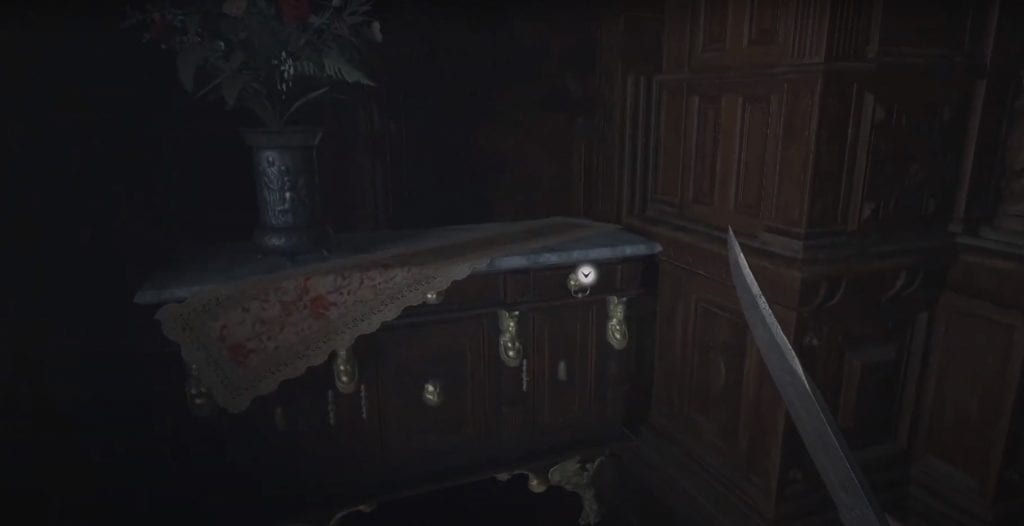 Now, after you get this first item, you'll have to be quite careful.
Crystal Fragment (Treasure)
While standing close to the table in the Dining Room, go around it and look all the way up. You should be able to spot a Crystal Fragment that is glowing. Pay close attention because it's attached to the ceiling. Wait for it to glow, then equip your handgun and shoot it down.
It will fall to the ground, so make sure you collect it. This is one of the trickiest treasures in Dimitrescu's Castle, and you can see its location in my image below.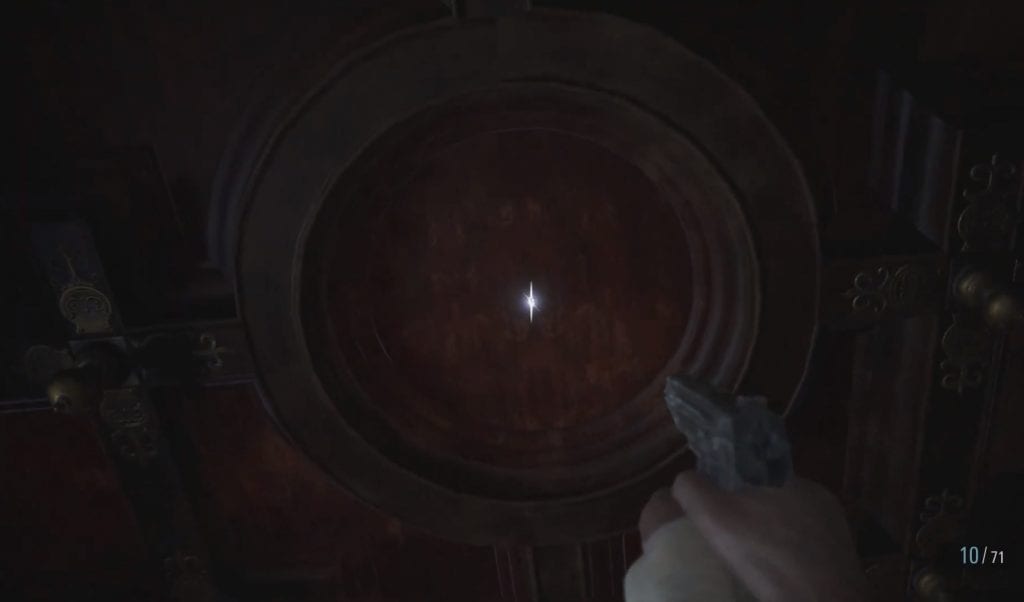 After you collect this Crystal Fragment, this area on your map turns blue (Search Completed), but you may also want to shoot both windows here since they are required for the Hooligan trophy (you can see all Castle Window locations here). And that's it. Now, you'll move to the Courtyard, which also includes several hidden items.