Resident Evil 8 Village Suspension Bridge Collectible is a Goat of Warding that is quite easy to miss when you play the video game developed by Capcom. Thus the guide below reveals its location since it is the first collectible you'll have to find after your second visit to the actual Village.
Therefore this Resident Evil Village Suspension Bridge Collectible guide is a continuation of the comprehensive guide for all Village Collectibles we already covered.
If you followed both the said guide and the one for all Castle Dimitrescu Collectibles, then you have everything you need to unlock the corresponding achievements and trophies.
So now let's deal with the next one.
Resident Evil Village Suspension Bridge Collectible Locations
As you remember, the Suspension Bridge in Resident Evil 8 requires a specific key (Four-Winged Key) obtained from The House With The Red Chimney.
After you get the said key, you'll have to return to Duke, who will tell you the story of the Village and its Four Lords.
He'll also reveal the locations of all Treasures you can find, and you'll be able to unlock cooking.
Now, it's time to deal with the second boss, named Beneviento.
To get to Beneviento's House, you need to open the northern gate using the Four-Winged Key.
The said gate is behind Duke.
Now, follow the path through the forest and inspect every inch; up until the point where you get to Potter's Field.
As a side note, there are no collectibles in this area, but there are 5 hidden items in Potter's Field you can get on your way back.
Now, head west, and you'll see a bridge you have to cross. This is the Suspension Bridge.
Goat of Warding #10
The moment you get to the bridge, you can see the Goat of Warding on the left side (pictured below).
It's easy to spot and also easy to miss if you rush through this area.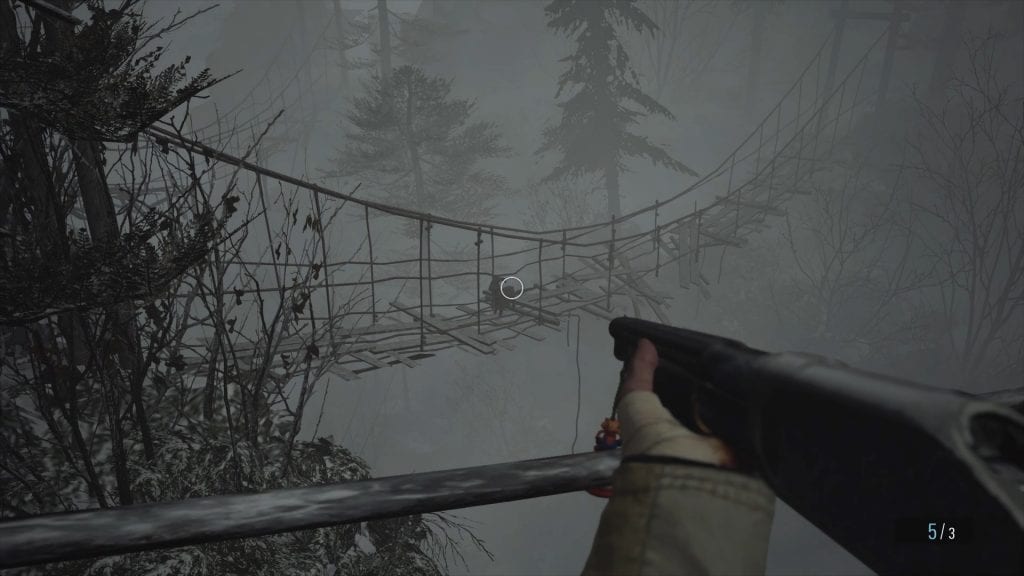 Shoot the goat to collect it, then cross the Suspension Bridge to reach the Garden.
It's worth mentioning that the Garden also includes a series of Resident Evil Village Collectibles, but you won't be able to get them on your first trip.
They will become available on your way back to the Village after you deal with Beneviento.
So keep moving towards the boss on your map because the next collectible is outside House Beneviento.