Unlike Financial District, there are only two Spider-Man 2 Chinatown Marko's Memory collectibles you must find if you wish to continue your investigation and learn more about Flint Marko or the Sandman. The crystals containing Marko's Memories count towards 100% completion in the Chinatown District.
As you may remember from the previous guide on where to find Marko's Memories in the Financial District, these collectibles become available when you play the second main mission named One Thing at a Time. By breaking the crystals, you'll unlock snippets of Marko's memories, revealing more information about him and how he became the Sandman. On top of this, these Spider-Man 2 collectibles also award City Tokens you'll need to upgrade the gadgets of your heroes.
Where To Find the Two Chinatown Marko's Memories in Spider-Man 2
On my map below, you can see the locations of the two Marko's crystals in the Chinatown District, east of the Financial District. Since it's pretty close to the first area you'll explore in the game, I recommend visiting Chinatown immediately after you get the Sandman's Memories in the Financial District.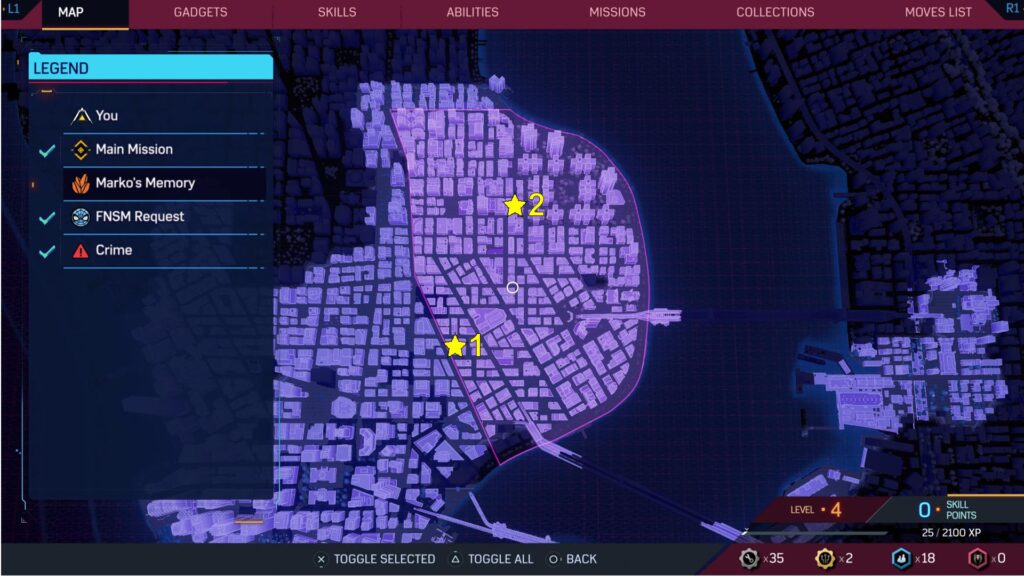 Now, let's see where to find these crystals in the game and what information they hold.
Marko's Memory #1 (Looking For Answers): In a Back Alley
The first Marko Memory Crystal is found in a back alley close to the southwestern border between Chinatown and the Financial District. You can see the location on the map above; however, stay alert when you get close to it because several Sandman mobs will ambush you.
Once you deal with them, approach and interact with the crystal, then press L2+R2 on your PlayStation 5 controller to break it. You should hear Flint Marko or the Sandman outlining that he managed to find out who was tracking him and his daughter. Marko started to investigate his hunters and ended up in a Harlem school.
Marko's Memory #2 (A Trap): On a Lower Roof
The second Memory Crystal collectible in Chinatown is found on a lower roof in the center of the District. Because of its location, when you face Marko's mobs, I recommend pushing them off the roof, thus instantly killing them.
Once the area is clear, interact with Marko's Crystal, then break it to hear Sandman revealing that he finally found those tracking him and Keemia Alvarado. But who are they? If you want to find out, you'll need to continue looking for more Crystals, and your next stop should be Greenwich.