Prowler Stashes are a type of collectible found in Marvel's Spider-Man 2. These stashes become available to unlock once you have completed the Amends primary story mission. During this mission, Uncle Aaron reveals the location of the first Prowler Stash in the Upper West Side.
Afterward, it will be up to you to embark on the exciting quest of discovering the locations of the remaining Prowler Stashes scattered around New York City. One of them is located in Downtown Brooklyn.
All Prowler Stashes contain three Rare Tech Parts in Spiderman 2. Not only that, but they also play a vital role in boosting your District Progress. And guess what? When you reach the first milestone, you'll be rewarded with even more Rare Tech Parts! These resource items are the key to upgrading your Suit Tech, which allows you to enhance Health, Damage, Focus, and Traversal categories.
Where To Find the Downtown Brooklyn Prowler Stash in Spider-Man 2
The Downtown Brooklyn Prowler Stash can be found in the northern part of the district, near the border with Williamsburg. You'll easily spot it as it sits atop a grey apartment building with a large broadcast tower. Also, look for the glowing pink coming off the roofs and the pink Prowler icon on your minimap once you get close enough to locate it easily.
How To Get Airwaves Prowler Stash in Downtown Brooklyn
You'll notice a small building on the lower roof with a steam pipe sticking out on the east side. If you hold down

, you can scan for the Prowler Code. After you scan it and successfully complete the adaptive trigger minigame, get near the edge of the upper roof and pull up the pipe by simultaneously holding the

and

buttons.
Doing so will open up a panel on the opposite side of the small building, revealing a secret gate behind it. Next, you'll need to scan for the Prowler Code and complete another adaptive trigger minigame. Just hold down

and look just above and to the right of that gate.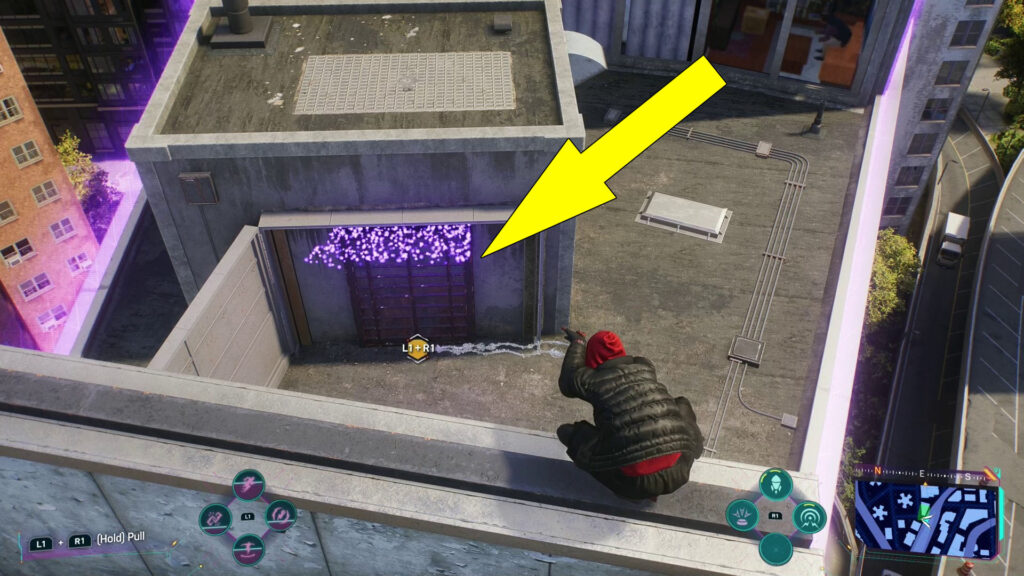 Zip up to the top of the billboard and hold down the

and

buttons to pull the gate up from there, as shown in the image above. At this point, you might expect another puzzle, but surprise! The Downtown Brooklyn Prowler Stash is right behind this gate. Open it up to earn 300 XP and three precious Rare Tech Parts.
If you need more Rare Tech Parts, you're in luck! Williamsburg district and the Downtown Queens district, which are very close by, have their own Prowler Stash. Head over and stock up on all the Rare Tech Parts you need.