In Spider-Man 2, Photo Ops are short activities that offer an excellent chance to capture the vibrant essence of New York City. As you embark on the early story mission called Show Me New York, you'll have the pleasure of reconnecting with Robbie Robertson from the New York Bulletin.
During the phone call with Robbie, you'll have to snap a photo of two men playing frisbee across two rooftops in the Little Odessa district. Then, he'll kindly request that you capture any other fascinating sights you come across in Spiderman 2.
Where To Find the Downtown Queens Photo Op in Spider-Man 2
Downtown Queens in Spider-Man 2 contains only one Photo Op activity, located on the district's western edge. The map below will guide you to the exact location you are looking for. Grab your camera and get ready to snap a picture in the video game developed by Insomniac Games.
Photo Op #1 (We'll Treat You Like Family): Jirji's Hummus Shop
Just before you reach the end of the bridge that takes you south to Little Odessa, you'll spot a charming restaurant called Jirji's Hummus. It's hard to miss with its eye-catching pink signage! Don't forget to capture a picture of it to complete the activity!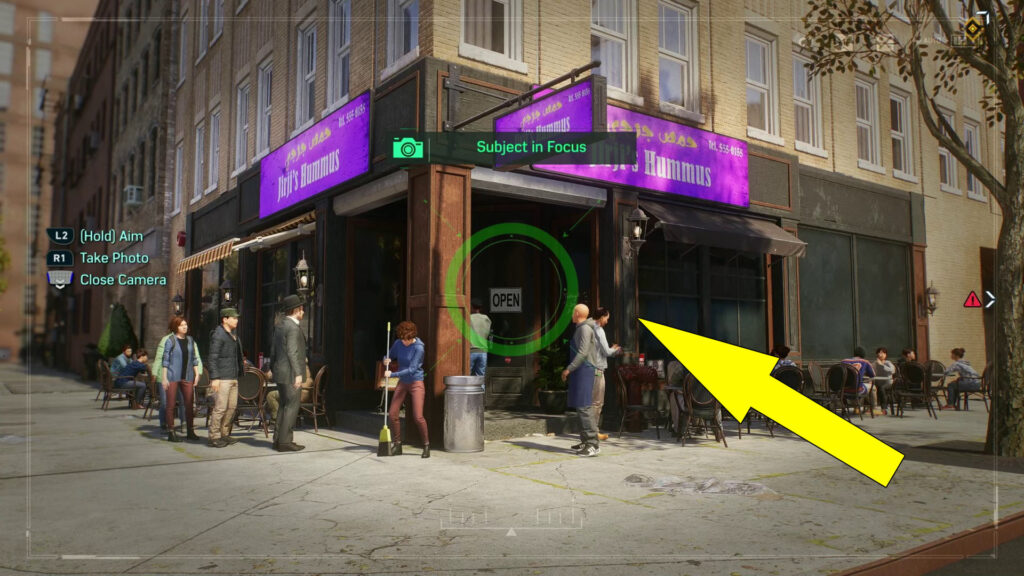 When you find yourself in the neighborhood, be sure to take advantage and capture the Photo Ops waiting for you in the Williamsburg district, the Little Odessa district, or the Downtown Brooklyn district.