In Marvel's Spider-Man 2, you will come across Photo Ops, which are collectibles that are spread out across the game. They are pretty easy to interact with – just swing into the specified area and aim your camera at the subject until it's in the focus.
The game has a total of 23 Photo Ops located throughout New York City, two of which are located in the Greenwich district. If you manage to collect all 23 photos, you'll be rewarded with the New York, New York Trophy.
Where To Find the Two Greenwich Photo Ops in Spider-Man 2
In the Greenwich district of Spider-Man 2, you'll find not one but two fantastic Photo Op activities waiting to be discovered. They're scattered across the area, just waiting for you to capture those picture-perfect moments. Please refer to the map provided below to find the precise location of each Photo Op.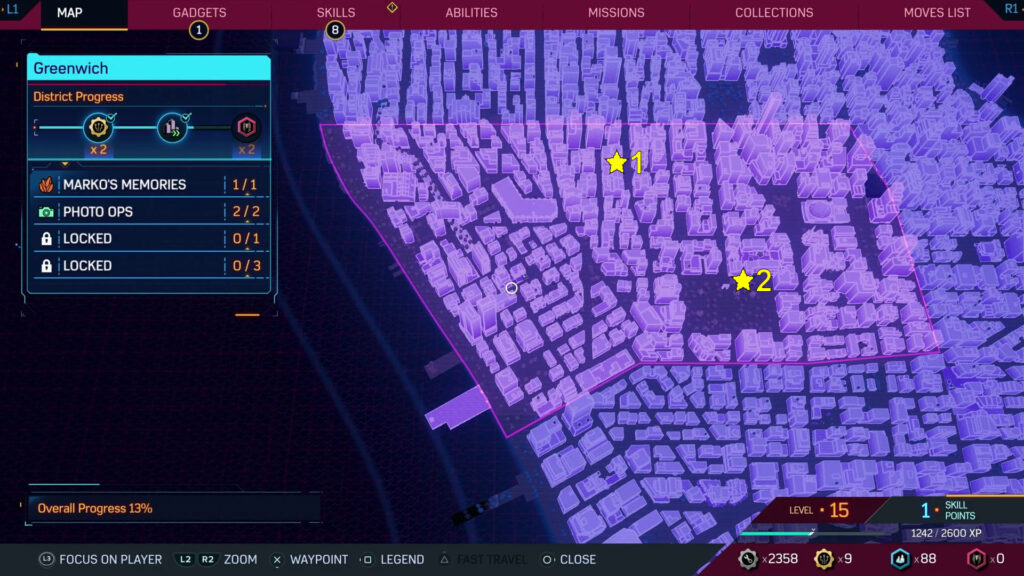 Photo Op #1 (Greenwich Mural): On A Brick Building
To find this amazing Photo Op, look for a brick building nestled near the northern edge of the Greenwich district. Once you arrive, cast your gaze upon the upper wall, where a magnificent mural awaits to be captured. This splendid artwork showcases the word "Love" painted on a brick, encircled by an array of vibrant flowers and the radiant colors of the Pride flag. Snap a picture of this piece of artwork!
Photo Op #2 (Telling Time): Man Standing on a Box
The second Photo Op is just a stone's throw away from the park area, nestled in the southern part of Greenwich. As you approach the park's border in the north, you'll spot a man standing on a box, helping students get to class on time. Don't miss the chance to capture a memorable photo of him!