Once you've completed the introductory missions in Marvel's Spider-Man 2, the game will present you with a fun opportunity to earn some extra cash: taking photos! This opens up the exciting side activity known as Photo Ops, which can be discovered all over New York City in various locations.
To successfully capture a shot, simply bring up the Camera app (swipe up on your touchpad) and make sure your subjects are in the frame. Once you see a green circle, go ahead and snap away to capture the perfect photo.
Where To Find the Three Downtown Brooklyn Photo Ops in Spider-Man 2
In the vibrant district of Downtown Brooklyn in Spiderman 2, you'll discover not one, not two, but three fantastic Photo Op locations just waiting for you to explore and capture the perfect picture. Please refer to the custom map provided below to easily locate each of them.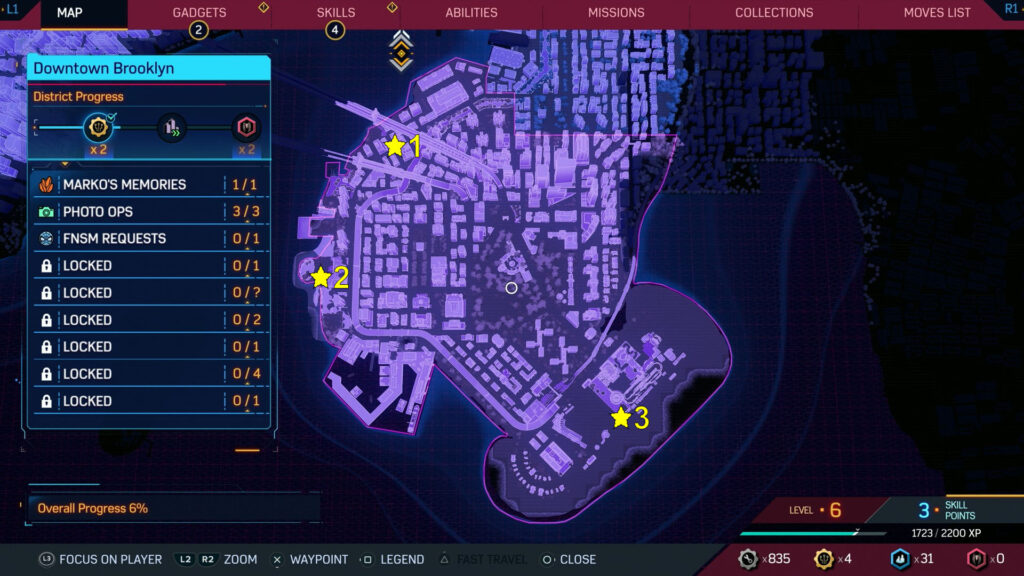 Photo Op #1 (Now That's a Bridge): The Manhattan Bridge
Head to the northwestern edge of Downtown Brooklyn towards the buildings nestled between the two bridges. You'll stumble upon a gathering of people capturing the beauty of the Northern Bridge, also known as the Manhattan Bridge. Why not join them and snap a photo of this magnificent structure yourself?
Photo Op #2 (Beach Party): Sandman's Hand
This Photo Op is located on the so-called beach over on the western coast of Downtown Brooklyn. Now, don't get too excited about the beach part because it's more like a bunch of ruined buildings and a giant hand leftover from the Sandman attack.
But hey, at least some civilians are trying to have a good time amidst the chaos. So grab your camera and snap a photo of these people enjoying a little recreation.
Photo Op #3 (Champion of Champions): Hot Dog Eating Champion
Get ready to meet the one and only guy who devoured a whopping 77 hot dogs in a mere 10 minutes! Head on over to the theme park on the southeastern edge of Downtown Brooklyn, and you'll spot the ultimate champion casually hanging out on a street corner, ready to greet his adoring fans. Don't miss this golden opportunity to snap a picture of him in all his glory!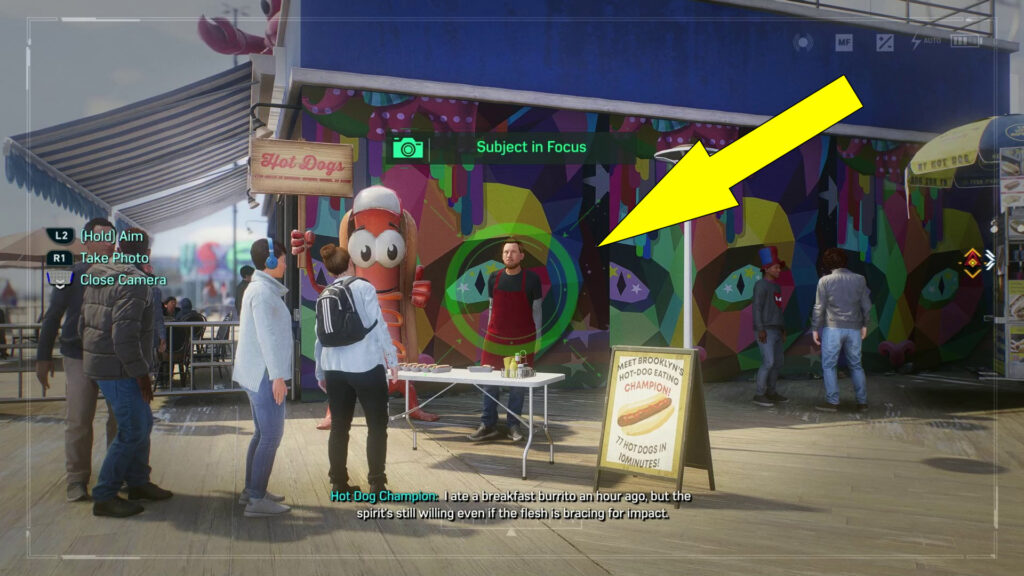 While you are in the neighborhood, make sure to grab the Photo Ops in the Williamsburg district and the Little Odessa district.