Elden Ring Boc The Demi-Human is an NPC you can encounter early in the game, close to the Limgrave Telescope, although at first, you'll have to deal with a talking tree or bush.
However, Boc is not a tree but a Demi-Human that looks more like a rat, and he needs your help in recovering a Sewing Needle.
After you find Boc's Sewing Needle in Elden Ring, the NPC moves to another location, and you'll have to find him again.
So Elden Ring Boc's questline is divided into several stages or phases, and it's pretty long.
Regardless, if you need help finishing Boc's quest in the video game developed by FromSoftware, we'll tell you everything you need to know about it throughout the guide below.
Elden Ring Boc's Sewing Needle Location – Where To Find
Boc's questline starts when you find the NPC east of the Limgrave Telescope at the location marked on my map below.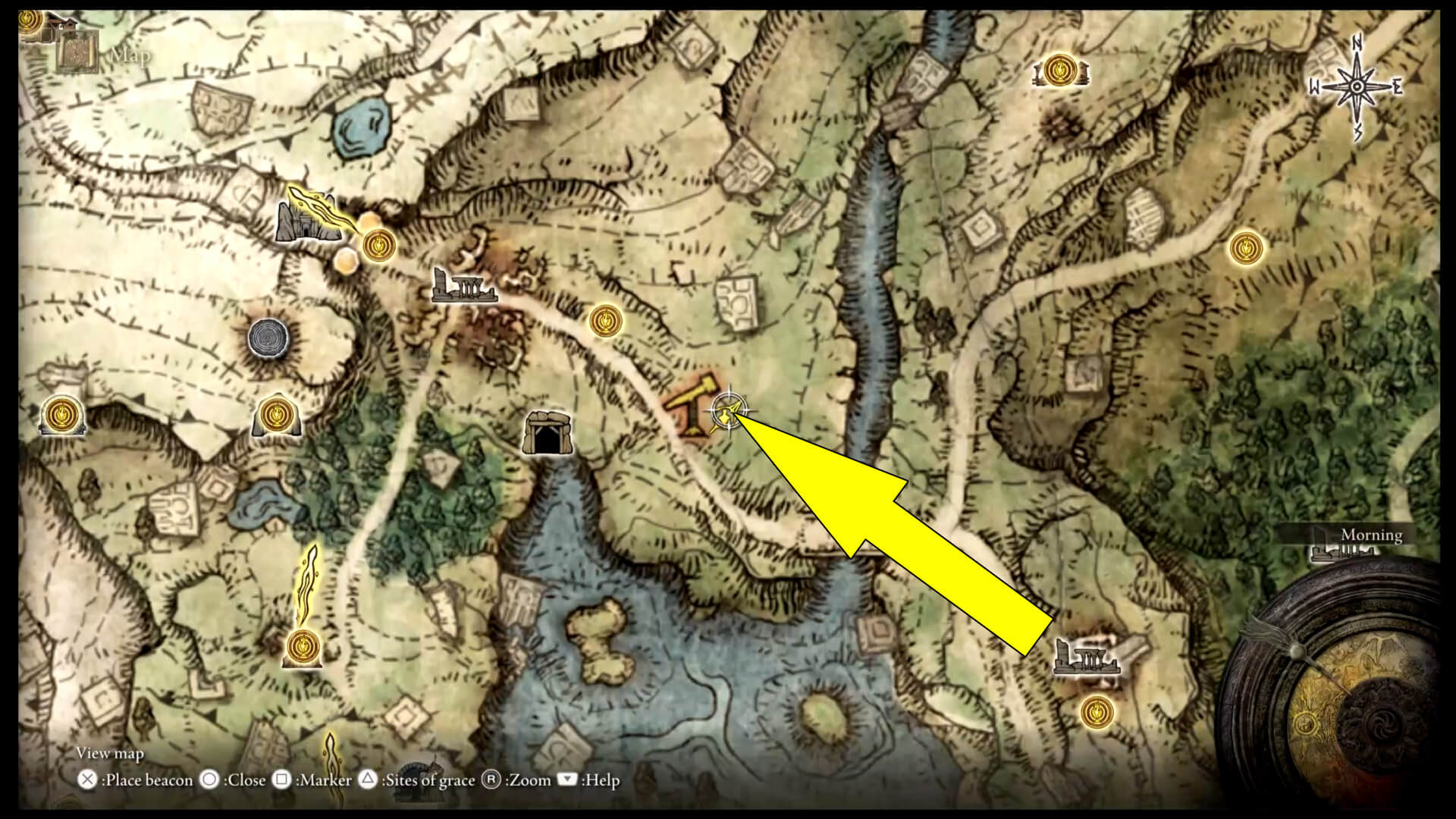 As you can see, Boc is very close to the Gatefront Ruins we fully covered here; however, you won't be able to spot it right away.
Therefore when you reach the location marked on my map above, you'll hear a voice coming from a bush or a tree.
The Elden Ring talking tree is, in fact, Boc, so you'll need to find him. In the image below, you can see the exact tree or Boc.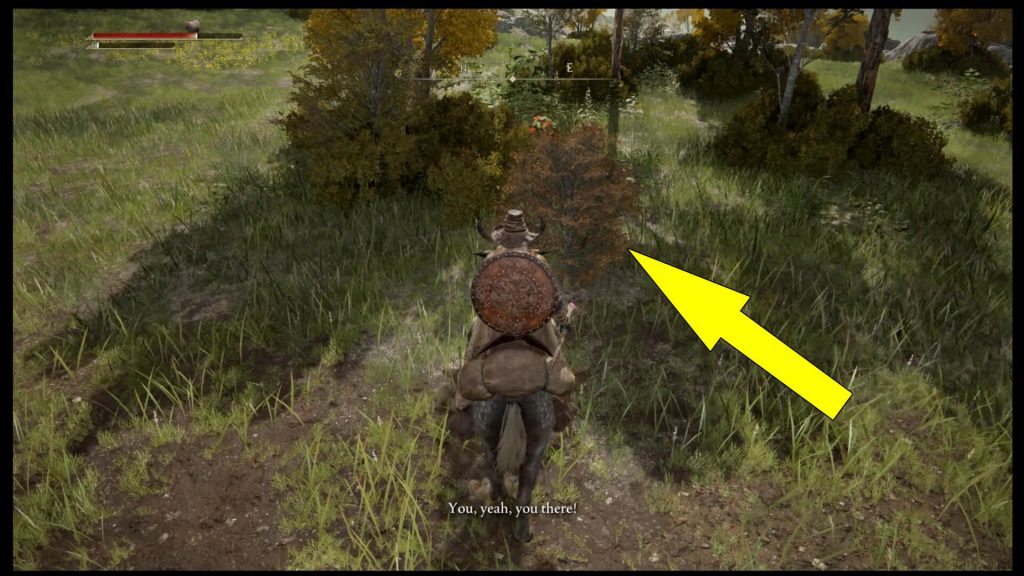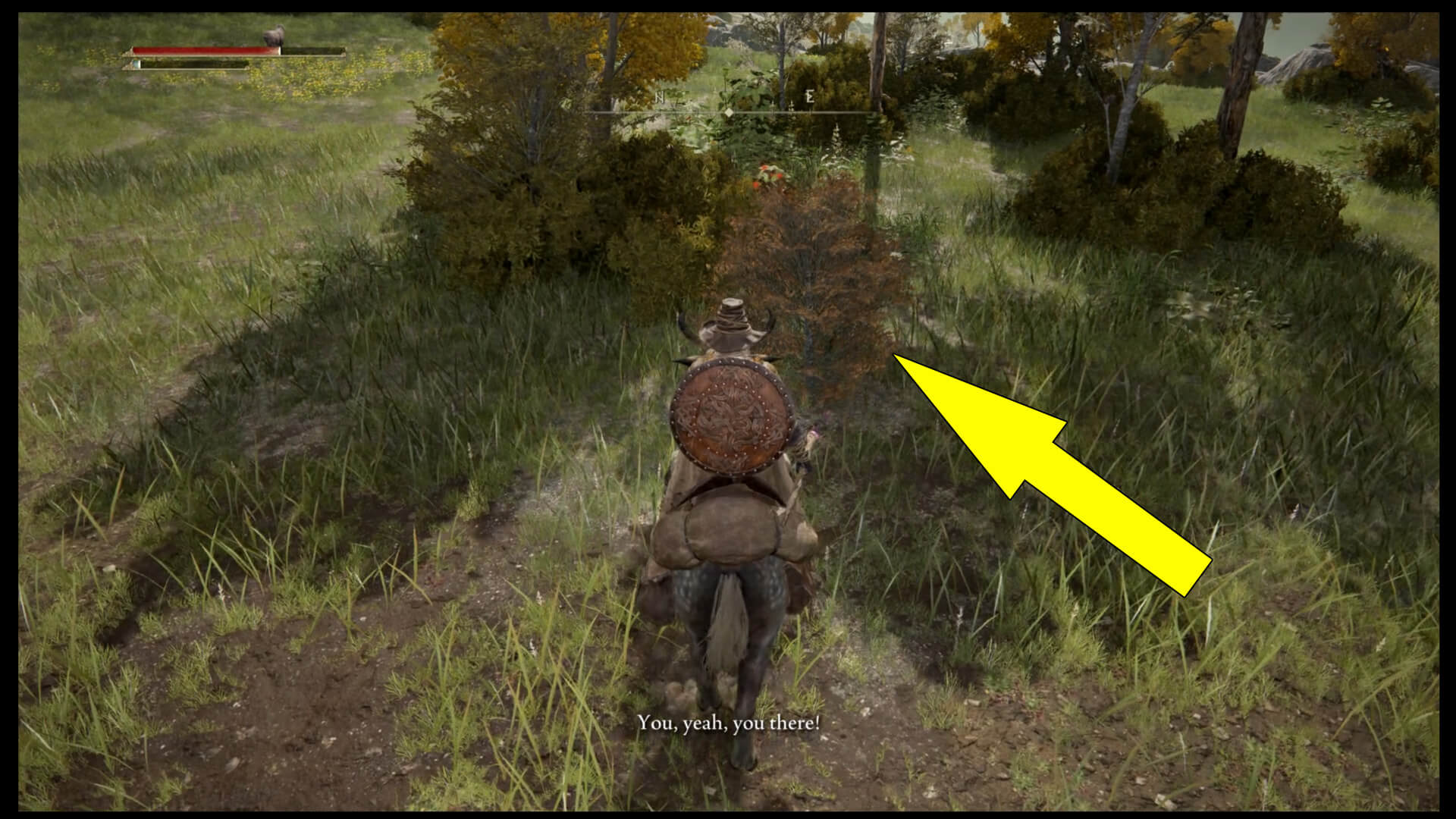 Now, you'll need to remove Boc's spell, and this is done simply by hitting him once.
After he recovers, you'll have to talk to him twice, and he'll give you 10 Mushrooms. Furthermore, he'll tell you about his lost Swing Needle that you have to recover.
Once he does that, he disappears to the second location if you move away.
Now, if you wonder where to find Boc the second time, the answer is Coastal Cave because he's looking for his needle.
You'll find him at the Coastal Cave Site of Grace, but he's injured. The next step in his quest is to clear the Coastal Cave and defeat the two bosses because one of them carries the Sewing Needle, as we explained in our walkthrough here.
It is worth pointing out that even if you already have the Sewing Needle, he still moves to the Coastal Cave Site of Grace (or the second location), and you won't be able to give him the key item when you first meet him.
Upon retrieving Boc's Sewing Needle, he'll once more relocate to the area near Lake-Facing Cliffs Site of Grace, further to the north, behind Stormveil Castle.
Nearby you'll also find Hyetta looking for a Shabiri Grape. Make sure you complete her request, thus starting Hyetta's questline.
Boc appears only in the morning and evening, it seems.
After you exhaust all the dialogues, you can use him to perform alterations to your gear which you can already do at any Site of Grace without using his Sewing Needle. Regardless you still have to talk to him, and he'll relocate again.
Boc's Location – Where To Find Boc In Liurnia
You can now find him by the East Raya Lucaria Gate Site of Grace.
He will adjust your clothes for free as before, near the Lake-Facing Cliffs Site of Grace.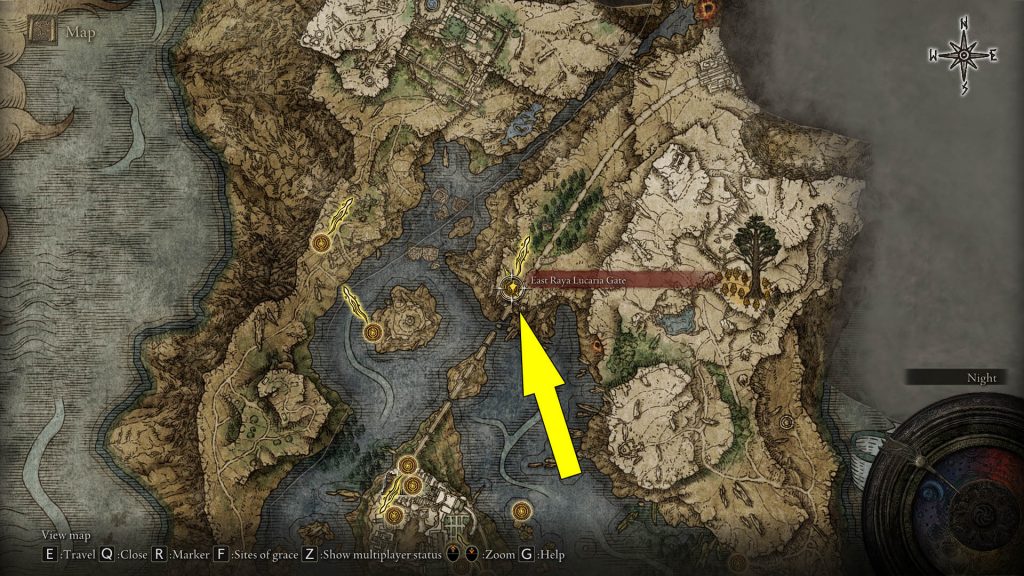 You have to rest at this Site of Grace for him to appear, and while waiting, you can talk to Melina.
When you approach Boc's fourth location, he won't ask for anything, but you should speak to him if you want to progress his questline.
Boc's Location – Where To Find Boc In Altus Plateau
In Leyndell Royal Capital, he can be found kneeling near the East Capital Rampart Site of Grace.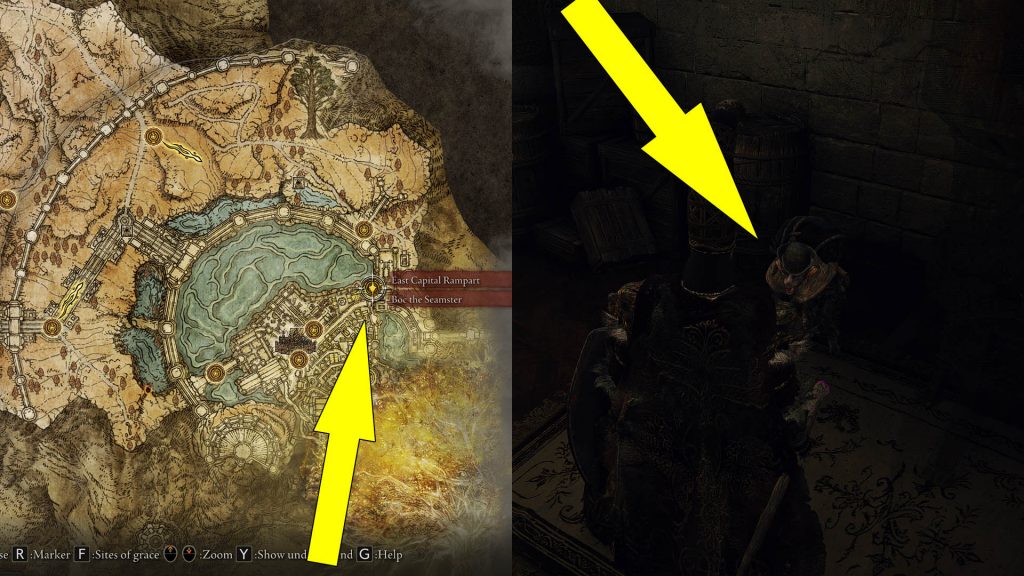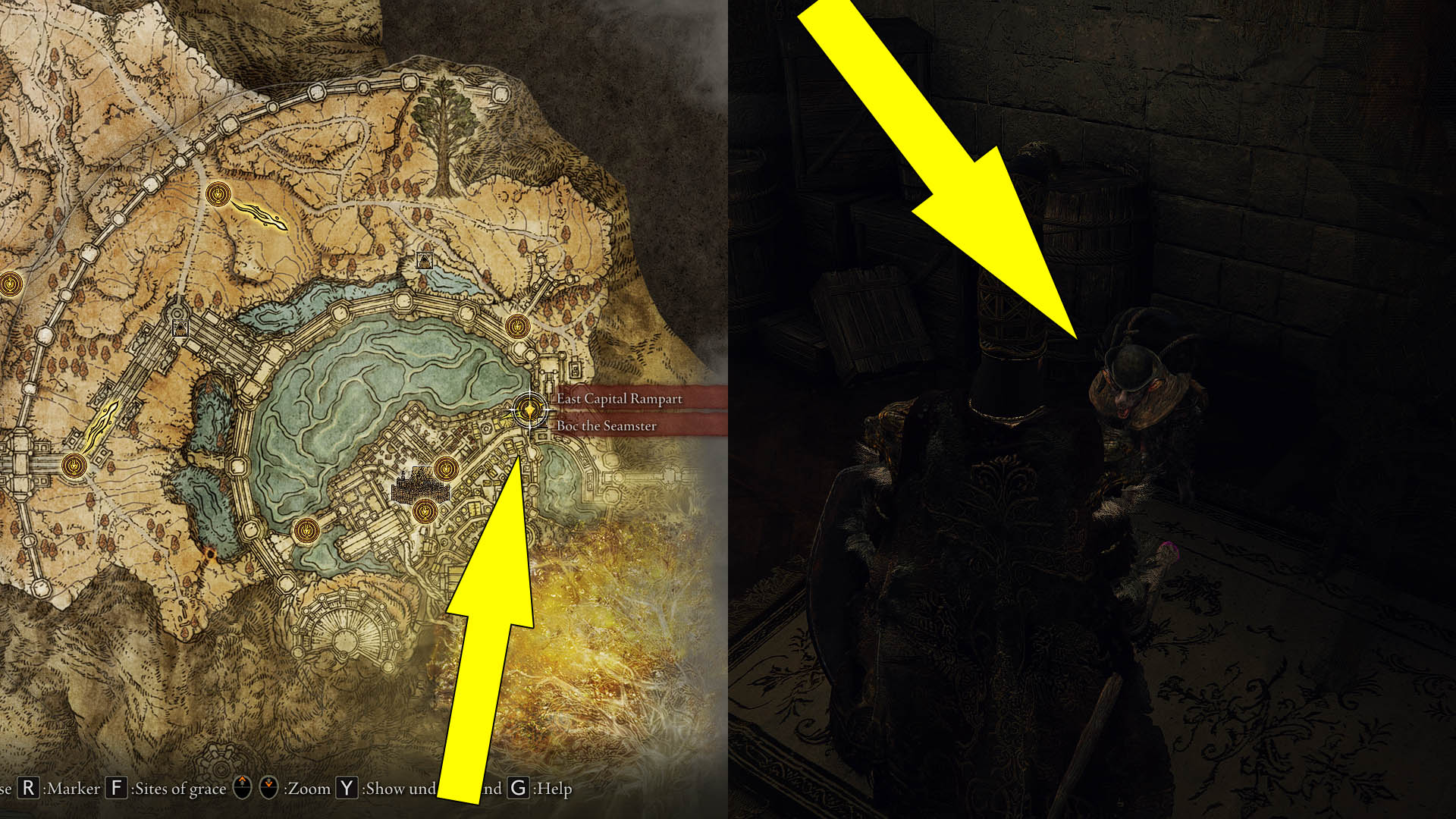 For him to appear, you must rest at this Site of Grace.
To continue Boc's Quest, you will need to retrieve the Golden Sewing Needle from the Church of Vows on the east side of Liurnia of the Lakes.
Once you have the Golden Sewing Needle, buy at least one piece of demigod boss armor from Finger Reader Enia at the Roundtable Hold (buy the Radahn's Lion Armor).
This enables you to give him the needle, which allows you to alter demigod armor pieces.
After he receives the Gold Sewing Needle, his quest will continue, and he will make a remark about his unappealing appearance and want your opinion on it. He will also express his wish to be rebirthed by Rennala.
You have two options on how to proceed.
Option number one is to offer him a Larval Tear, and he will relocate close to Rennala, to Raya Lucaria Grand Library, after resting.
He will be reborn as a human and not reply when spoken to. He will die if you rest again, ending the questline.
Option number two is to perform the "You're Beautiful" Prattling Pate (found in Hermit Village at Mt.Gelmir) in front of him and then discuss it.
Using the Prattling Pate in front of him eliminates the possibility of giving him a Larval Tear.
This will take him straight outside the Raya Lucaria Grand Library, bringing the questline to an end.
That's everything you need to know about Elden Ring Boc The Demi-Human Quest. If you have any questions, leave them in the comments section below.