Elden Ring Caria Manor Lake White Footprints are left behind by an Invisible Teardrop Scarab running through the pond southeast of Caria Manor in the northwestern Liurnia region.
Similar to the Fort Gael Ghost Scarab we already covered, by stopping and killing the Caria Manor Ghost Scarab, you'll be able to unlock an easy-to-miss Ash of War named Hoarfrost Stomp.
Since the Elden Ring Ash of War: Hoarfrost Stomp is quite useful for the journey ahead, below we'll go over the Caria Manor Lake Ghost Footprints and how to stop or kill the Invisible Scarab.
Elden Ring Caria Manor Lake Ghost Footprints Location – Where To Find
As you can see on the map below, the Caria Manor lake or river you need to find is southeast of the large mansion, where you'll need to deal with Royal Knight Loretta.
You don't have to get inside the manor to reach the lake in question, so start by activating the Main Caria Manor Gate Site of Grace, then ride southeast.
Eventually, you'll reach a small hill, and while standing on top of it, you'll see a small pond.
Caria Manor Lake Invisible Ghost – How To Stop The Moving Footprints
After approaching the lake marked on my map, the first thing you'll want to do is pay close attention to the path the Invisible Ghost Scarab is following.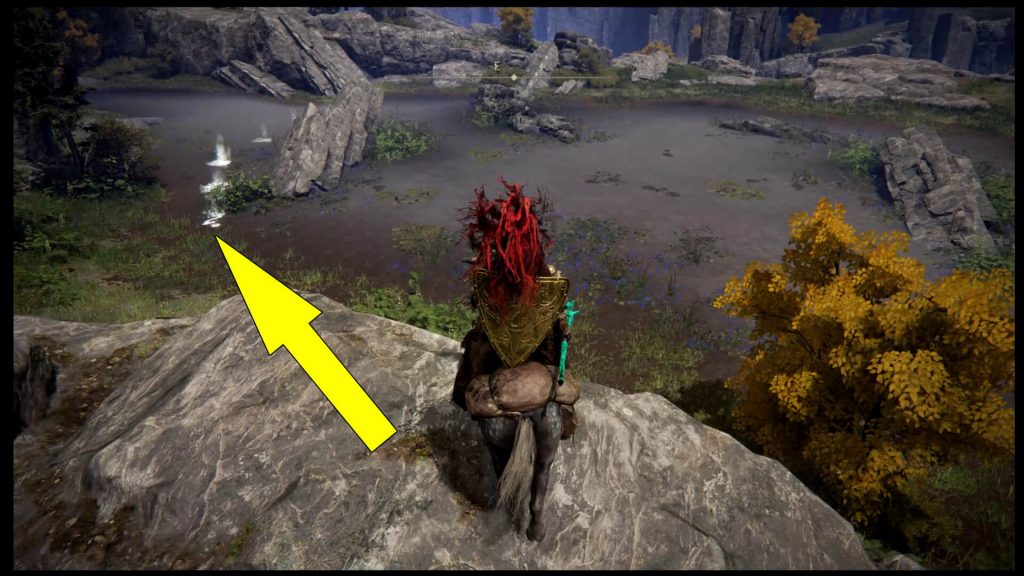 As always, the ghost has a fixed course, and if you pay close attention, the one in the lake looks like the infinity symbol (∞).
Since your job is to kill the running ghost in the lake, you'll want to find the location where the path intersects.
This will save you time and energy, and you won't have to chase the footprints.
The said spot is marked below, and it's in the middle of the pond, as you can see.
Head to the same place as the one marked above, dismount, and wait for the ghost to arrive.
You'll get two chances to hit the ghost during a single lap at the location you see above.
Make sure you dismount and when the running ghost is near you, hit it with a sword attack.
By successfully hitting the giant Elden Ring Caria Manor Lake Invisible Scarab pictured above, you'll unlock the Ash of War: Hoarfrost Stomp.