Church of Elleh is an Elden Ring landmark and a key location you'll encounter when you enter the Limgrave area or the first region in the video game developed by FromSoftware.
A quiet place where your Tarnished can recover, Elden Ring Church of Elleh is relatively poor in loot. However, it can play an essential role in defeating the Tree Sentinel Boss early in the game.
Additionally, here you'll meet Renna and Merchant Kalé, who sells all sorts of items.
So, if you wonder what you should do when you get to the Church of Elleh location, below, we'll discuss all items of interest and actions you should perform.
Elden Ring Church Of Elleh Location – Where To Find
As you can notice on my map below, Church of Elleh is north of The First Step Site of Grace and landmark.
Or your starting location, if you want.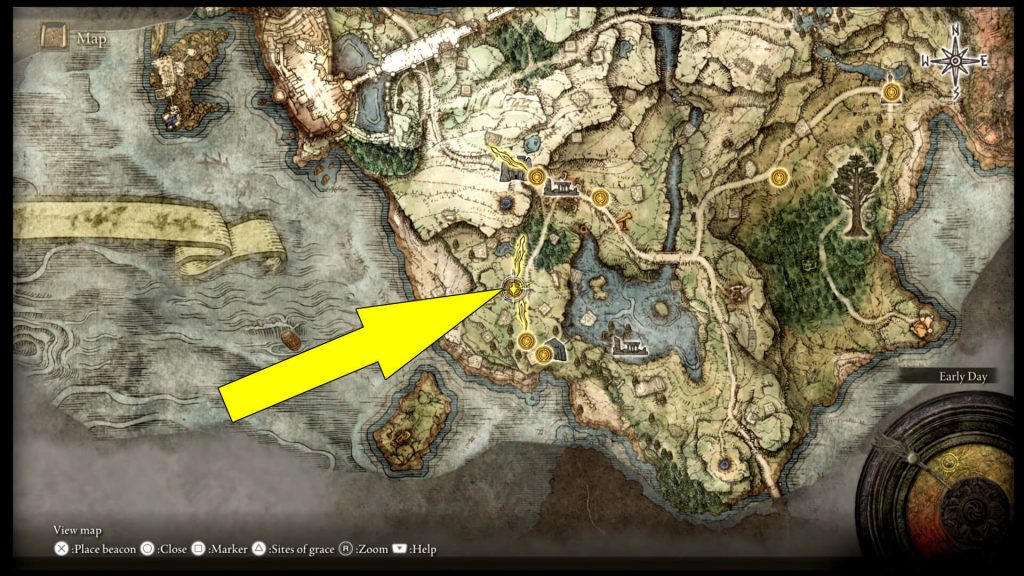 To get to this landmark, all you need to do is travel north from The First Step Site of Grace, going around the Tree Sentinel Boss.
There is no need to engage the horseman since he's pretty powerful.
Now, as you approach the landmark, you'll want to focus on several items (besides the common crafting materials), as well as actions you can perform.
Church Of Elleh Items Locations Guide – Where To Find
Upon avoiding the Boss, head towards the ruins ahead. There are no mobs in this area, so as long as you avoid the Tree Sentinel, you won't encounter any difficulties in getting there.
As you approach the entrance, you'll see some glowing items near the wooden pole by the gate.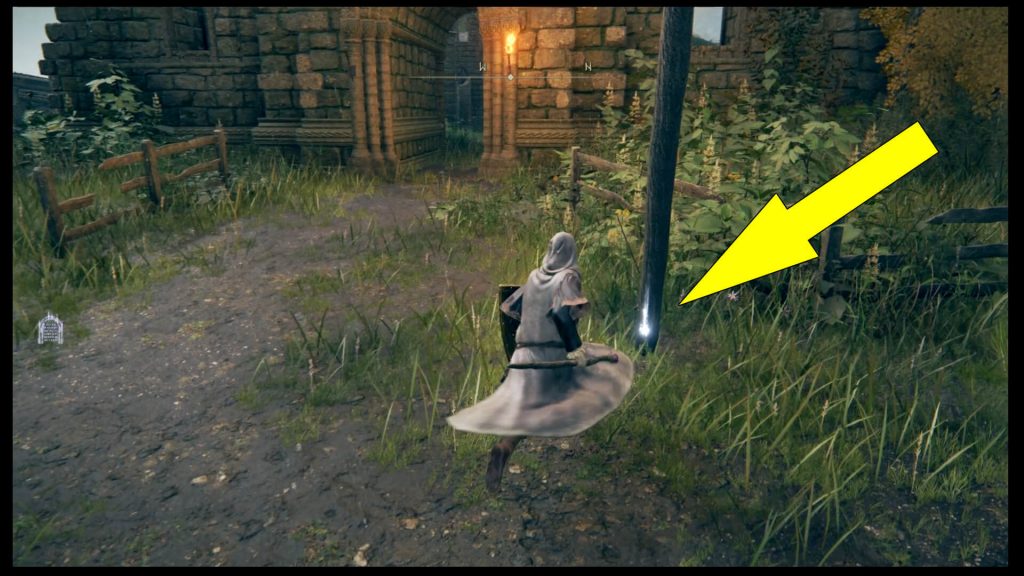 These are Golden Runes that you may want to pick up and then use from your inventory.
The Elden Ring Golden Runes you just found provide a small number of Runes or XP you can use at a Site of Grace to level up your character.
Once you pick these up, head inside the actual ruins.
On the left side, you'll see a Smithing Table, and on the right side Merchant Kalé.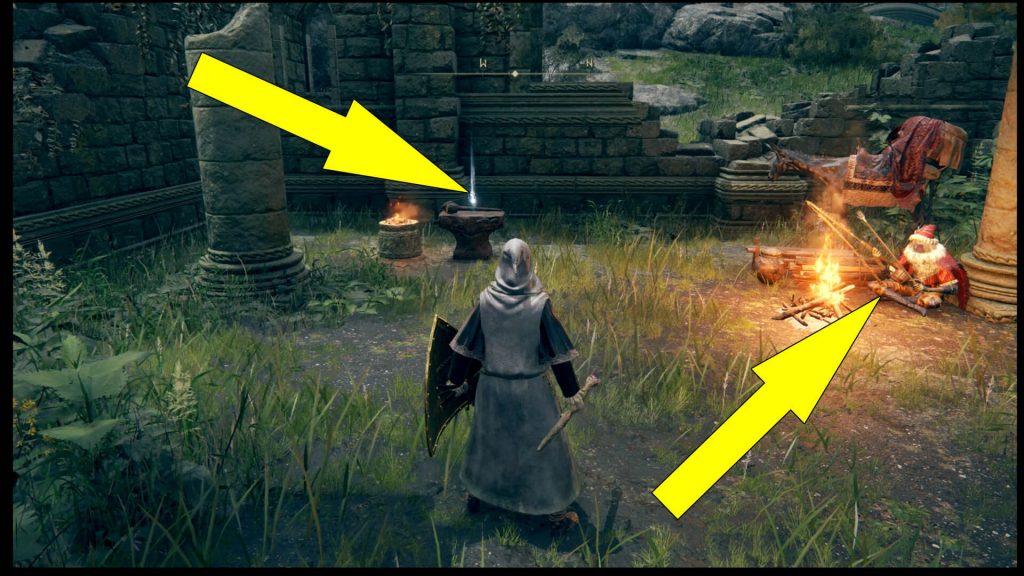 First, you'll want to pick up the Smithing Stone on top of the Smithing Table.
The Smithing Stone is used to strengthen your gear at a Smithing Table or, simply put, upgrade your weapons and armor.
After you get the Smithing Stone, turn right and talk to Merchant Kalé, who is interested in selling his items. Obviously, he is also interested in buying the things you no longer need.
One item you should consider purchasing from this specific merchant is the Torch, as it helps you navigate all dark places.
Other than that, you can ignore him during your first visit, but you'll want to return to him when you wish to get rid of the items you don't like or need.
Now that you are done with all items here, it's time to activate the Site of Grace, and this is the most important step because when you do this, you'll meet Rena.
Keep in mind, though, that she'll spawn after you unlock the Leveling-Up option explained here.
By talking to this NPC, you'll automatically get the Spirit Calling Bell which is a key item that allows you to Summon Spirits using Ashes.
If you miss Rena and the Spirit Calling Bell, the game becomes notably harder.
In this case, you'll get the Lone Wolf Ashes, and if you wonder how to use them properly, you can follow this in-depth guide.
You can also see Rena in the following screenshot.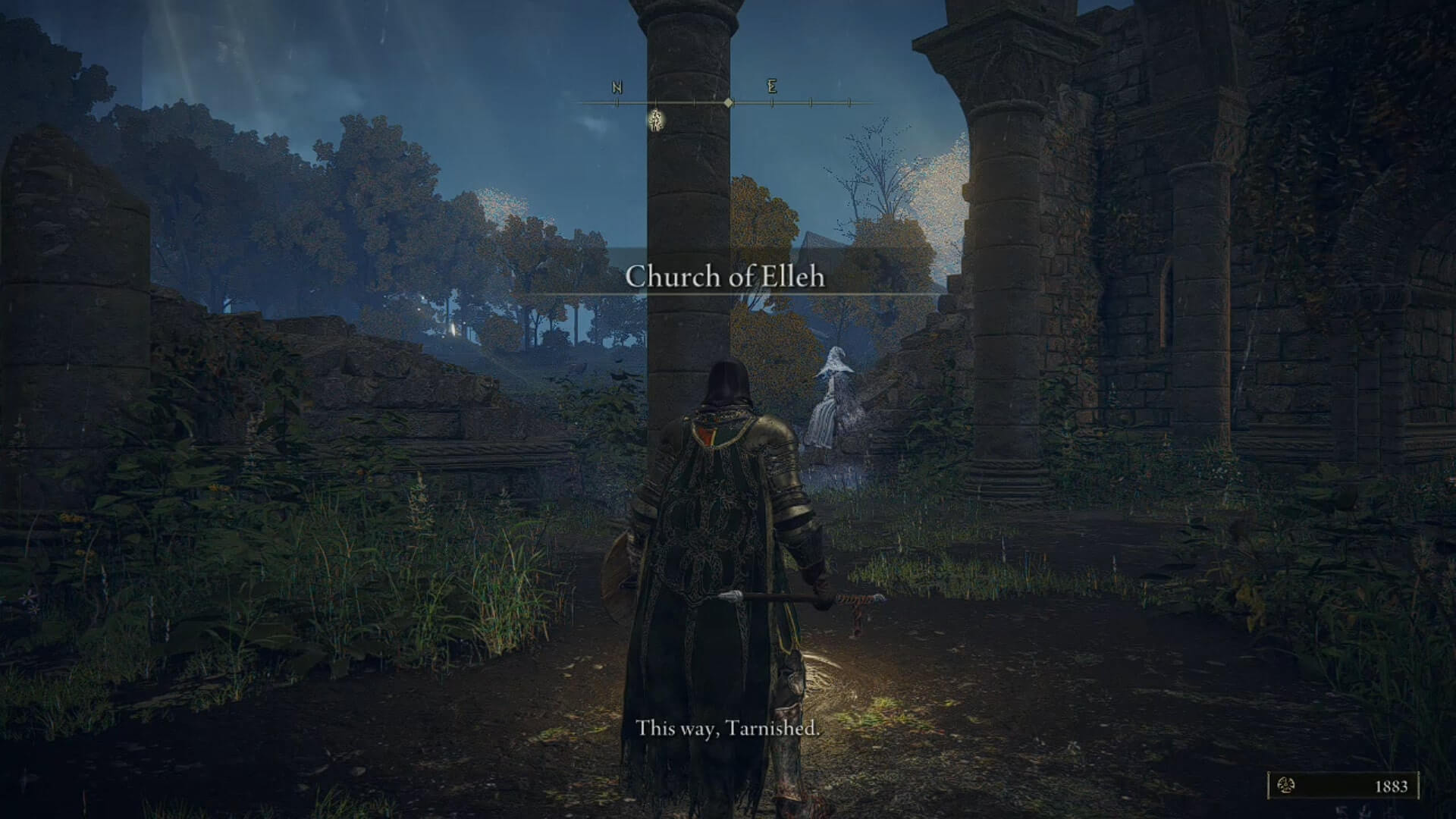 Talk to her, then feel free to start exploring the areas around this landmark as you wish since there are no other items of interest you can find close to the Elden Ring Church Of Elleh ruins.