Elden Ring's Irina's Letter quest is one of the many quests from various NPCs you will encounter during your adventures in the latest video game developed by FromSoftware.
Irina is one of them, and she'll ask you to deliver a letter to her father, Edgar. He's located at Castle Morne, so you'll have to fight your way through a lot of enemies to get there.
After delivering the letter to her father, you need to make your way back to Irina. You will, however, discover that she was tragically killed.
So if you wonder what happened, we'll cover everything you need to know about Irina and Edgar's fates in this Elden Ring Irina's Letter quest guide.
Elden Ring Irina's Location – Where To Find
Irina can be located near the Bridge of Sacrifice Site of Grace on the north side of the Weeping Peninsula.
If you need help uncovering the map, check out this Limgrave Map Fragments locations guide.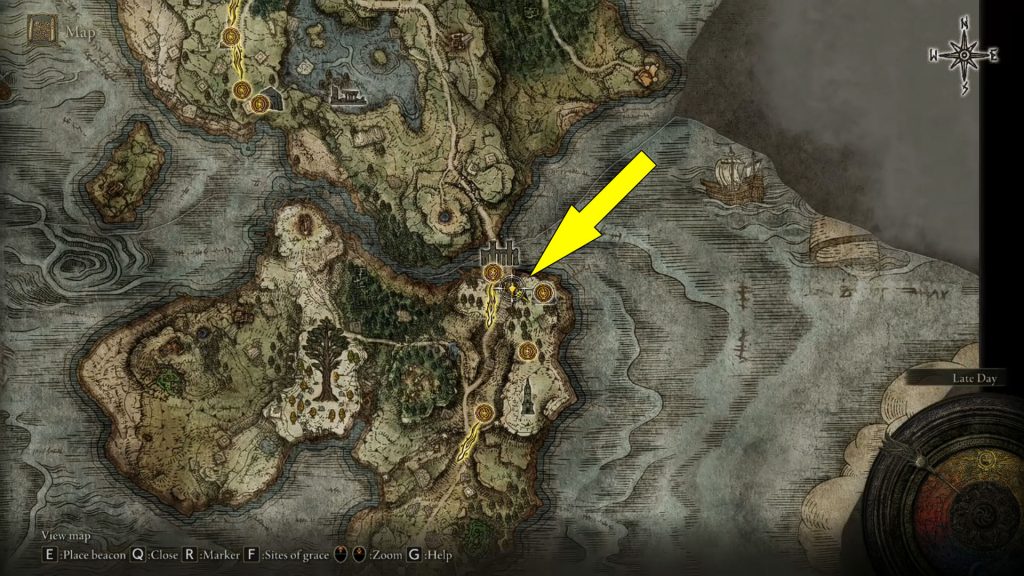 After you talk to her, she will ask you to deliver a letter to her father, Edgar, at Castle Morne.
However, you have the option to agree or not.
If you accept the task, you will receive a quest item called Irina's Letter, and you'll be on your way to Castle Morne, which lies a little to the south of your current location.
If you decline, you can keep Irina's Letter, and that's about it.
Irina's Letter Item – Where To Deliver
Edgar, Irina's father, can be located on the top of Castle Morne, in the southern part of the Weeping Peninsula.
Talk with him, and he will give you a Sacrificial Twig as an apology for failing to protect the castle.
Now, you will get the option to deliver Irina's Letter to him or not.
To progress the Elden Ring's Irina's Letter quest, you need to give him the letter.
After you deliver Irina's Letter, Edgar informs you that he cannot leave yet, because he must protect the treasured sword of Morne.
The Grafted Blade Greatsword is the sword he's referring to, which is in the hands of Leonine Misbegotten, Castle Morne's boss. To claim the sword, you need to defeat the boss.
Irina's Father – How To Get To Edgar
As soon as you get close to Castle Morne, your first encounter will be with the Golem Archer.
Defeat it and touch Castle Morne Lift Site of Grace located inside the castle.
Take the elevator up, and you will see a pile of bodies in front of you with enemies around.
Avoid fighting them to preserve your health and go on the left side of the pile. Kill only the enemies that are in your way.
Next, you will encounter an elite enemy, Pumpkin Head. Kill it, go to your right (northwest), and climb the ladder.
Defeat the enemies in your way until you get to the spot shown in the image below.
Jump down and kill the enemies on your way to get to the top of the tower pointed out in the image above.
You will also encounter enemies that will fight each other. If you are weakened, let them kill one another and then finish the remaining mobs or just pass by and go to the top.
At the top, you will find Edgar, Irina's father, or the location where you have to deliver Irina's Letter.
Edgar & Irina Quest Ending – Rewards & Outcomes
When you return to Irina, after delivering Irina's Letter to Edgar, you will find that she has been murdered.
If you kill Leonine Misbegotten, Castle Morne's Boss, and claim the Grafted Blade Greatsword, you can show it to Edgar, who will be relieved to be free of his duties and able to visit his daughter.
He'll be standing over her body the next time you see him, grieving that he wasn't there to protect her and vowing vengeance on those who killed her.
You have the option to kill Edgar while he's grieving, but this will change the location of the third Shabriri Grape you have to find as part of Hyetta's questline.
Basically, if you succeed, you will be rewarded with his Banished Knight's Halberd+8, and Edgar won't invade you at the Revenger's Shack in Liurnia, which means that Hyetta's third Shabriri Grape is found here instead of the said shack.
Did you manage to deliver Irina's Letter in Elden Ring? If you have any questions, post them in the comments section below.