Assassin's Creed Valhalla Brega Hoard Map counts as one of the Artifacts you can find when you reach the second region in Ireland (Meath) as part of the Wrath of the Druids DLC, but this one is by far the most accessible when it comes to finding the hidden treasure.
Compared to the previous one from Dublin, the drawing on the Assassin's Creed Valhalla Wrath Of Druids Brega Hoard Map is very easy to decipher if you know where to look for it.
Before we discuss the treasure's location, it's worth mentioning that there is a total of 3 Treasure Hoard Maps in Meath and obviously three hidden treasures that unlock some unique patterns.
Brega Hoard Map Location
So let's start from the beginning with the Brega Hoard Map Treasure because, obviously, to find a hidden treasure, you need a map first.
This one, as you can see on my map below, is found northeast of Tullagh Laght.
You may remember the Cursed Symbol there, and there is also a synchronization point you must reach.
After you reach this location, stay alert because there are several rabid wolves lurking around.
Especially if you access Ireland early in the game.
So obviously, you'll have to dispatch them.
Now, look around for a broken cart with a barrel next to it. There is also a Loot Chest here you don't want to miss.
As you can see in the screenshot from my game, the Loot Chest is near the cart, and to the left, there is a scroll. This is the map you have to get.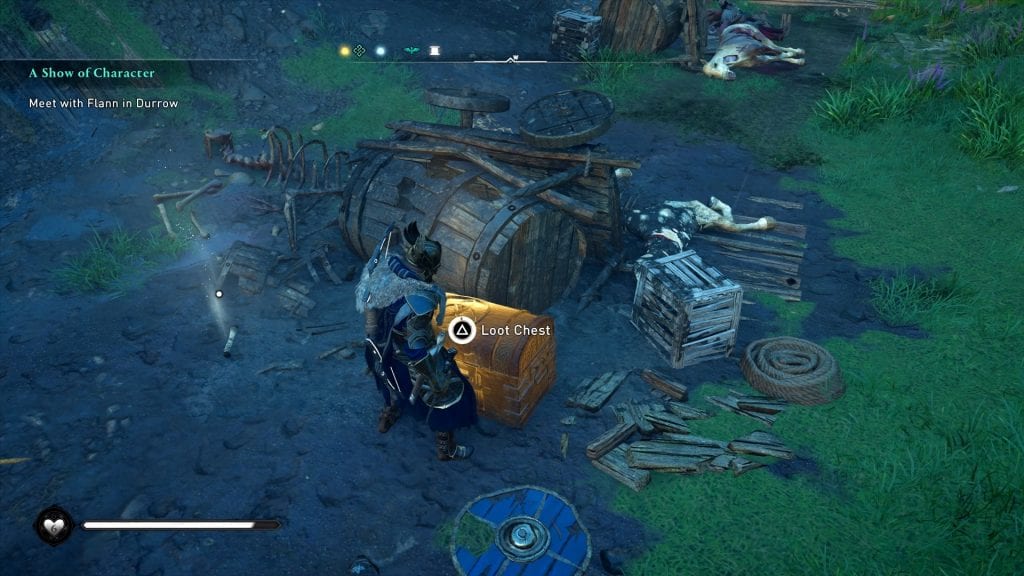 Great! Now access your inventory and open the map to see another drawing.
It looks like the one below, and as you can see, it shows three circles in a forest.
Brega Hoard Treasure Location
Now, if you open your map, you can easily spot the forest where the Brega Hoard Treasure is found.
Look for this unique spot southeast of Tullagh Laght. This area is known as Boyne Tombs (and inside, you'll find the Druidic Armor).
If you zoom in, you can actually see the circles made of stone.
Good, so now that you know that Brega Treasure is in Boyne Tombs, ride there and look for the northern circle.
Go around it (this is a beautiful structure), and you'll find the actual treasure close to some withered plants (brown). They are near the structure's exterior southeastern wall.
For finding the Assassin's Creed Valhalla Wrath Of Druids Brega Hoard Treasure, you'll unlock the Na Pucai Scheme (Shields) available in the video game developed by Ubisoft. Want to find the Potion Of Strength next?