The Nottfall Ability Collectible is one of the trickiest you'll have to get in the Assassin's Creed Valhalla Rygjafylke region, yet it is also the easiest.
If you struggle to get 100% completion in Rygjafylke, the Nottfall Wealth is mandatory, and in this guide, I am going to explain what you have to do.
There are two reasons why you'll want to get the AC Valhalla Nottfall Ability as soon as possible.
First, because it's needed when clearing the region, especially if you want to collect all Wealth in Rygjafylke.
And second, because the ability you'll unlock is pretty awesome.
Specifically, by collecting this Nottfall Book Of Knowledge, you'll unlock the Throwing Axe Fury, which is amazing, to say the least.
No, it's actually the best I have unlocked so far.
So let's get to it and see what you have to do to get it.
How To Throw Axes In AC Valhalla
So if you're looking to do some serious damage from a distance, you'll need to learn how to throw your Axes in the latest AC game developed by Ubisoft.
Which, as I said, is pretty amazing, but to do that, you'll need a specific skill. Named the Throwing Axe Fury.
Eivor can learn this early in the game while exploring Rygjafylke.
This specific skill is unlocked by collecting an Ability in Nottfall Camp. You most likely know by now that abilities count as Wealth and also as Collectibles.
So, the moment you complete the first mission in the game and get access to your longboat, it's time to learn this ability.
When you reach Stavanger, open your map and look for a small camp located southeast of the said village.
You can see it on my map below, along with, well, most Rygjafylke Collectibles.
That's the Throwing Axe Fury Ability location, and that's where you need to go.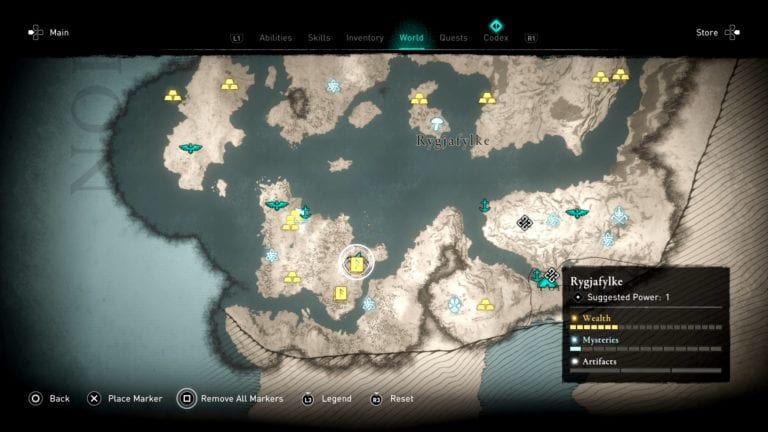 How To Get Nottfall Ability
Once you get to this location, you'll notice that the collectible is underground, and the entrance is inside the Notffall Camp, which is a restricted area.
The good thing is that you don't have to engage anyone to get it, which is pretty awesome, especially early in the game.
Now, when you get close to the camp, make sure you enter from the northern side, and you should be able to spot 3 guards placed in front of a cart.
You can see them pictured below.
Drop behind them and enter the small tunnel. Here you should see the ability (collectible) behind a door. Which will be barred.
So how do we get inside this room?
Well, as I said, it's pretty simple.
Jump on the crates on the left side, then go through the hole above the wooden wall. You should see some arrows on the wooden wall as well.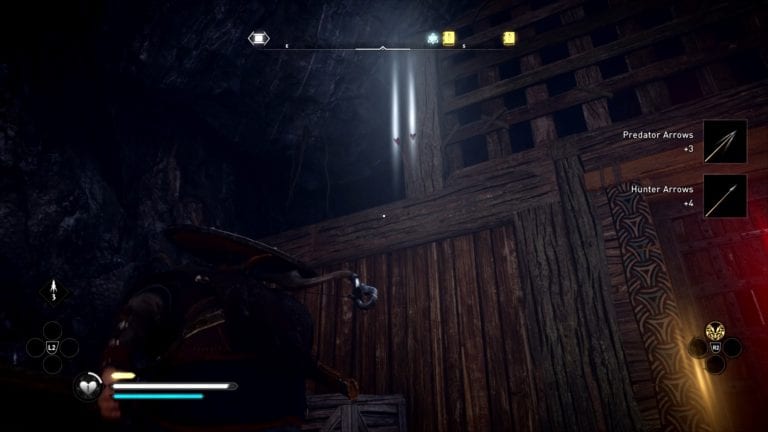 And you're in.
Now, all you have to do is to collect the Book of Knowledge, destroy the locker and exit the area the same way you came in.
Those poor guards won't even know you were there.
Awesome right? So go get the AC Valhalla Nottfall Ability as soon as possible because it's truly powerful and fun to use. The next one you may need help with is the one under Ely Monastery.