The Sciropescire Hoard Map in Assassin's Creed Valhalla is far easier to find than the one in Oxenefordscire but is just as important because this Artifact will lead us to another unique item worth getting. The Sciropescire Map is also one of those maps that comes with a drawing instead of a note, and that drawing is relatively easy to identify in the game's world.
Where To Find the AC Valhalla Sciropescire Treasure Hoard Map
As you can see on my map below, the Hoard Treasure Map in Sciropescire is found next to the Hill Gate Remnants waypoint, which is a good thing because we don't have to move a lot. The treasure, though, is a bit far.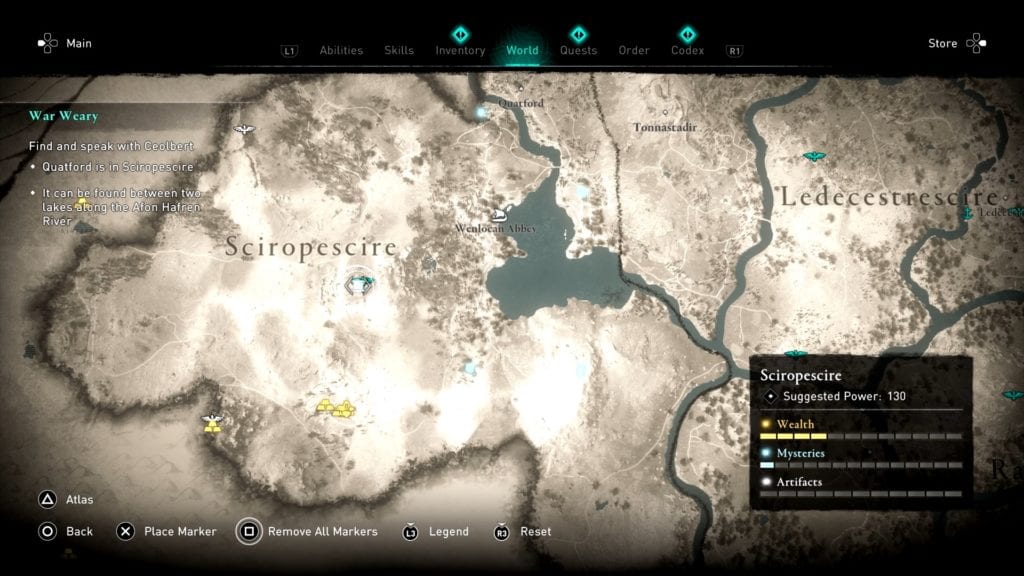 The first thing you'll have to do here is to locate a rather large tower and climb all the way to the top to synch the high point. Then, descend to the lower level and look down to spot a blocked entrance to a tunnel. You can see it pictured below, and the goal is straightforward. Shoot the locker on the rope that's holding the cargo above. It is visible on the left side of my screenshot.
Once you do that, you'll reveal a tunnel that will take you under the Hill Gate Remnants. Get inside, then slide under the hole in the wall at the other end to reach a spooky underground library. Feel free to loot everything, but don't forget to grab the map on the small altar. You can't miss it because it is highlighted. Now open your inventory, and it will look like the one below.
Sciropescire Caustow Castle Hoard Map Clues
Good, so on this map, we can find several clues:
The treasure is close to Caustow Castle
We have a pond with a dock
There is a tree nearby
The treasure is underwater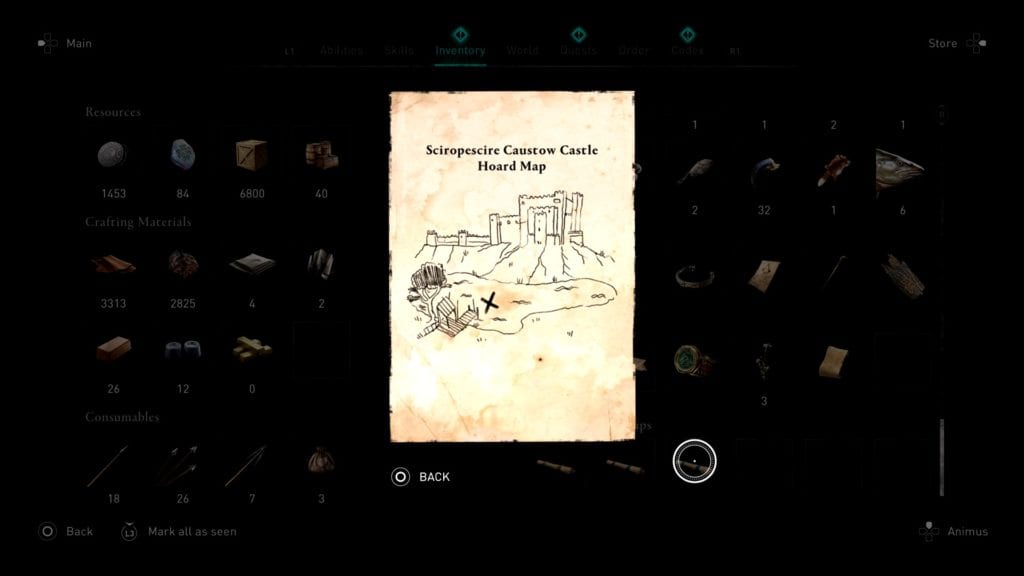 Where To Find the Sciropescire Hoard Treasure
Great, now open your map and locate Caustow Castle close to the western border of Sciropescire. North of it, you'll see a lake just like the one in my image.
If you look around, you'll see the dock, a tree, and a friendly fisherman. Now, get ready to get wet and jump into the water. Scan the lake's bottom, and the treasure will be in front of the dock. As you can see below.
Once you find it, you'll unlock the Vidarr Scheme Head, a tattoo you can use to customize your fearless Viking.