The Assassin's Creed Valhalla Riddler, close to Walhdenu Altar, is another NPC you'll meet in the Essexe region of the video game developed by Ubisoft, and this character is not only funny but also has cookies. To get them, however, you'll need to answer three riddles. Sounds easy, right?
It sure is if you know the correct answers to Riddler's riddles. And in the guide below, I'll reveal them to you. The AC Valhalla Riddler's World Event (which goes by the name of The Riddler – imagine that) is very short, and you should complete it the moment you get close to Walhdenu Altar.
The good thing about this mystery is that you don't have to travel, hunt, or fetch anything. The bad thing is that there is no cookie, but hey, there is XP to be gained.
AC Valhalla The Riddler World Event Location
Good, so let's start with the location of the Riddler in AC Valhalla. As you can see on my map, he is located near Walhdenu Offering Altar, southeast of Walden. Ride to the location on the map, and you'll find him in front of his house.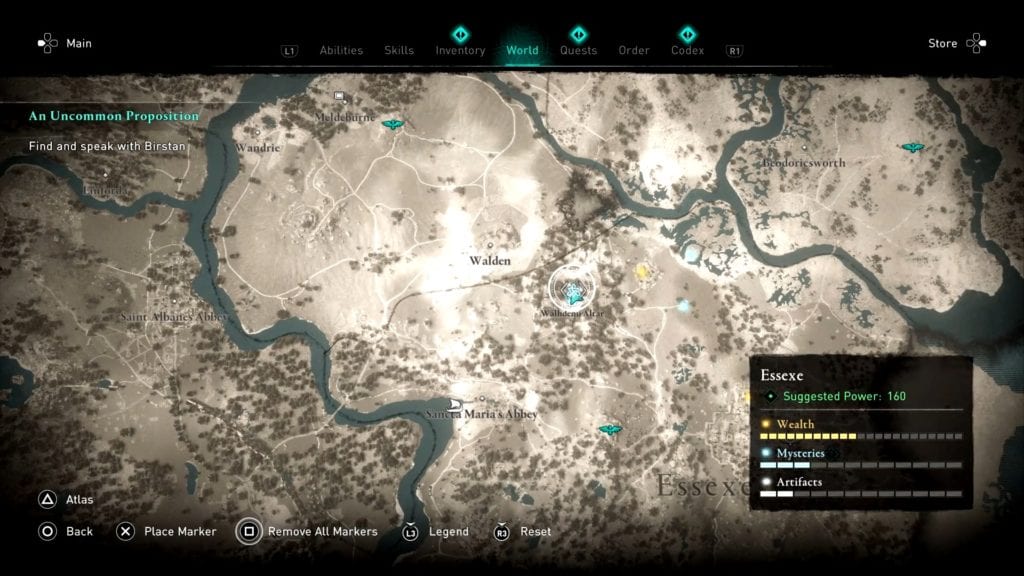 Riddler's Riddle Answers
When you speak to the fellow pictured below, he'll introduce himself, and his real name is Chad the Bewilderer. It's an interesting name, but we'll continue to call him the Riddler.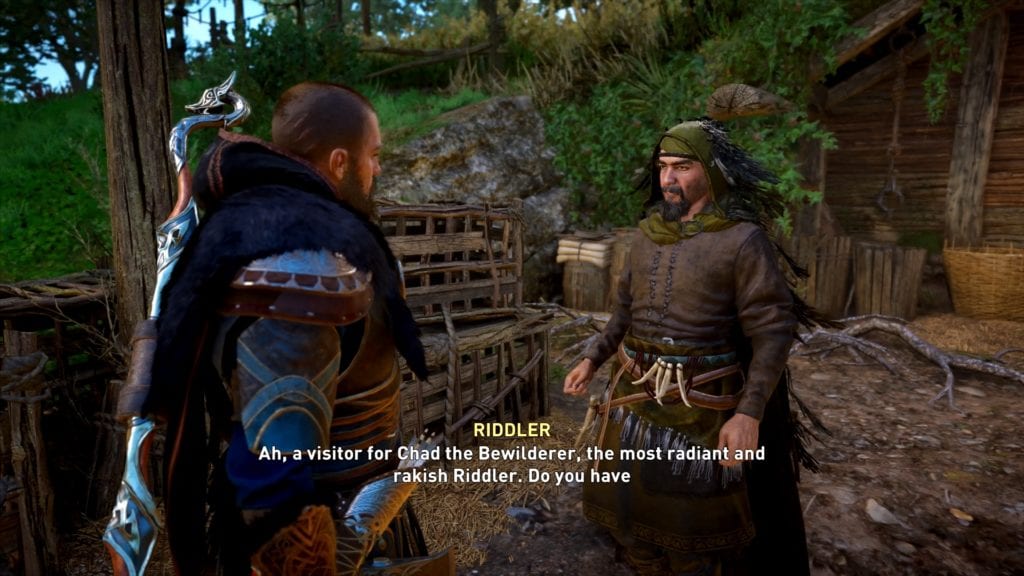 He will promise you some cakes if you manage to beat him. And to do that, you'll have to answer three riddles. So here they are, along with the correct answers you should give.
First Riddle Answer
"My head is forged with the hammer, hurt with sharp tools, smoothed by files. I take in my mouth what is set before me." – The answer to this riddle isLock and Key.
Second Riddle Answer
"I saw a strange thing, wonderful of shape, singing in a tavern. Its beak underneath stood upon splayed legs that cannot walk." – The correct answer here is Bagpipes.
Third Riddle Answer
"With my roof of tears, I am driven far and wide on my avenging path. When I shake the forest, I rumble the fruit from the trees." – The answer to the final riddle is Storm.
After you answer the final riddle, Chad tells you that there is no cake (liar!), but he'll give you 40 Silver because, you know, you were amazing! The cake, though…was a lie!