Assassin's Creed Valhalla Pruvinis Gear Chest allows you to unlock the Paladin Helm while exploring the Melunois region; in the Siege of Paris, DLC developed by Ubisoft.
The AC Vallhalla Pruvinish Wealth collectible can prove a bit difficult to find unless you pay close attention to the environment.
Because of this, throughout the guide below, I am going to tell you what you have to do to find the Wealth Gear in Pruvinis.
Before we start, it is worth mentioning that in Pruvinis (which is a rather big French camp), there are 3 items of interest:
First, you have the Paladin Helmet Gear covered by this guide
Second, you have a Tungsten Ingot Wealth
Third, there is the Map To Thieves Camp you can find in order to complete the Ulfberht Sword Mystery explained here
Make sure you retrieve these items in the exact same order as the one listed, and you'll clear Pruvinis in one run.
Where To Find The AC Valhalla Pruvinis Wealth Gear Chest Key
The first thing you'll want to do is to reach Pruvinis, which is the camp located northeast of Melun.
On my map below, you can notice that this camp is found on the northeastern side of Melunois.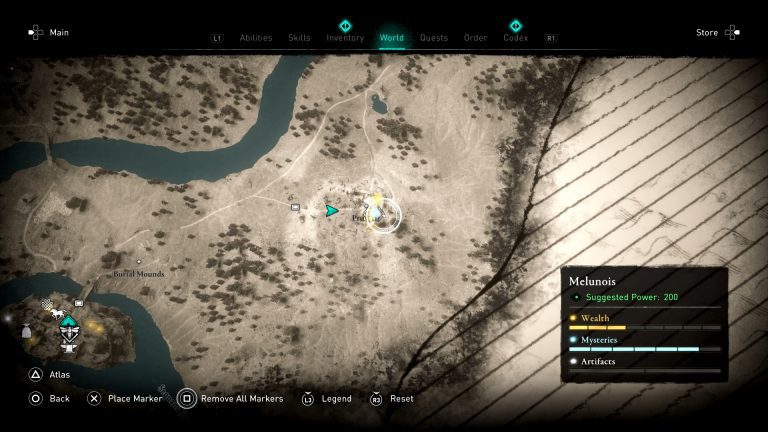 Once you infiltrate the camp, your next objective is to find the Gedriht carrying the Pruvinis Chest Key.
You can see him in my image below, and although he patrols the camp, at night, he is resting in the northernmost tower.
Kill this Brute and get the Pruvinis Key.
How To Get The Pruvinis Gear
Good, so now that you have the key, head to the upper section of the camp to find a red tent.
There are several swords on the ground in front of it. This tent is basically the location where you can start the World Event mentioned above.
Now, look behind the tent for a hole in the ground. You can see it below.
As you descend the ladder, you'll find a corridor.
On the right side, in a small room, you'll see a jar on the ground. Grab it and throw it into the breakable wall that is opposed to your current location.
Now follow the next tunnel, take a right turn then you'll see a grate.
Shoot an arrow through the grate, aiming for the red jars standing on the wooden boxes.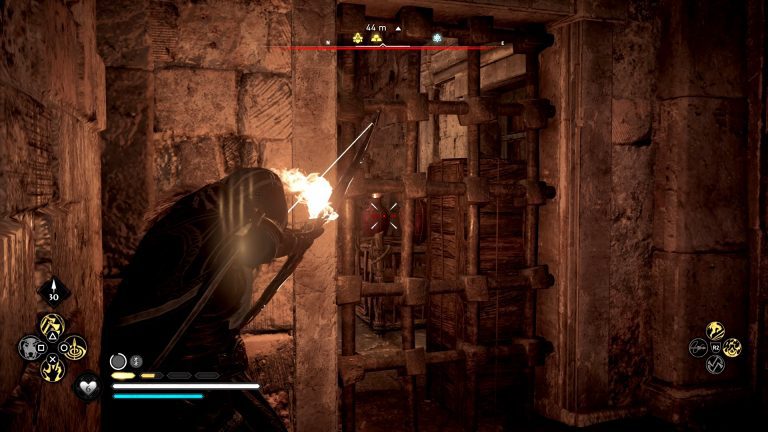 Now, return to the main corridor, and open the door that is now unlocked.
The Assassin's Creed Valhalla Pruvinis Gear Chest or the Paladin Helmet is on the right side as you enter.