In Assassin's Creed Valhalla, Chadwick Monger of Gossip is your Flyting opponent in the East Anglia region.
Obviously, defeating Chadwick at flyting counts as an AC Valhalla World Event, and since our goal is to get 100% completion in each region, in the following guide, we'll talk about the answers you'll want to give. Or the correct insults.
Why?
Because we want to take Chadwick's silver (fair and square), and to do that, knowing the correct answers while insulting him is mandatory.
Easy silver, if you ask me.
Just as easy as the one that came from Jungulf in Ledecestrescire.
East Anglia Flyting Location
So, our flyting opponent is located in Northwic as you can see on my map below.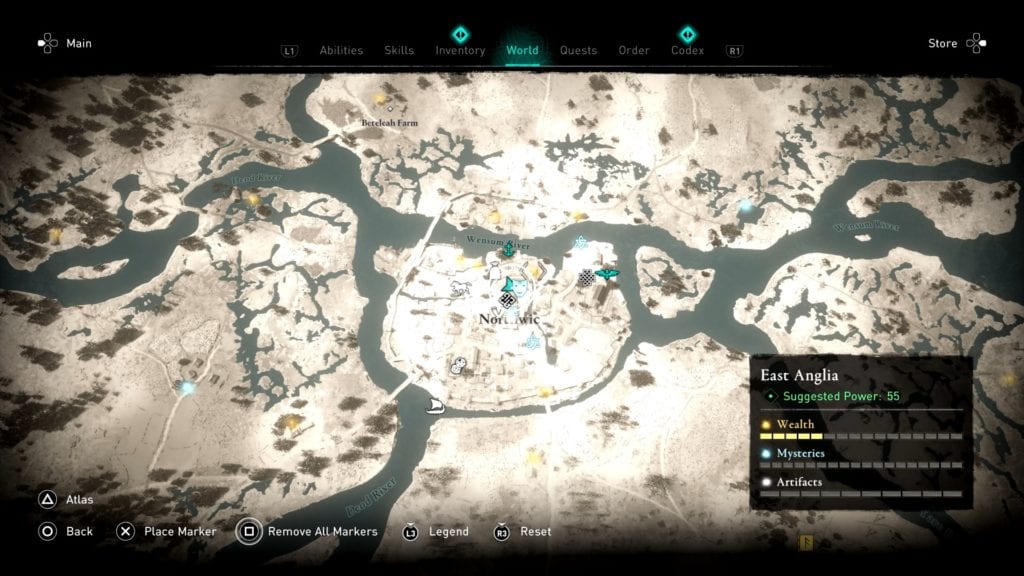 You should be able to find him near the longhouse in the middle of the village.
North of the cat we recruited for our longship and southwest of the location where we found Asta the Summoner.
How To Win The Chadwick Flyting Duel In Northwic
So when you find Chadwick Monger of Gossip, who is standing by the pillar pictured below, you'll most likely start to hate him.
This guy's personality will make you want to take everything from him the moment he starts talking.
And that's what you will do.
Make sure you talk to him and bet the maximum amount of silver (200). Don't settle for less, ok?
Now let him start the duel and give him the following answers. Act quickly because you have that annoying timer.
First Answer: Then you're speaking to fools, and their knowledge is flawed.
Second Answer: And they're sorely mistaken, I'm known for my might.
Third Answer: Then you've clearly mishead them, my wit is immense.
Now, if you picked these answers, you will successfully complete the East Anglia Flyting Mystery, and you will leave the area with 200 silver in your pockets.
Not to mention that you left Chadwick Monger of Gossip speechless, which is actually more important than all the silver in the world.
And that's it, friends. That's how you beat Chadwick at Flyting in the Assassin's Creed Valhalla video game developed by Ubisoft, so let's deal with Hogg The Burly next.