The Perie Nickel Ingot is another tricky Assassin's Creed Valhalla Wealth Collectible you'll have to find in the Oxenefordscire region, and I suggest doing it after you deal with the one from Leah Villa Garrison.
Although the Perie Ingot is found near The Corpse Feeders Alpha Animal, so that you know, you don't have to fight the beasts to get it. But you'll need to locate the Perie Cottage Key, which is pretty well hidden. Let's see where to find it.
Again, we start with the map location for this Oxenefordscire Wealth, which is easy to spot. However, this time, I want you to pay close attention to the map below because it shows two things. The collectible's location (which should appear on your map when you get close) and the Perie Cottage Key.
Basically, the key that allows you to enter the locked house where the Ingot is found is in the exact same spot where Eivor is located on my map below. You can see that Eivor (green arrow) is standing northwest from the collectible and southeast from a tunnel. One thing to mention here is that you don't have to get inside the tunnel. Just reach the location on my map to get the key first.
How To Get the Perie Wealth in Oxenefordscire
Good, so when you get to the same spot where Eivor can be seen on my map, look for a fisherman hut (with a net in front of it), then go around, and you'll be able to spot a large boulder. Pull the boulder back, and behind it, you'll find the Perie Cottage Key, as you can see in my screenshot.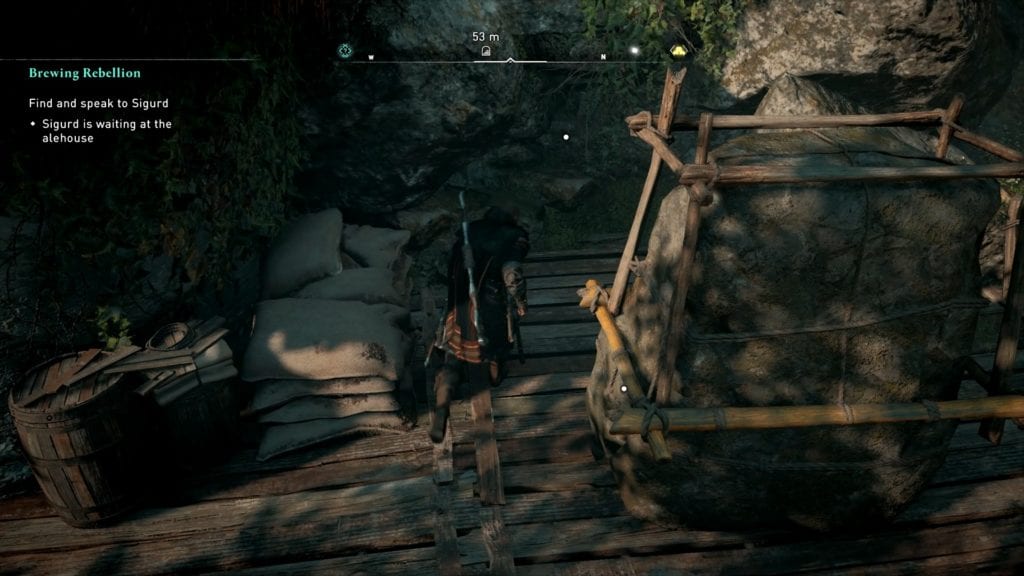 Get the key and return to the house, which is now accessible. Except that the Perie Cottage Nickel Ingot is not. Once inside the house, you'll find a Note Of Dispair on the left wall, and then you'll find the entrance to the basement. Which is blocked by a wall, you can destroy.
Now, if you have explosive arrows, you can use one, and the Ingot will be right in front of you in the said basement. But if you don't have the ability, you'll have the head outside, and right in front of you, several steps away, you'll see a very large oak tree.
Or a tree that looks like an oak. But it is really big, and you can't miss it. Next to it, you'll see a smaller house and, on the ground (as pictured), an explosive red jug.
Pick it up and head back to the basement. Throw it into the wall that leads to the basement, and the Perie Nickel Ingot will be in front of you, next to a rather large mead barrel.