Assassin's Creed Valhalla Wiki Guide: How To Help Pregnant Ermina
In Assassin's Creed Valhalla Ermina is a pregnant woman who seeks Eivor's help to reach a safe spot where she can give birth to her child.
She is located in the north-western Glowecestrescire region.
Finding her is required to trigger The Goddess Of Birth World Event.
Your objective in the Assassin's Creed Valhalla Goddess Of Birth quest is to escort Ermina; however, this quest features a possible bug that we will try to fix in the following guide.
Where To Find Ermina In AC Valhalla
Look for Ermina by a road at the location marked on my map.
When you get close you should be able to see her next to her horse.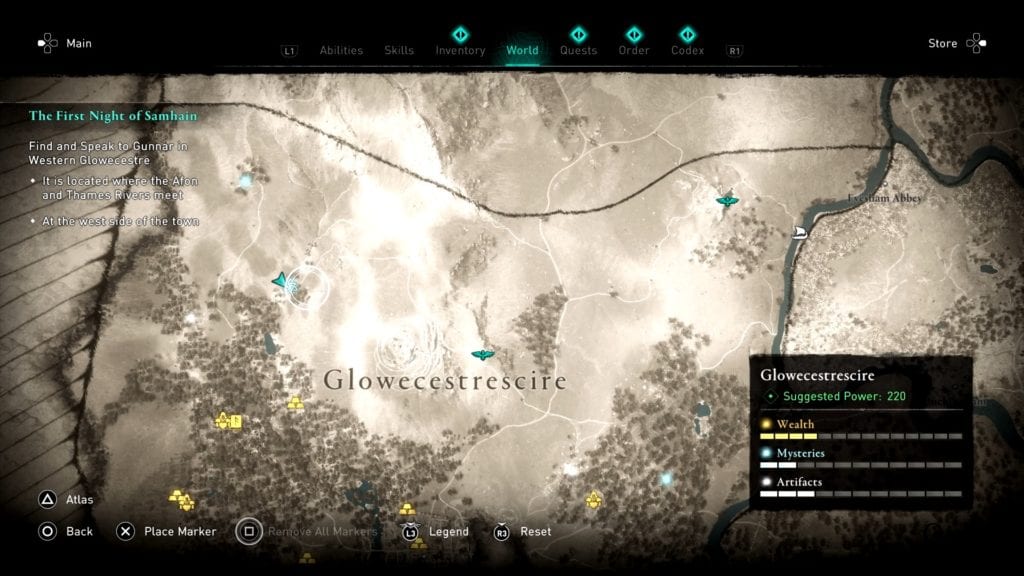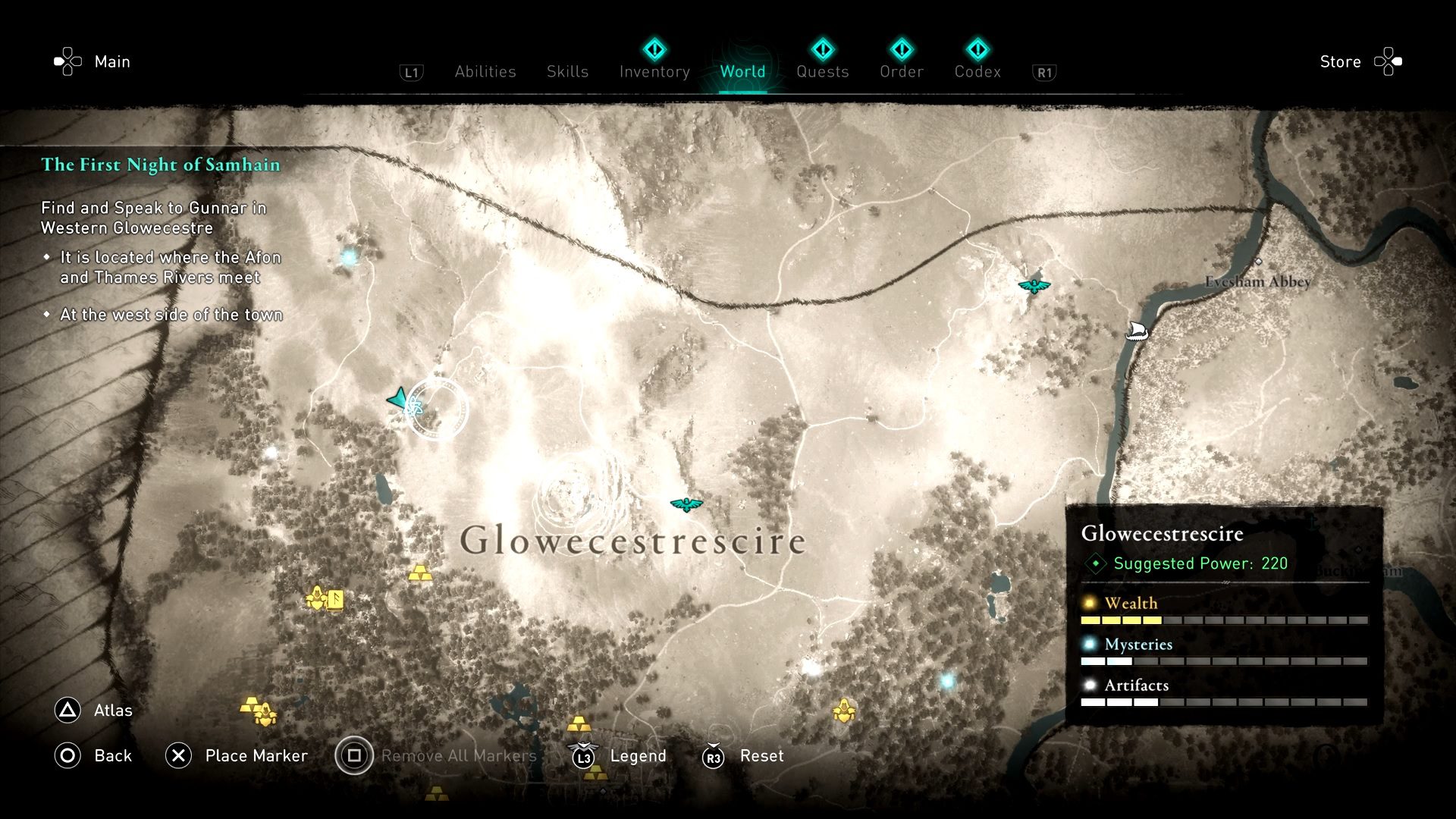 How To Escort The Pregnant Woman (Bug Fix)
In order to complete the AC Valhalla Goddess Of Birth World Event, you'll need to take Ermina to the ruins south of your location.
The ruins are easy to spot, being on top of a hill. But because of the bug that prevents this event from completing, try the following solution:
Before talking to Ermina, kill the wolves nearby. The pack spawn close to her, and you need to kill all of them so you can prevent Eivor from entering combat during the quest
If you don't when you reach the hill you'll receive a message stating that you must be anonymous
Kill the wolves first, and only then talk to the pregnant woman
Now you have various options to escort Ermina, but the recommended one is to walk to the ruins not ride
If you decide to ride don't go straight to the ruins
Ride only until you reach the middle of the hill, then dismount and walk while staying close to her
The bug is triggered by rushing through this quest. Or simply put, Ermina must deliver all her scripted lines, and she must tell Eivor her story
If you rush to the ruins (by riding) you'll reach the destination before she can tell you her story and this will result in triggering the bug
If the bug persists, reload the last save and follow the same steps.
When you reach the Roman Ruins on top of the hill, the world event ends and you'll trigger a cutscene which shows Ermina giving birth and her god-lover Moccus
Assassin's Creed Valhalla Viking Brawl: How To Win All Rounds, Rewards, Hidden Opponents & Game Crashes
Assassin's Creed Valhalla Viking Brawl activity is back for the Ostara Festival, but with some tweaks, hidden opponents, and obviously some game crashes (as in Error CE-34878-0) that Ubisoft is trying to address as soon as possible.
Before they do that; however, it's worth learning one or two things about this infamous error as well as how to win all rounds and how to unlock 3 hidden fighters.
The AC Valhalla Viking Brawl, if you don't remember from the last festival; is a fighting tournament with some really interesting mechanics and a lot of prizes to win.
As such, the Ostara Festival Viking Brawl is a good source for Festival Tokens you can spend and Norvid's Shop, but before doing this there are several tricks you should know in order to make the most out of this competition.
And I'll try to cover all of them below.
Assassin's Creed Valhalla Viking Brawl Hidden Opponents
The first thing you should know is that the AC Valhalla Ostara Brawl includes three hidden fighters you can unlock.
Obviously, you can win the competition without unlocking them, and there are no penalties for doing this; but it's more interesting to fight some cool quest-givers.
Because of this, before attempting the tournament you want to complete several small tasks:
Keep in mind that these changes will be permanent meaning that these unlockable brawlers will be your opponents the moment you unlock them.
AC Valhalla Ostara Brawl Rewards
Good so now that you know how to unlock the secret brawlers, let's see how the AC Valhalla Ostara Brawl Rewards work.
The brawling competition is based on rounds, and after each round; you'll have to bet your previous earning.
As an example, if you win the first round you'll get 10 Festival Tokens; then you will be asked if you want to bet those Tokens.
If you agree, you'll enter the second round, and you have the chance to get an additional 10 Tokens by defeating the next opponent. If you lose, well, you can say goodbye to those 10 Tokens.
However, you also have to chance to step away after the first round, and in this case, you'll get to keep your 10 Tokens.
One thing worth knowing is that there is a total of 10 rounds in the Assassin's Creed Valhalla Ostara Brawl and the maximum amount of Tokens you can win is 140.
Additionally, since the brawlers grow in difficulty; the number of Tokens you receive also increases as you can see below:
Rounds 1 & 7 – 10 Festival Tokens
Rounds 8 & 9 – 20 Festival Tokens
Final Round (10) – 30 Festival Tokens
Now, if we do some math we can see that the total amount is 140 shiny tokens to be won in this tournament; obviously by becoming the champion.
How To Win All AC Valhalla Ostara Viking Brawl Rounds
Brawling in Assassin's Creed Valhalla is not something new, and if you already completed the game, then you most likely know how it works.
Except that for the Ostara Brawl several tweaks have been made. Because of this here are some tips and trick you should know:
There are 10 rounds to be won and the final opponent is Goliath. He is the most difficult one
Since the first few opponents are easy to defeat; save your rations
Always stock up on rations and don't enter the tournament without them
You can't use weapons but your skills matter; meaning that the higher is your level the better are your chances to win the competition
Perfect dodging an unblockable attack is key because it slows down your opponent; allowing you to counterattack
After each round, Eivor is healed; so don't waster rations if your opponent is almost defeated
Starting the sixth round you won't be able to use focus anymore; which means that you can't target your opponent. Always keep your eyes on him by moving the camera accordingly
Stamina is extremely important, so don't waste it unless you are sure you land a hit
To recover stamina, move around the arena but don't run
Finally, most opponents hit hard but they are slow, and this gives you a lot of time to move behind them and land additional punches
Keep these in mind and you'll become the brawl champion, assuming the game doesn't crash. This brings us to the next topic.
AC Valhalla Game Crashes & Error CE-34878-0
Ostara Viking Brawl quest caused a lot of problems for players who reported game crashes. This specific Assassin's Creed Valhalla error is known as CE-34878-0, and it seems that it occurs quite frequently on PlayStation 4, especially between the Viking Brawl rounds.
If this happens to you, then you should know that Ubisoft devs are aware of it and a hotfix was already deployed on Ubisoft's servers.
The AC Valhalla crash error CE-34878-0 fix; however, disabled the Ravensthorpe decorations for the Let's Get Festive quest.
This means, that you won't be able to complete the said quest until later this week; but the Assassin's Creed Valhalla Error CE-34878-0 should occur less frequently.
Assuming you still get this error, the best thing you can do is to avoid the Viking Brawl competition and wait for the update Ubisoft promised:
"We're aware of increased instances of crashes in and around Ravensthorpe since the release of Title Update 1.2.0. We're deploying a server-side hotfix to address a rise in crashing near Ravensthorpe. Settlement decorations will be temporarily removed and Ostara Festival quests involving decorations will not be completable. Thanks for your patience as our team releases a permanent fix soon!"
Assassin's Creed Valhalla Egg Hunt: How To Find All Baskets Of Eggs
Assassin's Creed Valhalla Egg Hunt is the most entertaining Ostara Festival quest introduced by Ubisoft's Easter event celebration, and it is worth playing if you want to find 15 Baskets of Eggs and also get several Festival Coins to spend at Norvid's Shop.
Unlike the Firepits we had to find for Ake as part of the Spiritual Defense quest, the Assassin's Creed Valhalla Baskets of Eggs locations do not appear on your map, and the only ways to find them is by either deciphering a series of riddles or by using a guide such as the one below.
The first method; however, only works for 6 AC Valhalla Baskets of Eggs; because you see, our quest giver below won't tell you where to find all of them.
Regardless though, I will help you get all Easter Eggs in Assassin's Creed Valhalla so let's start our Egg Hunt by meeting Alwin.
All Assassin's Creed Valhalla Baskets Of Eggs Locations
Now, as usual, in order to make this AC Valhalla Ostara Eggs locations guide as useful as possible; I included a series of screenshots showing where to find the said eggs as well as hints that can help you spot them faster.
Since their locations do not appear on your map, adding additional images won't help, so make sure you follow the steps below.
Also, even though Alwin provides riddles that can guide you to 6 Assassin's Creed Valhalla Eggs Baskets, you'll need to find the rest by yourself.
Good, so let's meet our quest giver and start the Ostara Festival Egg Hunt!
How to Start The Egg Hunt In Assassin's Creed Valhalla
To begin your Easter Egg hunt, head to the Ostara Festival area, east of Eivor's settlement.
Here, you'll need to find Alwin who is a very friendly fellow and a time-waster judging by how he spends his free time.
Or simply put, Alwin below likes to do nothing, except for standing in front of his cottage.
After you talk to Alwin, he'll provide a couple of riddles.
Assassin's Creed Valhalla Egg Hunt Riddles
To read these, open your inventory, then your satchel, then navigate to the Quest Items window.
There are three new scrolls you should be able to see.
The first one basically gives you an overview of the task at hand, and it reads:
"The hunt is on and the eggs are hidden. For most of them, you'll need your vision. Six of them will get a clue. The other nine will be up to you. When all fifteen eggs you have found, return them to Alwin, safe and sound."
The last two scrolls provide the actual riddles for the Egg Hunt. There are 3 on each page for a total of 6:
A symbol of conquerors to the greatness they aspired. It stands now in ruin, their rule long expired
Old, new, and some long since rotten. Here they lie gone, not forgotten
Music merriment and mead abound. But keep your wits, there are eggs to be found
With a thunderous roar, I carve the land. Go over me and you'll find yourself with a fall unplanned
Lay down your arms, your battles done. Drink and feast till up comes the sun. A word to the wise, there's more than one
Our door to travel and trade, it is vital to launch and raid
Good, so these are Alwin's riddles and as said they are quite pointless since they lead you to 6 out of 15 Baskets of Eggs.
So, since the game doesn't provide additional details, let's start finding them one by one.
Basket Of Eggs 1 – On Alwin's House
The first Basket of Egg is quite easy to find because it sits on Alwin's house.
Simply climb the roof and collect it.
Basket Of Eggs 2 – Near Norvid's Shop
For the second basket, retrace your steps to the festival area and find Norvid's Shop.
He is the guy selling various Ostara Festival items. Look for the basket, outside, behind a wooden table.
Basket Of Eggs 3 – Behind Thyra's Archery Targets
The next AC Valhalla Basket of Eggs is near Thyra. She is the NPC who allows you to start the Twirling Targets Archery Challenge.
As you can see in my screenshot below, the basket sits under the targets.
Basket Of Eggs 4 – Near The Large Tree By The Graveyard
Now, head northwest from Eivor's longhouse and look for the large tree in my image below.
This tree stands by some sort of graveyard (you may remember it from the story) and nearby you'll also find one of the firepits you have to lit.
Basket Of Eggs 5 – By The Waterfall
Moving on, head back to the settlement, then move north and locate the waterfall where you can release a firefly.
As you can see this Eggs' Basket is extremely easy to find.
Basket Of Eggs 6 – Behind Mayda's Throne
Moving back to the festival area, you can find the sixth Egg Basket in AC Valhalla, behind Mayda's throne.
You may remember her from the May Queen quest.
Basket Of Eggs 7 – On The Docks
Good, so now let's check the docks to find the seventh basket.
This one as you can see sits next to Eivor's boat. Easy peasy, right?
Basket Of Eggs 8 – Behind Gunnar's House
Several steps away from your current location there is another Basket.
You'll find it behind Gunnar's Shop or house.
Basket Of Eggs 9 – Inside Eivor's Longhouse
Good work Viking! How about you check Eivor's longhouse next?
The moment you enter, through the main door (opposed to the throne), turn right to see a new Ostara Egg Basket.
Basket Of Eggs 10 – In The Back Of The Longhouse
From the previous basket, head outside and go around the longhouse.
On the other side look up and you'll see the tenth basket on a small ledge. You'll have to do some climbing to get it.
Basket Of Eggs 11 – On A Catwalk In The Longhouse
Since you are already outside, head to the upper roof, and look for a large window.
Get inside Eivor's house, then drop on the catwalk where the next Easter Egg Basket is found.
Basket Of Eggs 12 – On Top Of A Roman Pillar
Awesome! Now, go back outside and head to the museum.
Check all pillars and you should be able to spot the hidden Basket Of Eggs in my screenshot below.
Basket Of Eggs 13 – Next To Reda
Besides the fact that Reda sells some really great items, he also has a hidden Basket Of Eggs nearby.
Again, really easy to find if you scan the area.
Basket Of Eggs 14 – Near the Brawling Arena
Now, back you go to the festival area where you should be able to spot the 14th Easter Eggs Basket.
It's sitting on top of a hut near the brawling arena.
Basket Of Eggs 15 – Close To A Tree In Front Of The Longhouse
That's it Viking! One hidden Basket Of Eggs left and you can claim your rewards.
For this one, head back to the longhouse and to the main entrance (opposed to the throne). Nearby you'll see a tree with purple and yellow markings on it. Look down to find the basket.
AC Valhalla Egg Hunt Rewards
Congrats, Viking! You found all hidden Baskets Of Eggs for the Ostara Festival!
Now, head back to Alwin who will ask you to show him your eggs!
No, seriously, he does say that. However, before dropping your underwear, make sure you grab the 140 Festival Tokens and spend them at Norvid's Shop.
Then you can also try and kick Alwin The Egg Collector's butt in the Ostara Brawl because you just unlocked him.