Assassin's Creed Valhalla Egg Hunt is the most entertaining Ostara Festival quest introduced by Ubisoft's Easter event celebration, and it is worth playing if you want to find 15 Baskets of Eggs and also get several Festival Coins to spend at Norvid's Shop.
Unlike the Firepits we had to find for Ake as part of the Spiritual Defense quest, the Assassin's Creed Valhalla Baskets of Egg locations do not appear on your map, and the only ways to find them is by either deciphering a series of riddles or by using a guide such as the one below.
The first method, however, only works for 6 AC Valhalla Baskets of Eggs because, you see, our quest giver below won't tell you where to find all of them. Regardless, I will help you get all Easter Eggs in AC Valhalla, so let's start our Egg Hunt by meeting Alwin.
Now, as usual, to make this guide as helpful as possible, I included a series of screenshots showing where to find the said eggs, as well as hints that can help you spot them faster. Since their locations do not appear on your map, adding more images won't help, so follow the steps below. Even though Alwin provides riddles that guide you to 6 Eggs Baskets, you'll need to find the rest yourself.
How To Start the Egg Hunt Ostara Festival Quest in AC Valhalla
To begin your Easter Egg hunt, head to the Ostara Festival area, east of Eivor's settlement. Here, you'll need to find Alwin, a very friendly fellow and a time-waster judging by how he spends his free time. Simply put, Alwin below likes to do nothing except stand in front of his cottage. After you talk to Alwin, he'll provide a couple of riddles.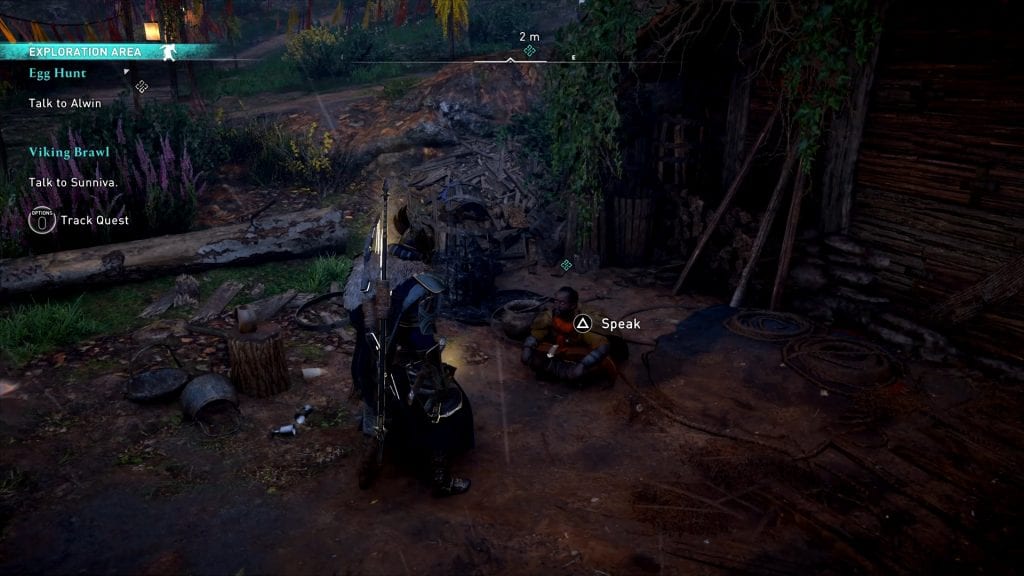 Alwin's Egg Hunt Riddles
To read these, open your inventory, then your satchel, and navigate to the Quest Items window. There are three new scrolls you should be able to see. The first one gives you an overview of the task at hand, and it reads:
"The hunt is on, and the eggs are hidden. For most of them, you'll need your vision. Six of them will get a clue. The other nine will be up to you. When all fifteen eggs you have found, return them to Alwin, safe and sound."
The last two scrolls provide the actual riddles for the Egg Hunt. There are three on each page for a total of 6:
A symbol of conquerors to the greatness they aspired. It stands now in ruin; their rule long expired.
Old, new, and some long since rotten. Here they lie gone, not forgotten.
Music, merriment, and mead abound. But keep your wits; there are eggs to be found.
With a thunderous roar, I carve the land. Go over me, and you'll find yourself with a fall unplanned.
Lay down your arms; your battles done. Drink and feast till up comes the sun. A word to the wise, there's more than one.
Our door to travel and trade, it is vital to launch and raid.
Good, so these are Alwin's riddles, and as said, they are pretty pointless since they lead you to 6 out of 15 Baskets of Eggs. So, since the game doesn't provide additional details, let's start finding them one by one.
Basket Of Eggs #1: On Alwin's House
The first Basket of Egg is quite easy to find because it sits in Alwin's house. Simply climb the roof and collect it.
Basket Of Eggs #2: Near Norvid's Shop
Retrace your steps to the festival area for the second Basket and find Norvid's Shop. He is the guy selling various Ostara Festival items. Look for the Basket outside, behind a wooden table.
Basket Of Eggs #3: Behind Thyra's Archery Targets
The next AC Valhalla Basket of Eggs is near Thyra. She is the NPC who allows you to start the Twirling Targets Archery Challenge. As you can see in my screenshot below, the Basket sits under the targets.
Basket Of Eggs #4: Near the Large Tree by the Graveyard
Now, head northwest from Eivor's longhouse and look for the large tree in my image below. This tree stands by some sort of graveyard (you may remember it from the story), and nearby, you'll also find one of the firepits you have to lit. The Basket is next to it.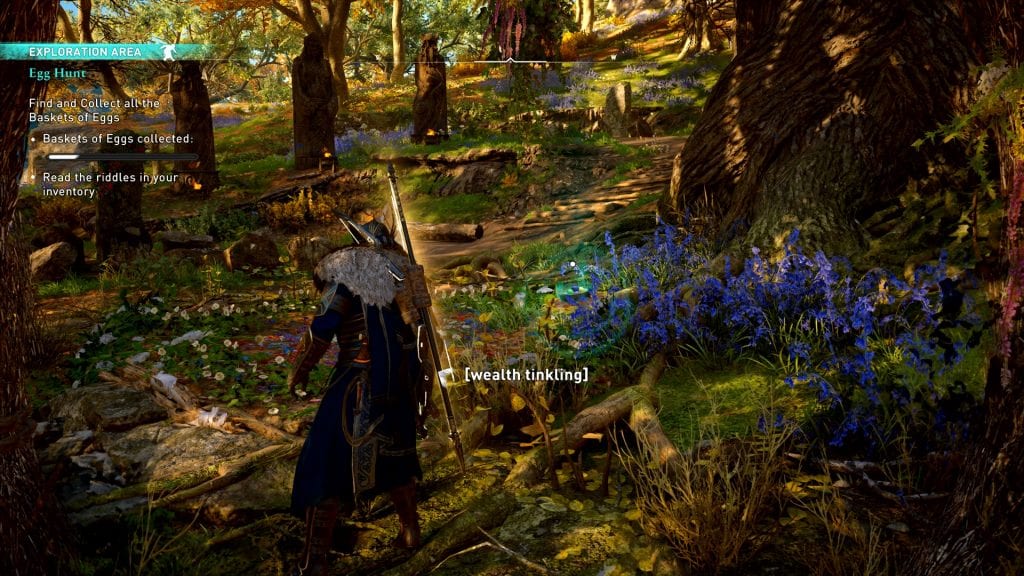 Basket Of Eggs #5: By the Waterfall
Moving on, head back to the settlement, then move north and locate the waterfall where you can release a firefly. As you can see, this Basket is extremely easy to find.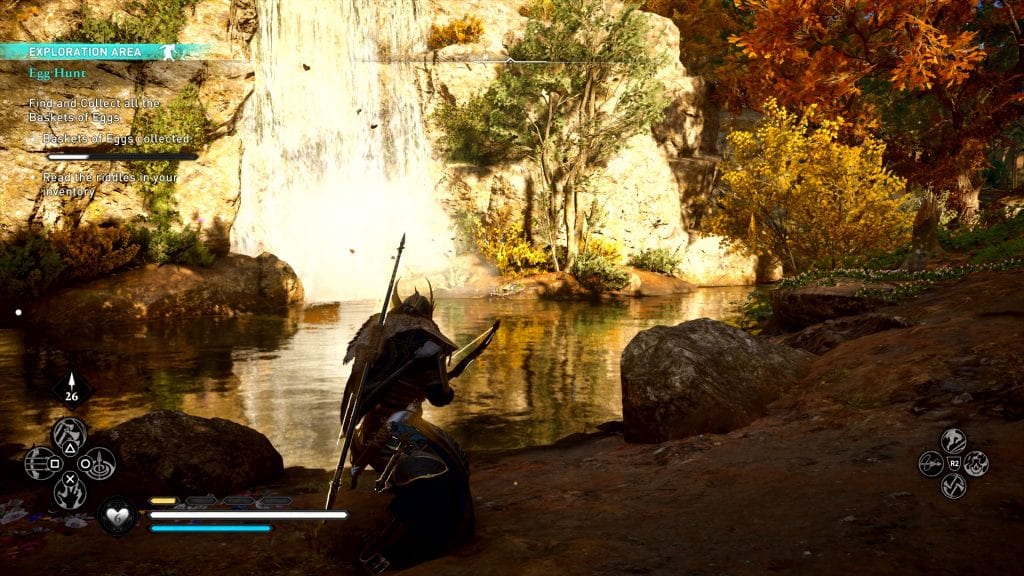 Basket Of Eggs #6: Behind Mayda's Throne
Returning to the festival area, you can find the sixth Egg Basket in AC Valhalla, behind Mayda's throne. You may remember her from the May Queen quest.
Basket Of Eggs #7: On the Docks
Good, so now let's check the docks to find the seventh Basket. As you can see, this one sits next to Eivor's boat. Easy peasy, right?
Basket Of Eggs #8: Behind Gunnar's House
Several steps away from your current location, there is another Basket. You'll find it behind Gunnar's Shop or house. He is the village blacksmith.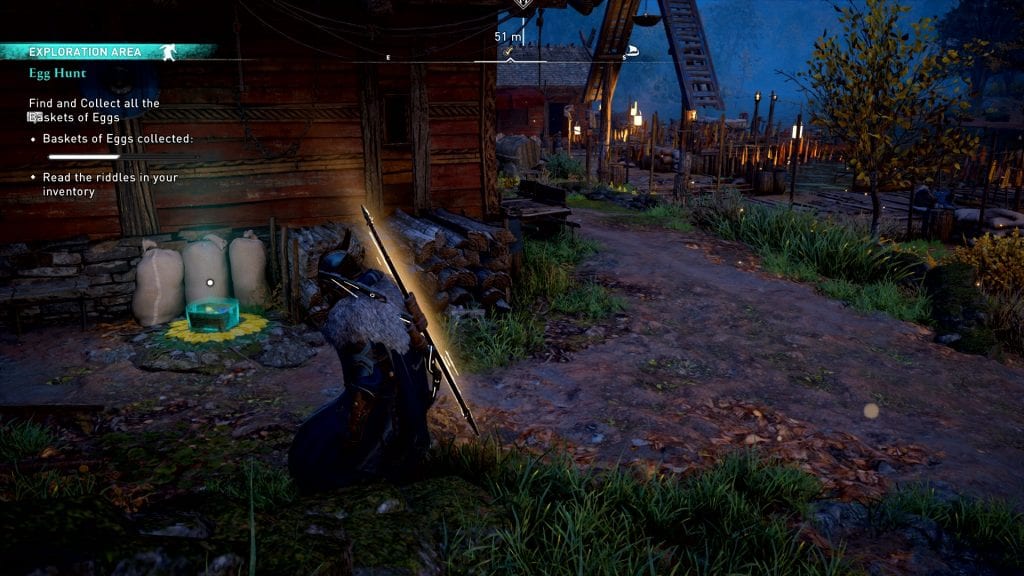 Basket Of Eggs #9: Inside Eivor's Longhouse
Good work, Viking! How about you check Eivor's longhouse next? The moment you enter, through the main door (opposed to the throne), turn right to see a new Ostara Egg Basket.
Basket Of Eggs #10: In the Back of the Longhouse
From the previous Basket, head outside and go around the longhouse. On the other side, look up; you'll see the tenth Basket on a small ledge. You'll have to do some climbing to get it.
Basket Of Eggs #11: On a Catwalk in the Longhouse
Since you are already outside, head to the upper roof and look for a large window. Get inside Eivor's house, then drop on the catwalk where the next Easter Egg Basket is found.
Basket Of Eggs #12: On Top of a Roman Pillar
Awesome! Now, go back outside and head to the museum. Check all pillars, and you can spot the hidden Basket of Eggs in my screenshot below.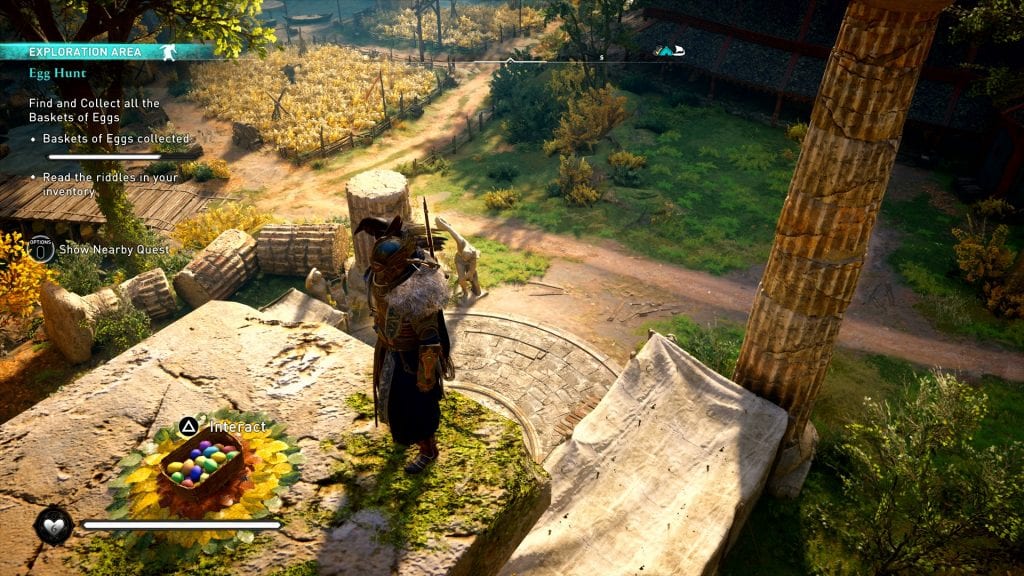 Basket Of Eggs #13: Next to Reda
Besides the fact that Reda sells some great items, he also has a hidden Basket of Eggs nearby. Again, it's really easy to find if you scan the area.
Basket Of Eggs #14: Near the Brawling Arena
Now, back you go to the festival area where you should be able to spot the 14th Easter Eggs Basket. It's sitting on top of a hut near the brawling arena.
Basket Of Eggs #15: Close to a Tree in Front of the Longhouse
That's it, Viking! One hidden Basket of Eggs is left to find, and you can claim your rewards. For this one, head back to the longhouse and the main entrance (opposed to the throne). Nearby, you'll see a tree with purple and yellow markings. Look down to find the Basket.
Now, head back to Alwin, who will ask you to show him your eggs! No, seriously, he does say that. However, before dropping your underwear, grab the 140 Festival Tokens and spend them at Norvid's Shop. Then you can also try and kick Alwin The Egg Collector's butt in the Ostara Brawl because you just unlocked him.