Obtaining the Assassin's Creed Valhalla Uldar Book Of Knowledge will teach you the Rage Axe ability introduced by the Dawn Of Ragnarok expansion.
Rage Axe is a fun-to-use melee ability you can add to your bag of tricks by exploring the town of Uldar in the Gullnamar region.
Your quest Finding Fritjof will also bring you to Uldar quite early in the DLC.
You may encounter problems with the puzzle you need to complete so you can access the room containing the Wealth chest. But as usual, you have our assistance and the guide below.
AC Valhalla Uldar Book Of Knowledge Wealth Location – Where To Find
The AC Valhalla Uldar Book Of Knowledge Wealth location map below will help you find the puzzle faster.
You will want to fast travel to the highpoint above Uldar and make the big jump in the hay cart under it.
Exit the cart and run toward the west with the help of your compass. After a few meters, you will see a rope you can interact with to go up.
The lift doesn't get you all the way up, and you will have to climb a little.
Once you are at the last level, you will find some Muspels and a river of lava.
You will see an entry in the mountain, in the south, near the river of lava (screenshot below). Inside you will find the puzzle holding the Uldar Book Of Knowledge Wealth.
Now let's see how to solve the AC Valhalla Uldar Light Beam Puzzle.
Uldar Light Beam Puzzle – How To Complete
If you enter the puzzle room, you will see a pedestal in lava.
That means you will need the Power of Muspelheim that you can obtain from the outside enemies (if you don't already have it).
You might need the shrine near the entrance to the puzzle room to charge your power, or you have plenty of mobs around if you want to do that by killing enemies.
Now go back to the pedestal with the Power of Muspelheim activated so you don't take any damage from the lava. Next, aim the light beam at the reflector above, on the wall in front of you.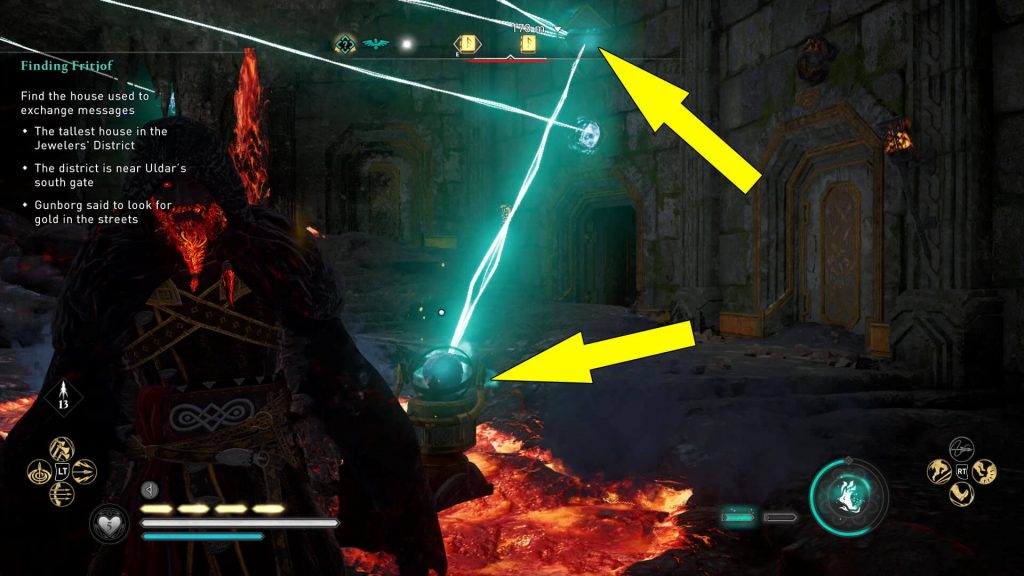 That will open a couple of doors. You can explore them all or go directly to the room containing the AC Valhalla Uldar Book Of Knowledge by using Odin's Sight to locate the Wealth.
Good job! You grow even more powerful by learning the Rage Axe ability in the Dawn Of Ragnarok DLC, released by Ubisoft.