The Assassin's Creed Valhalla Mercury Temple Roman Artifact is one of the two East Anglia Artifacts you'll need to collect in order to get 100% completion in the region, and unlike the other one, this is a lot trickier.
Although not necessarily hard to collect, the AC Valhalla Mercury Temple Artifact can be collected only by finding a way to get close to it.
That's why I decided to give you guys a hand and help you get it, so you don't have to waste your time looking for a needle in the haystack.
So let's solve this puzzle together.
East Anglia Mercury Temple Roman Artifact Location
The location of the Roman Artifact in question can be seen on the map below.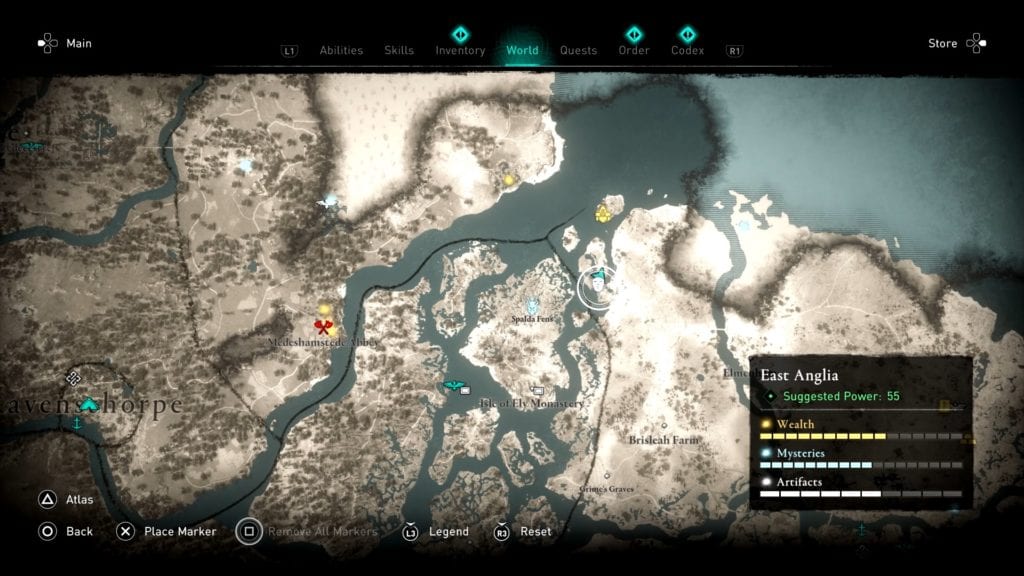 It is in the northwestern corner of East Anglia, and if you get close to this spot, it will most likely appear on your map.
But the problem with this one is that it's underwater.
So you will probably start looking for a secret entrance in order o get it.
Except that is not that easy, because the water nearby doesn't allow you to dive.
Here is the catch with this one.
How To Get The Mercury Temple Roman Artifact
To be able to collect the Roman Artifact in the Mercury Temple, you'll need to find a specific diving spot.
And there is only one, as you can guess.
If you don't find it, the underwater artifact is unreachable.
This spot is pictured below, and it is an old roman pool.
Notice the round edges because they will help you identify it faster.
When you get to this spot, jump in the water and start diving.
While underwater, you'll have to swim straight ahead, then take a right turn, and then a sharp turn to the left.
You should be able to see a grate, then some wooden planks.
Destroy those by performing a melee attack, then the path ahead will be clear, just as you can see in my screenshot.
Swim towards the statue, and the collectible is yours.
And that's it, friends. You just found the Assassin's Creed Valhalla Mercury Temple Roman Artifact in the video game developed by Ubisoft, but you may also need help with the one at Evinghou Tower.