Assassin's Creed Valhalla Treehouse Shoppe Hoard Map is one of the Artifacts you can find in Suthsexe. Like all Hoard Maps, it allows you to unlock a hidden treasure in the Assassin's Creed video game developed by Ubisoft. Claiming the AC Valhalla Treehouse Treasure is harder because the map comes with a riddle.
So, in case you need help, make sure you follow this guide to discover the Suthsexe Treehouse Shoppe Hoard Treasure, as I will tell you where it is and what you need to do to get it.
Before we begin, though, it is worth mentioning that you should not confuse this Hoard Map with the Witch's House Hoard Map, the Suthsexe Crawelie Hoard Map, or the Suthsexe Hoard Map because they are quite different.
Where To Find the AC Valhalla Treehouse Shoppe Hoard Map
The first step is to locate the actual Treehouse Hoard Map in Suthsexe. As said, this map is unlike any other maps in the video game, meaning that to get it, you'll need to complete a World Event. This event is named Tiny Black Market, and as you can see on my map below, it is located just north of Brimclif Monastery.
When you get to this location (Treehouse Shop), your goal is to buy a series of items from a little girl. To get to the girl, however, first, you'll need to provide his brother with a password, which happens to be Apple. Now, the Treehouse Shop is open for you, and you can buy three items: a special shoe, a colorful shell, and a petrified worm. The most important one is the shoe because inside you'll find the map, but obviously, you may want to buy the rest as well.
Once you buy the shoe, you'll get the map and finish the Tiny Black Market event.
Where To Find the Treehouse Shop Hoard Treasure
Once you pick up the treasure map, open your inventory, and check the riddle, which provides several clues:
The treasure is west of Brimclif
Past the rock bridge
It requires a leap of faith
Now, from your current location, open your map and head south towards Brimclif Monastery.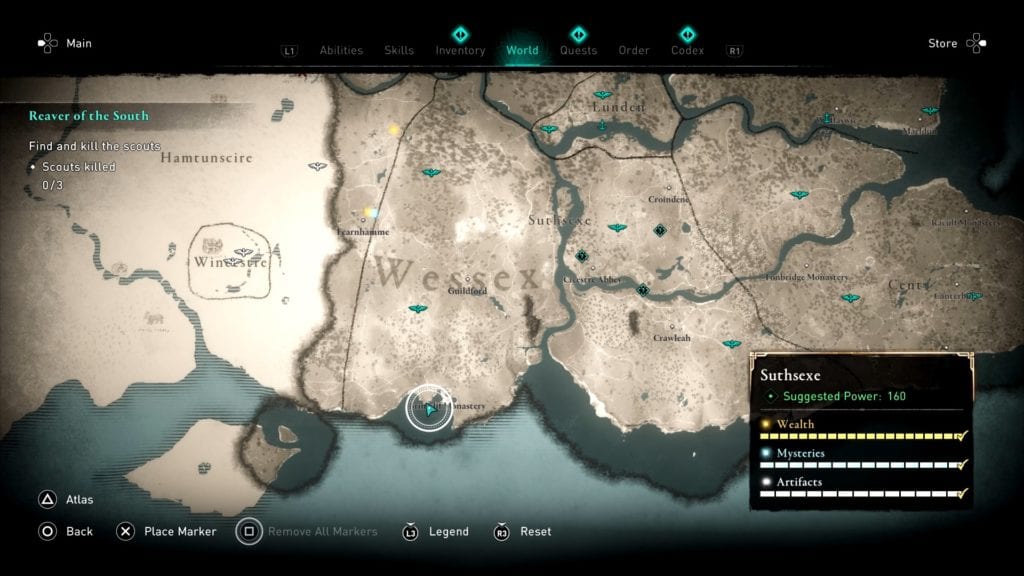 When you reach the spot marked on the map above, you'll see a large wooden cross at the cliff's edge. To get to it, you'll need to cross a stone bridge mentioned in the riddle. While standing next to the said cross, perform a leap of faith in the water below. Now, look around to spot the wreck of a ship like the one in my screenshot. The treasure you're looking for is next to the shipwreck.