The Sciropescire Fly Agaric is, hands down, the easiest Mystery in the Assassin's Creed Valhalla Sciropescire region and also the most accessible I have encountered so far; however, without knowing what to do, this World Event can turn into a deadly trap. Because of this, the Fly Agaric in Sciropescire requires attention, even if you can complete it in less than one minute on the clock.
Since we don't want Eivor to look like a fool and die poisoned by mushrooms he should not eat, we will discuss the Sciropescire Agaric puzzle and how to complete it in the following guide.
As usual, we will start with this mystery's location on the world map. This is located southwest of Wenlocan Abbey. Simple as that.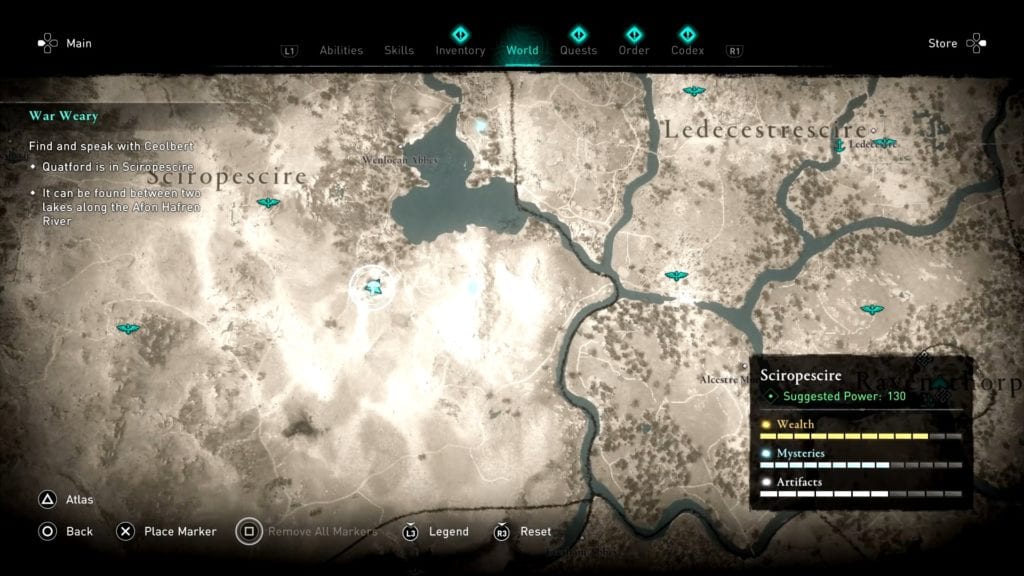 Ride south, and you'll find it in the spot on my map above. The problem here is that the area is filled with mushrooms of different colors. And with different effects. While most of them are good to eat, there is one type that is deadly. The white ones that can be observed next to the large tree nearby. Eat those, and you're done.
This explains what happened to the wannabe druid who left the following note next to the Agaric you'll have to solve. The Engraved in Stone Note you can see below was left by someone who tried all the mushrooms in the clearing, including the white ones.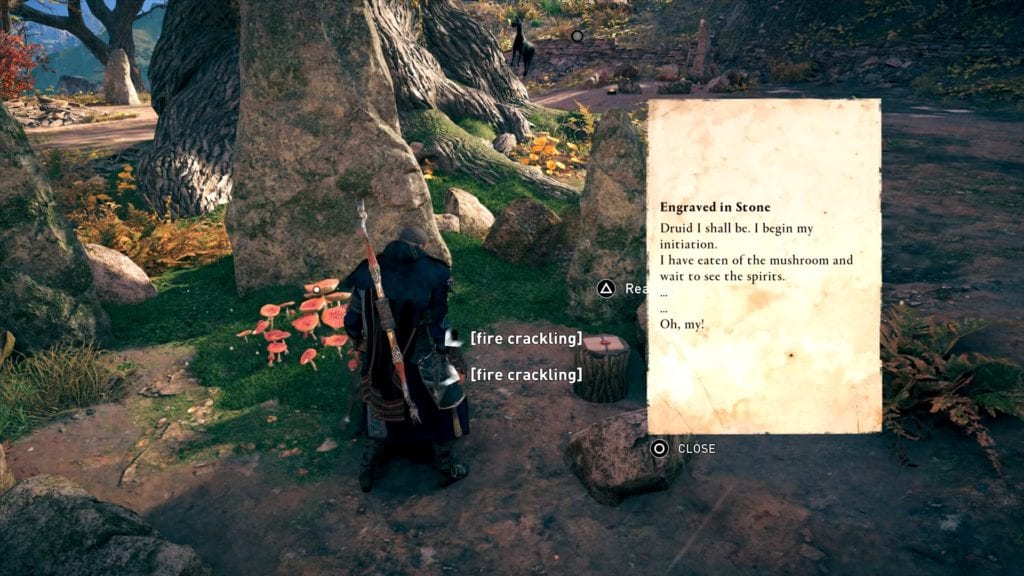 So my suggestion is to stay away from those and focus on the Agaric mushrooms you can also see in my screenshot (left side).
Sciropescire Mushroom Puzzle Solution
Good, so once you eat the correct mushrooms (red) near the note, you'll start a new hallucination, and you'll be able to spot several altars around you. The idea here is very simple. Pay close attention to the altars nearby, and you'll notice that some are different than the rest.
Some have stones around them, while others don't. What you have to do is to light or interact only with those altars that have a circle of stones around them, like the one below.
When you do that, you'll see that the flames on those altars will turn blue. And that's all you have to do, but just so you know, there are 3 of them, and there are also three altars that must be left alone. When you interact with all three, pass through the door, and you're done with this mystery.