Assassin's Creed Valhalla Twirling Targets is another Ostara Festival timed quest you can play as many times as you want in order to get Festival Coins that can be spent at Norvid's shop.
Luckily for us, unlike Let's Get Festive, which is currently bugged, Ubisoft did a good job with this one, and even though you won't encounter any difficulties in completing it; there are several things you should know, especially if you want to get the best score in this Archery Challenge.
So, below I'll share with you several tips and tricks you can use when playing the AC Valhalla Twirling Targets Archery Challenge.
How to Start Twirling Targets In Assassin's Creed Valhalla
The Ostara Festival Twirling Targets quest is picked up by talking to the not-so-cute Thyra.
She is standing on a wooden bridge just behind Eivor's longhouse.
Due to her size (as you can see below), she's impossible to miss.
The idea here is quite simple. Talk to Thyra, and start the Ostara Festival Archery Challenge to win prizes.
Now, before moving to the hints, I want to share with you; it is worth knowing that the prizes you can win are Festival Coins, so don't expect a fancy new weapon, or a new headgear, because it's not the case.
Twirling Targets Archery Challenge Prizes
So, now that we know what we get, let's see how these prizes are determined in AC Valhalla.
Well, the answer here is pretty simple. You'll get a specific amount of Festival Coins depending on your final score, which I will cover below.
As such, here is what to expect:
0 Festival Coins – Are awarded if you score less than 500 points. That's because you'll have to work a bit harder
10 Festival Coins – To get these, you need between 500 and 999 points. You're getting there, but you have to focus more
20 Festival Coins – These are awarded if you manage to score 1000 and 1099
30 Festival Coins – For these, you need a score between 1100 and 1199 points
40 Festival Coins – Only true archers can get these because only they can score over 1200 points
And that's about it. Now let's see how to get the highest score in the AC Valhalla Twirling Targets contest.
How To Get The Best Score In Twirling Targets Archery Challenge
As said to get the best score in this challenge, there are some ground rules you have to follow.
The most important one is to know your targets because you have only 2 minutes, and not all targets award the same number of points. Or simply put, the green ones suck, while the red ones are the most important.
Here is how many points you get depending on the targets' colors:
Green Targets – 10 Points
Orange Targets – 15 Points
Red Targets – 25 Points
So, as you can see, the red targets are those you want to aim for; however, in order to make the most points try to prioritize them based on the points they award.
Again, simply put, you'll want to start with the red ones, then focus on yellow targets, and only if you have enough time should you look for the green ones.
This way, even if you miss the bonus scores offered by hitting all targets during a twirl, you'll get more points.
Another trick you have to know is that you don't have to charge your bow, and your current bow will be replaced by a Hunter Bow.
If you try to charge it, you'll waste a lot of time, so don't do that unless you want to lose.
Now, you'll also want to tweak your controls a bit if your crosshair is moving too fast. This can help you improve your accuracy, and you'll be surprised how good you are at shooting these targets.
Finally, learn the colors of all targets and their locations.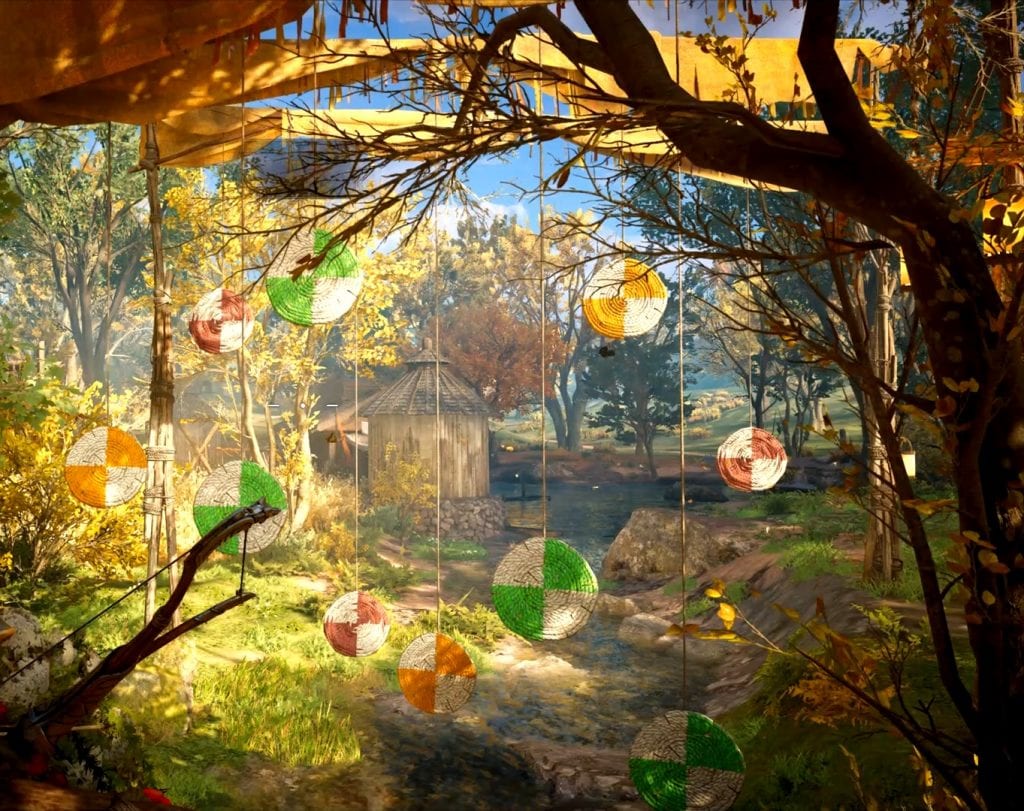 They do not change, and you can see them above. When a new spin starts, always have your bow pointing at a red target, and if it turns towards you, then you saved a couple of seconds.
Keep in mind that winning the AC Valhalla Twirling Targets Archery Challenge (aka scoring above 1200 points) also allows you to unlock Thyra the Sharp Shooter for the Ostara Viking Brawl, and you'll face her during the 4th round.