The Assassin's Creed Valhalla Buckingham Gear allows you to unlock the Magister's Vambraces while exploring the Oxenefordscire region in the latest video game developed by Ubisoft.
However, the AC Valhalla Buckingham Wealth chest can be a bit tricky because to get it, you'll need to open a locked door which requires, well, a key.
Specifically the Buckingham Church Key.
No worries, friends, because in this guide, we will talk about the location of the key and how to get the Buckingham Gear Piece inside the church.
It will only take a couple of minutes because this one is easier than the Venonis Gear we covered earlier.
Assassin's Creed Valhalla Buckingham Gear Location
Let's start from the beginning with the actual on-map location of this piece of gear.
This one is located inside the Buckingham Church in Oxenefordscire.
You can see it on my map below. So far, so good, right?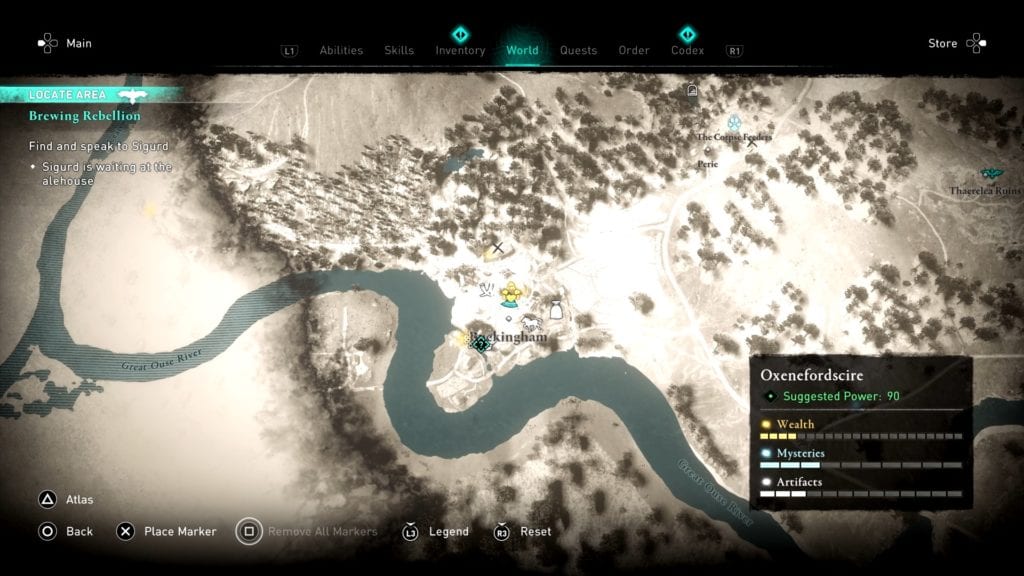 But how do we get inside since all Buckingham Church doors are locked?
Using a key, of course.
How To Get The Buckingham Armor Piece
Once you get close to the church in question, head south and go around it.
Very close to the church's southern wall is a locked door, and nearby you'll find a key sitting on a wooden bench under a covered area.
In the image below, you can see both the Buckingham Church Key location (right side) and the door you need to unlock (left side or center if you want).
Now, get the key and open the door in front of you.
In the first room, which is quite small, on the left side, you'll see a note. This is a Memorial Note.
Look up and to the left while facing the note to see a suspended ladder (also pictured).
Shoot the locker with your bow, and you'll be able to pull down the ladder.
Now head up, and when you reach the next floor, look for the chest with the Magister's Vambraces sitting by the window.
And that's it, friends. That's how you get the Assassin's Creed Valhalla Gear inside Buckingham Church in Oxenefordscire, but now you should get the Magister's Robes from Leah Villa Garrison.