Assassin's Creed Valhalla Kiltaraglen Ingot Wealth is one of the 9 Isle of Skye Wealth Collectibles you must retrieve in the latest Valhalla Crossover DLC published by Ubisoft.
AC Valhalla Kiltaraglen Ingot Wealth Collectible is a bit trickier than the rest but mandatory if you want to get 100% completion on Skye Island.
So let's see how to open the AC Valhalla Kiltaraglen Wealth Chest, which contains a Tungsten Ingot.
AC Valhalla Kiltaraglen Ingot Wealth – Where To Find
As usual, let's start with the Kiltaraglen Ingot Chest location, which, as you can see on the map above, is on the eastern coast of Skye Island.
Kiltaraglen is an essential location you'll visit during the story, and Kassandra will ask you to meet her.
Without spoiling the story, your first task is to get to the location I have marked on the map.
Once you do that, you'll have to find a rather large house that may look locked at first. Except that is not.
Assassin's Creed Valhalla Kiltaraglen Ingot Wealth Chest – How To Open
Once you find the house with the Wealth Chest, your next objective is to get inside.
To do so, go around the building and look for a shelf blocking the window in the back.
You can see it below, and all you need to do, for now, is to move it to the right.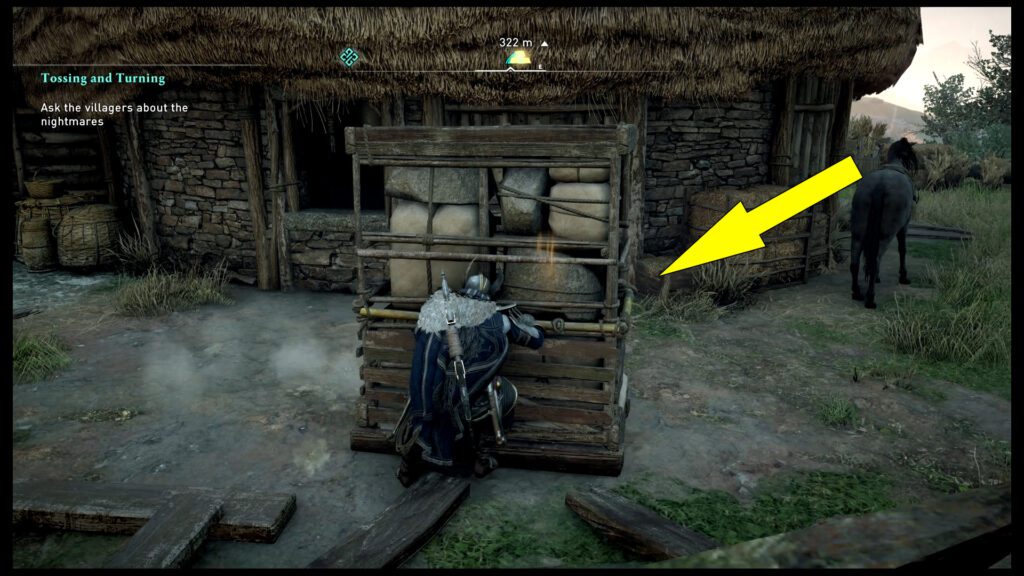 Great, now jump through the window, and you'll be inside the house where the Kiltaraglen Chest is found.
If you can see it, it's because the house owner managed to hide it pretty well.
Specifically under the floor. 
So, start smashing the wooden crates in the middle of the house.
After dealing with the wooden boxes, smash the fake floor to see the chest, which is locked.
So, the last objective here is to find the Assassin's Creed Valhalla Kiltaraglen Wealth Chest Key.
From your current location, exit through the same window (where the shelf was located), then head left, and you'll see a tree.
If you look up, you'll spot the AC Valhalla Kiltaraglen Chest Key hanging on a branch.
Reaching the branch is relatively easy, especially because now you have a moving shelf.
So start pulling it and place it close to the tree's trunk, then hop on it and retrieve the Ingot Chest Key pictured below.
Excellent, not that you got the key, head back inside the house and unlock the Assassin's Creed Valhalla Kiltaraglen Wealth Ingot Chest.