In Assassin's Creed Valhalla, Humble Ake is your Flyting opponent in Ravensthorpe during the Sigrblot Festival we already covered here.
Humble Ake is also the NPC you'll need to beat in order to finish the Fight Or Flyte sub-quest as part of the War Effort quest.
As such, this flyting duel is mandatory for the War Effort and the Sigrblot Festival, simply because without defeating Ake at flyting, you won't be able to finish the War Effort.
So, below I'll tell you everything you need to know about this specific duel and how to complete it.
Where To Find Humble Ake In Sigrblot Festival Area
Humble Ake is found close to the offerings boat, and he's waiting for you in front of his house.
To find him, check the Sigrblot Festival Area east of Ravensthorpe and locate the offerings boat, which has three wooden carvings depicting Norse Gods around it.
Now, if you wish to follow the War Effort quest and defeat Ake as part of the said quest, simply interact with the carving that has a roasted pig in front of it.
Here it is.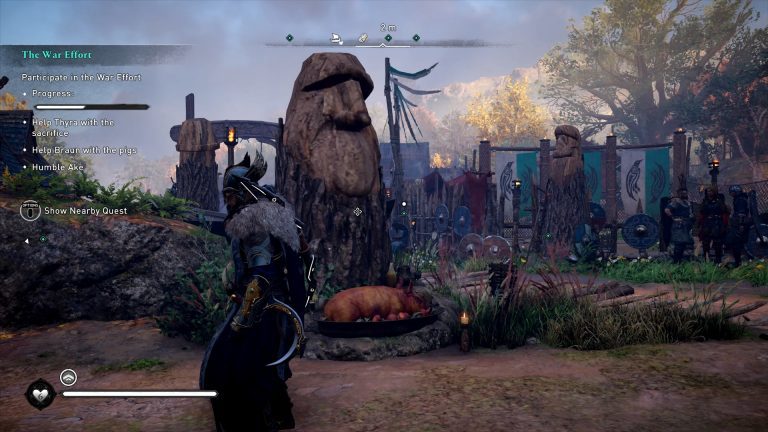 When you do that, you'll see a set of tasks you have to finish. Humble Ake is one of them.
Obviously, you can also challenge Ake without interacting with this statue.
If you want to do this, simply look around to see him in front of his house.
He is several steps away from your current location.
This is Ake and your Flyting opponent.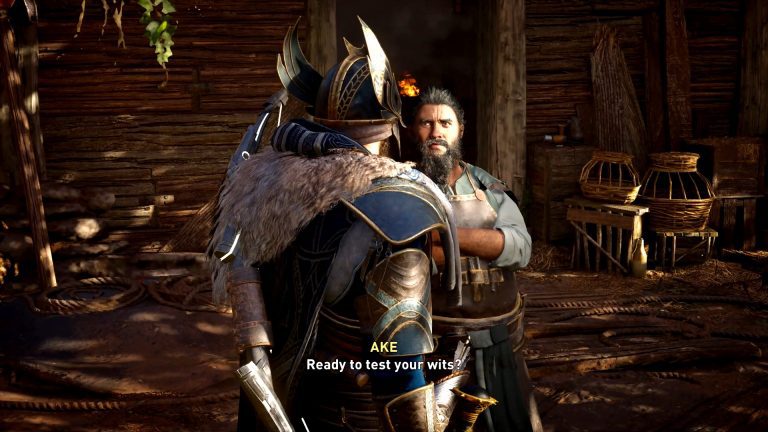 How To Win The Humble Ake Flyting Duel In Ravensthorpe
If you completed the game already, then you know how this works.
First, you'll need to place a bet, and since below you'll get all Ake flyting correct answers, you'll want to bet the maximum amount.
Keep in mind two things, though:
This time you are betting Festival Tokens which are very important if you wish to buy all items at Norvid's Shop
You can only duel Ake once, so make the most out of this duel and bet 100 Tokens. If you don't have enough, return after you finish other tasks.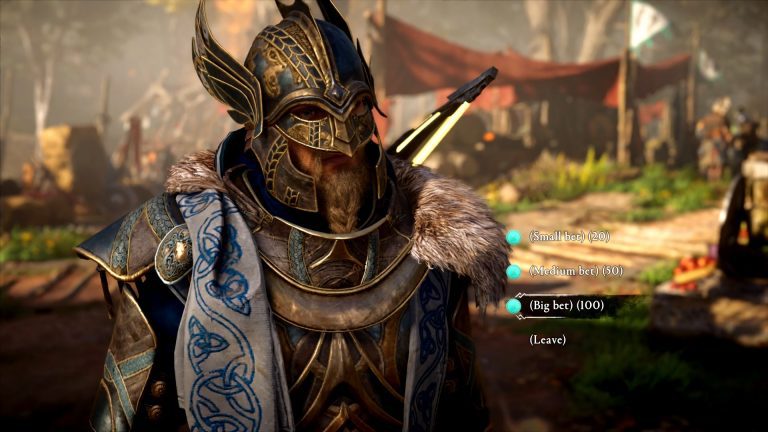 All Sigrblot Festival Ake Flyting Correct Answers
When the duel starts, you'll have a limited amount of time to answer each insult.
As such, let Ake start, then pick these answers when your turn comes:
First Answer: While I fight and I bleed. You turn honey to mead.
Second Answer: A calm life is yours to choose. I draw blood, you nurse your brews!
Third Answer:You are drunk or insane, with rank rot in your brain.
Fourth Answer: In due time, you'll be skilled, Til then, wait, lest you're killed.
Once the duel ends, the Fight or Flyte quest is completed, and you'll receive 200 Tokens, which you can spend as you wish.
And that's it, friends. 
That's how you beat Humble Ake at flyting during the Assassin's Creed Valhalla Sigrblot Festival released by Ubisoft.