The Trapped Boy you'll hear while exploring the Assassin's Creed Valhalla Sciropescire region must be saved to complete another World Event named Bewitched. In this AC Valhalla Mystery, you'll be once again fooled by a kid, but compared to Asta The Summoner and Nel, this time, you'll have to solve a puzzle that involves a lot of locked doors.
The good thing about this mystery is that it doesn't require too much time, provided you know what to do. So, let's help the AC Valhalla boy trapped by a witch, even though we already know he's taking advantage of us.
AC Valhalla Bewitched World Event Location
To start this event, first, you'll need to reach Sciropescire, then check the marker on my map below. This location is northeast of Caustow Castle, and you can't miss the trapped Boy's house because it's pretty large. The Boy in question is vocal, meaning you'll hear him asking for help even if you're not standing near his locked house.
How To Free the Boy Trapped in a Room With Witches
Good, so once you reach the Boy's house, your goal is to free him. All doors, however, are locked or barred, so there are specific steps you have to follow. No worries, though, because I'm going to help you.
As such, the first step you'll need to take is to go around the large house (right side while facing the main door) and look for a weak wall you can break. It is pictured below, and once you get inside the backroom, you can shoot the locker on the front door through the grates on top of the stairs. Easy as that.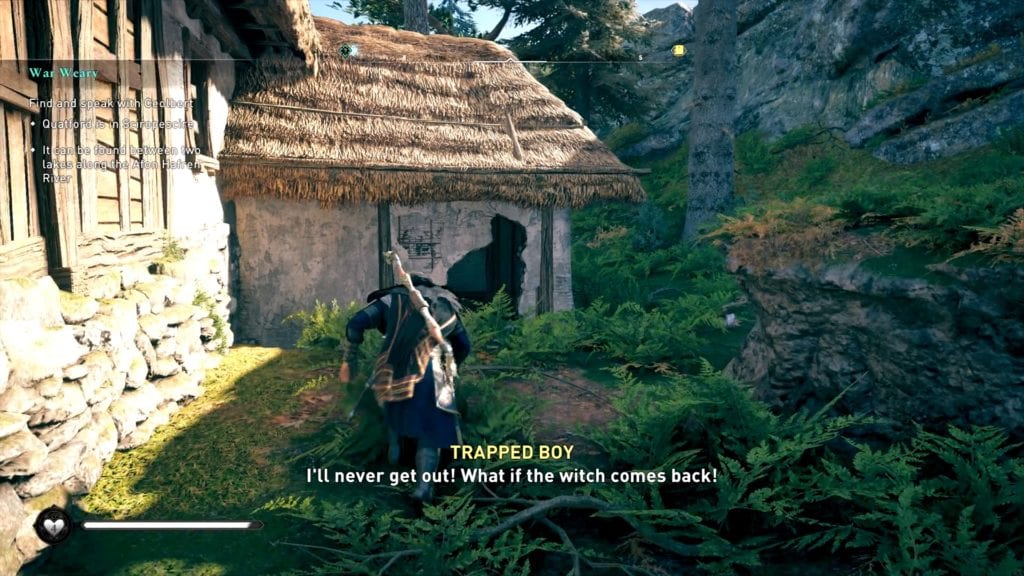 Now, get to the front door and get inside the house. In front of you is a chair and the Basement Key, which unlocks the nearby gate, although you don't have to open it because it will lead you to the backroom.
What you need is to get inside the door on the left while facing the basement door. But the door is barned. To unlock it, go outside, turn right, and go behind the house. Here, you'll see a small hill and three pine trees. Head up the hill, and while standing between the trees, aim your bow to hit the locker through the grated window pictured below.
Now, head back inside the house and check the room on the left to find a shelf you can move. Destroy the crate on the right side, then pull it towards you and to the right, as you can see below.
On the ground, you can find the Boy's Room Key and all you have to do is to cross the corridor. On the other side is the Boy's room. Free him, and you'll discover that the witch is his mother, who locked him up because he was picking his nose.