The Assassin's Creed Valhalla Essexe Hoard puzzle is a bit harder than the one in Cent because this Treasure Hoard Map Artifact comes with a text instead of a drawing, and revealing the clues from it can prove difficult. However, if you encounter difficulties finding the map or the hidden Essexe hoard treasure, this guide should help you while exploring this amazing region.
Claiming the AC Valhalla Essexe Treasure Map is also easy, especially since it is close to the Harpoon Impalement Ability upgrade we already discussed.
Where To Find the AC Valhalla Essexe Treasure Hoard Map
The first step is to locate the Hoard Map in Essexe. This can be done by visiting the location on my map below, in Colcestre. Now, without going into details as we already covered them when we discussed the ability mentioned above, the Treasure Map is inside the Sancta Helena Church.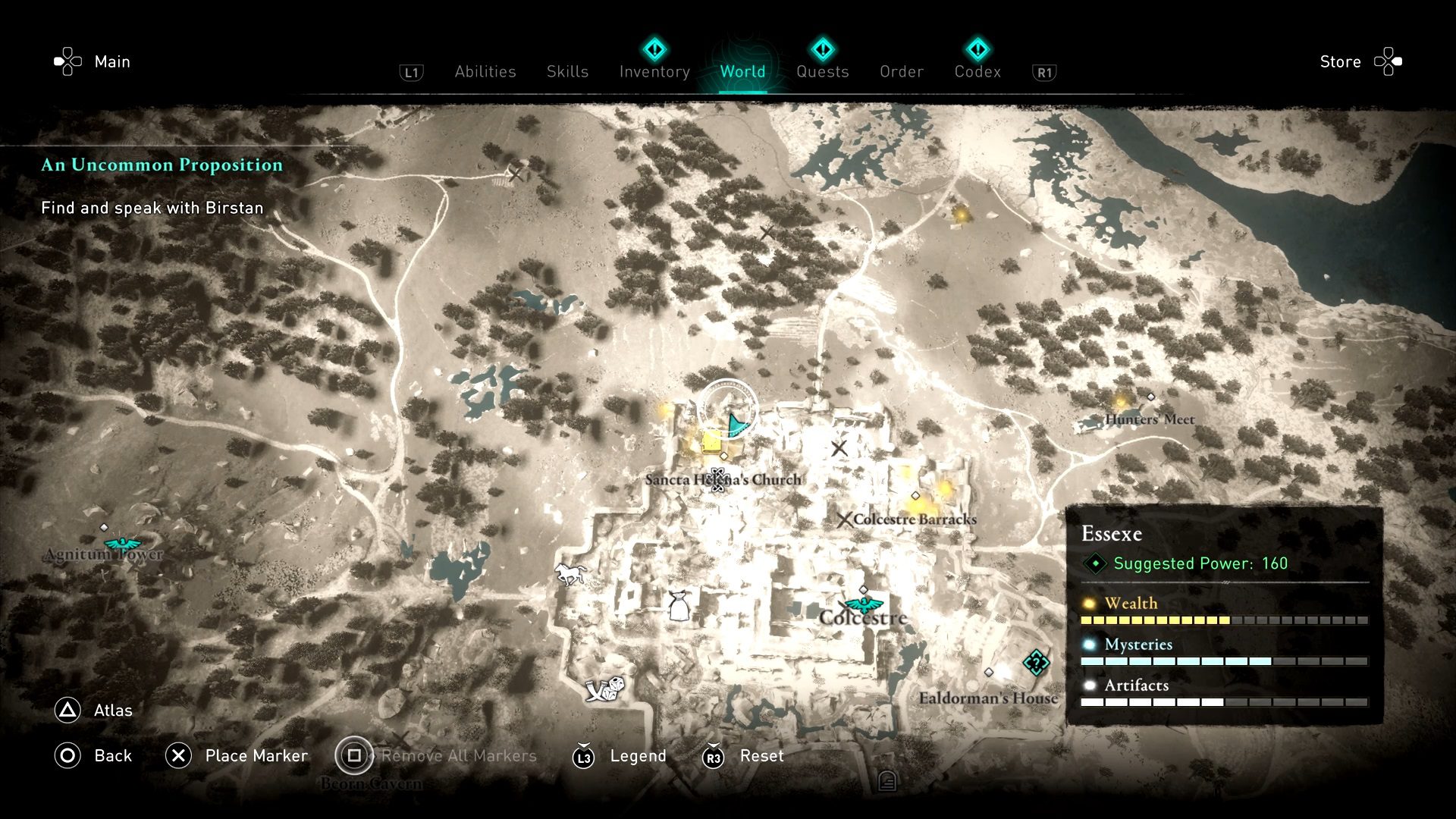 Specifically, inside the tower you can access by finding the Sancta Helena Church Key. If you don't know how to get it, head outside the church, go around it, and look for the shelf pictured below.
Move it to reveal a hidden window you can break, and inside the next room, you'll find the key to the Sancta Helena Church locked door. Head up the tower using another shelf you can climb to reach the first ladder, and on the last floor, by the window, you'll find the Hoard Map in Essexe. Open your inventory and take a look.
Where To Find the Essexe Hoard Treasure
The note offers a lot of clues, but the most important are:
The hidden treasure is in the southern part of Essexe
It is close to a Roman Tower
It is inside a circle of plants
The exact location of the hidden treasure is marked on my map below. It is the southernmost point in Essexe, as you can see.
Here, you'll find a Roman Tower, and southwest of it, close to the river, is a circle of purple flowers, just as in my screenshot. The hidden Essexe Hoard Treasure is in the middle of this beautiful circle of flowers. Once you find the highlighted spot, claim the Huggin Call Scheme (Arms).