Gnafandi Keep Ingot Wealth, or Platinum Ingot, is an essential Assassin's Creed Valhalla material if you want to enhance the quality of your gear from mythical to divine. You can do that at any blacksmith in Svartalfheim, the new map introduced by the Dawn Of Ragnarok expansion.
The collectible is not that easy to obtain because you have to use one of your new godly Powers in a not-that-obvious spot. If you are stuck, check the guide below to save time while looking for this collectible.
Where To Find the AC Valhalla Gnafandi Keep Ingot Wealth
Gnafandi Keep Ingot is located northeast of Jordeygr Shelter in the Svaladal region. Or south of the Sol-ok-Mani Vault, which you probably know from the main quest. You can see the location on the map below.
Once there, you will see a Keep with plenty of guards ready to hurt you, so proceed carefully. Now, let's see how to get that much-needed material.
How To Get the Gnafandi Keep Wealth in Svaladal
When you arrive at Gnafandi Keep, the first thing you want to do is kill one of the guards on the fortress walls and drain the Power of Jotunheim from him. If you play your cards right, that will be the only enemy you have to kill. So sneak yourself to the highest tower you can see in the fortress. Now, you will want to climb it because, at the top, you can find a Cosmetic Scheme, which also counts as an Artifact.
After that, go down on the tower's south side wall, and you will reach an entrance covered by ice with the Gnafandi Keep Ingot Wealth behind it.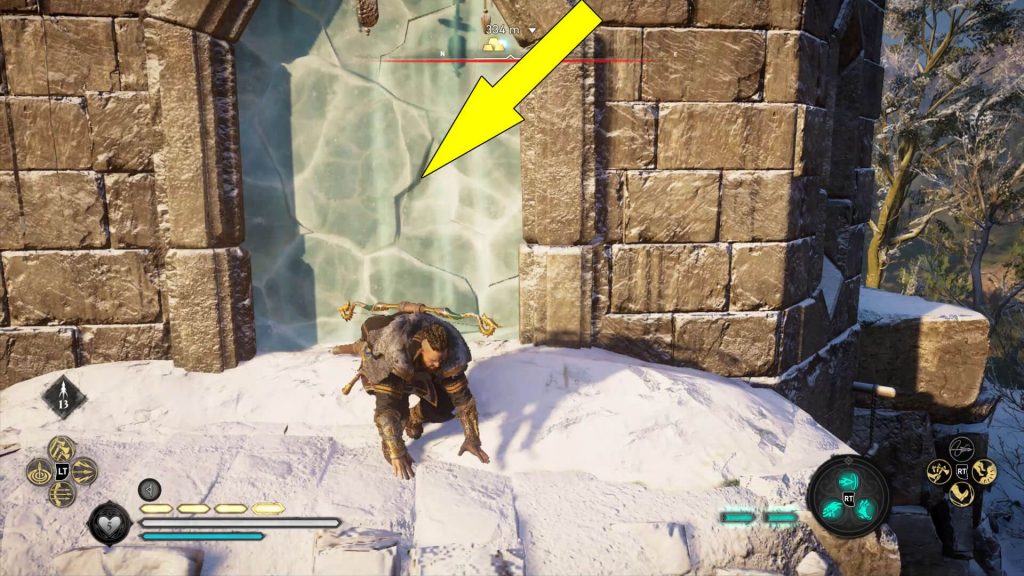 You can break some of the ice, but this won't get you inside because there is another layer (an indestructible one). Sometimes, a Viking must use his brain, not just his muscles. So, trigger the Power of Jotunheim and go to the barred window around the corner on the left. Now shoot your bow through the window in the red target (like in the screenshot below), and you will teleport into the room.
You can now open the Gnafandi Keep Ingot chest and obtain the Wealth collectible in the Dawn Of Ragnarok DLC released by Ubisoft.
Break the wooden crate in front of the rocks to move them out of the way and get out of the fortress.