Assassin's Creed Valhalla Dawn Of Ragnarok Liv's Beloved Bo Mystery: How To Complete
Assassin's Creed Valhalla Liv's Beloved Bo or Carpe Diem is a Mystery you trigger while exploring Svartalfheim, home of the dwarves, added in the Dawn Of Ragnarok DLC released by Ubisoft. More specifically, in Gullnamar, a smaller region infested by Muspels.
The World Event is relatively short but can be difficult if you don't have everything required and don't know what to do.
Aside from XP, you will also get a key to a nearby house containing a Platinum Ingot Wealth chest.
This quest is also funny and will probably give you a laugh, so check out the guide below to complete the Dawn Of Ragnarok Liv's Beloved Bo Mystery faster.
AC Valhalla Liv's Beloved Bo Mystery – Where To Find
First, let us get you there with the help of the map below.
You can start heading southwest on the road from the Skidgardr highpoint until you reach the small village Onarthorp.
Instead of entering the housing area, stick to the road leading west.
A little distance before reaching the river, you will see a house on the right of the road. Also, the Wealth and Liv's Beloved Bo Mystery should appear on the compass.
In front of the house, near a cart, you should find a desperate woman with a dead body beside her.
Dawn Of Ragnarok Liv's Beloved Bo World Event: How To Complete
When you approach the NPC, or Liv (pictured below), you'll hear her weeping, the cause being her beloved Bo, who died after slipping from the roof.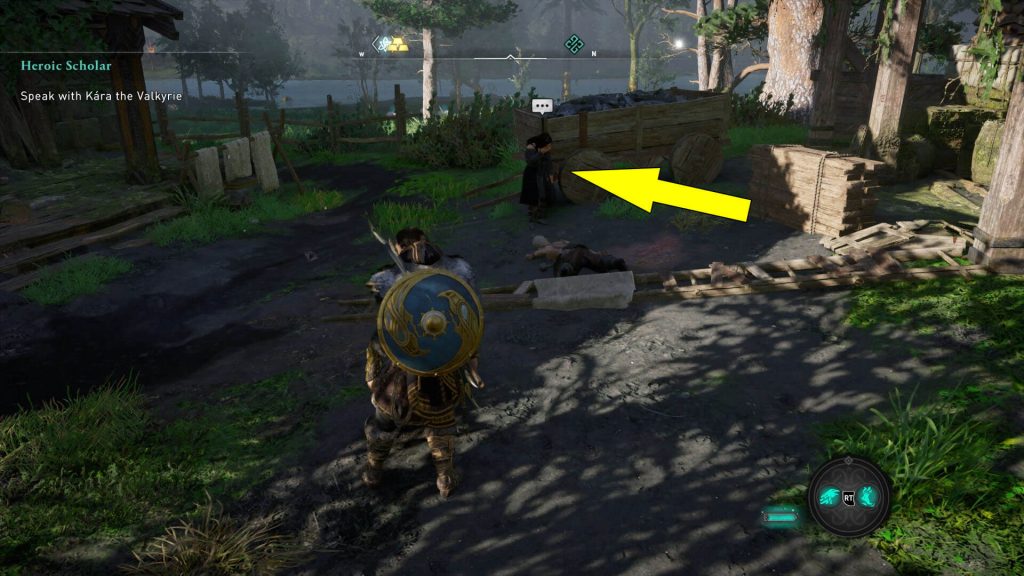 Being a merciful god, you decide that a resurrection is in order for a final goodbye between the two.
To do just that, you will need the Hugr-Rip's Power of Rebirth.
No worries if you don't have it, because not far from here, you can find some Muspel mobs you can kill, and after that, drain the required power from them.
You will also need the Instant Horde upgrade for this power, obtainable at any blacksmith for the cost of 5 Silica and 20 Living Spark.
You can gain these materials after completing a couple of Raids.
Once you are all set, go and talk to the crying NPC. After that, go near the dead body and use the Power of Rebirth to get him on his feet.
A funny dialogue will begin between him and the woman, which I will not spoil. However, you must do this three times because he keeps dying when the timer runs out.
There are a lot of Hugr Blooms and a Yggdrasil Shrine that should be enough to recharge your power.
When the couple finish talking, make sure to follow the woman and get your reward.
Don't forget to unlock the house's main entrance with the key you obtained from finishing the Liv's Beloved Bo Mystery.
There you will find a chest containing the Platinum Ingot Wealth.
It is also worth mentioning that I encountered what was probably a bug when I arrived at the dead body for the second time to revive him.
The body was not there, but I found it behind the woman, near a tree on the right. I will leave you a screenshot below if you encounter the same problem.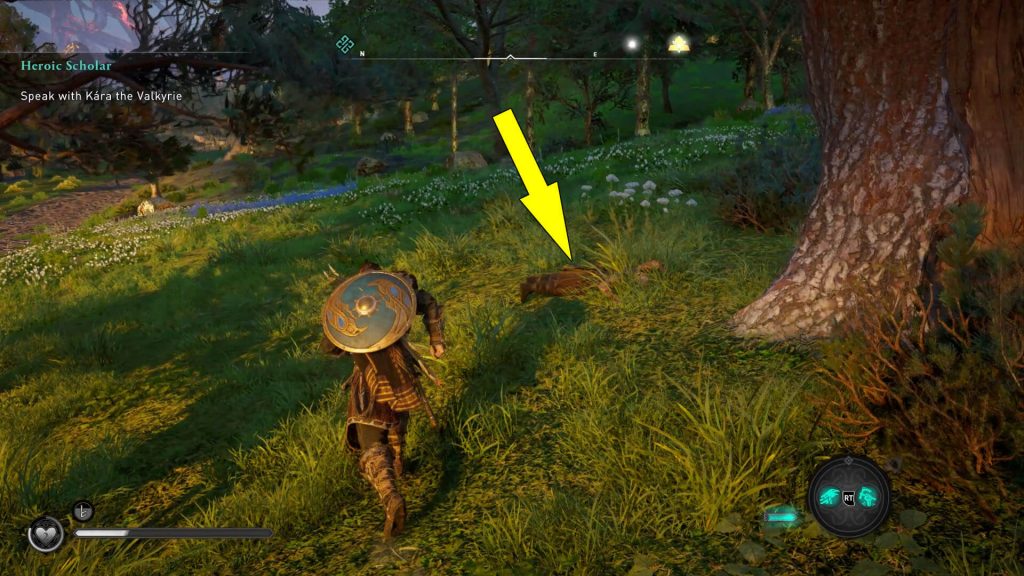 Good job! You just got a Platinum Ingot Wealth and also completed the Assassin's Creed Valhalla Dawn Of Ragnarok Carpe Diem Mystery.