The Ben Bulben Cursed Symbol is one of the Assassin's Creed Valhalla Artifacts you must find and destroy in Connacht, the third Irish area in the Wrath of the Druids DLC. AC Valhalla Ben Bulben Cursed Symbol is the second one in Connacht, the first one being located near Lough Tuam.
So let's see how to complete this Connacht puzzle and destroy the Cursed Symbol north of Ben Bulben because this one is a bit trickier if you don't know where to place yourself.
Where To Find the AC Valhalla Ben Bulben Artifact
As you can see on my map below, this Connacht Cursed Symbol or Artifact is found just north of the landmark named Ben Bulben. It is in the northern area of Connacht at the border between the third region and Ulster, south of Erne River. You can also see that it's north of Lough Glendallon Highpoint, which should be your starting location for this collectible.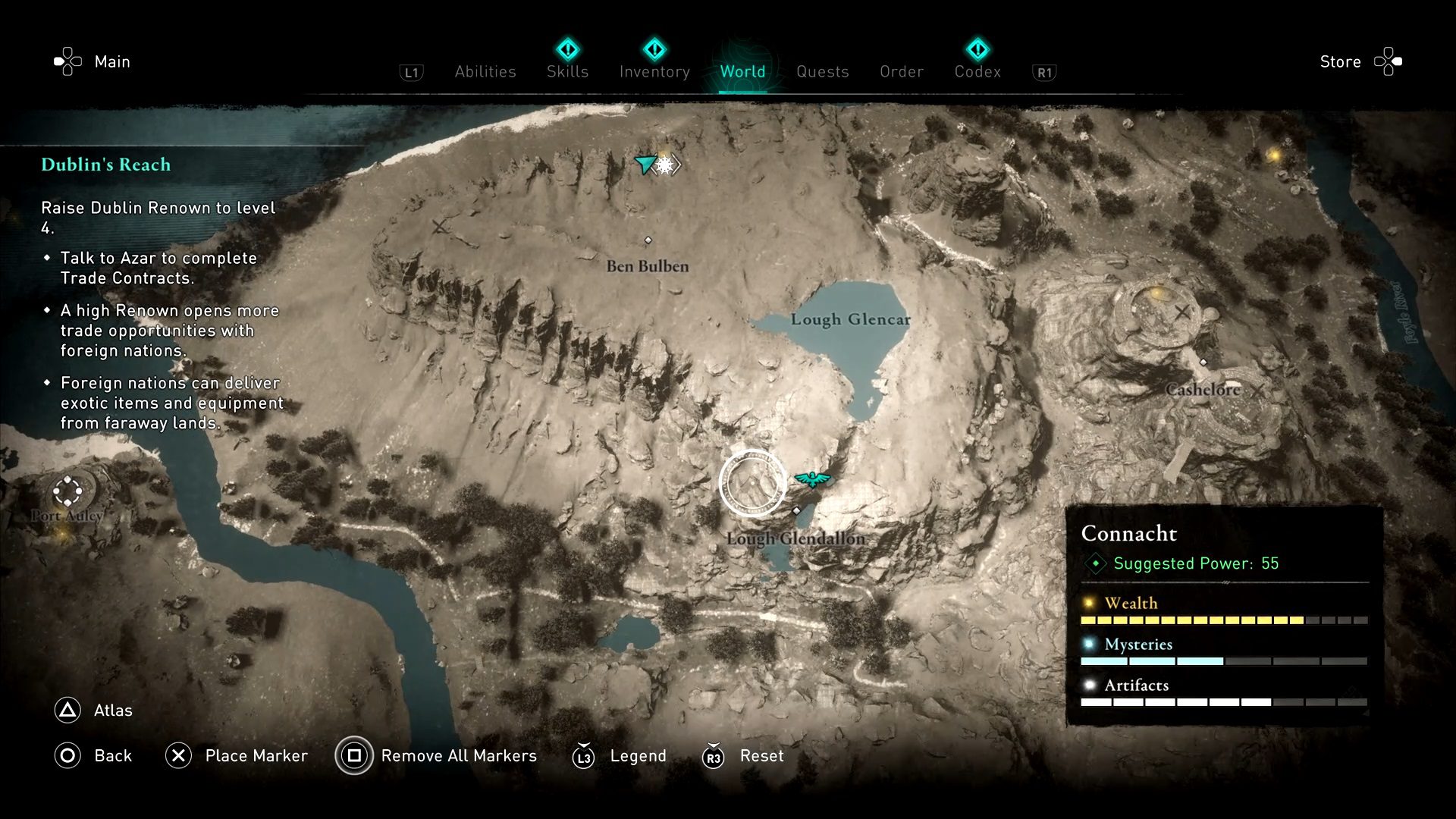 How To Destroy the Ben Bulben Cursed Symbol (Puzzle Solution)
Assuming you want to destroy this Cursed Symbol without too much trouble, start by synchronizing the highpoint at Lough Glendallon, then move north and cross the Ben Bulben plain. As you approach the collectible's location, you'll notice that it is found beneath the mountain. So, obviously, you'll want to descend the mountain wall. It's also worth mentioning that there is some sort of a former camp here.
The idea for this symbol is pretty simple. You have to reach the platform above it, so it's much easier to go down the mountain than climb the structure where the symbol is located. You'll know you are in the correct spot because on the wooden platform where you have to position Eivor (above the Cursed Symbol) is an Opal waiting on the ground. In the picture below, you can see the said platform.
If you need additional help getting this Cursed Symbol, you should know that it's 17 meters slightly east from the icon on your map, and the platform you need to find has torches and candles around it. Now, from that platform, look below you and fire an arrow to destroy the Ben Bulben Artifact and lift the curse.