Assassin's Creed Valhalla Hare's Foot is a quest item you'll need quite early in the video game developed by Ubisoft in order to complete the Cerneley Offering Altar.
Although the 3 x AC Valahalla Hare's Foot is relatively easy to get, meaning that you don't have to travel across England to get them, in this short guide, we'll go over these specific items in case you need help finding them.
So, let's start with the location of the Cerneley Offering Altar in Assassin's Creed Valhalla.
Where To Find Cerneley Offering Altar
This Offering Altar is located in Ledecestrescire, which is the first area you'll explore upon arriving in England.
On the Assassin's Creed Valhalla map below, you can see that it is south of Wenloch Abbey.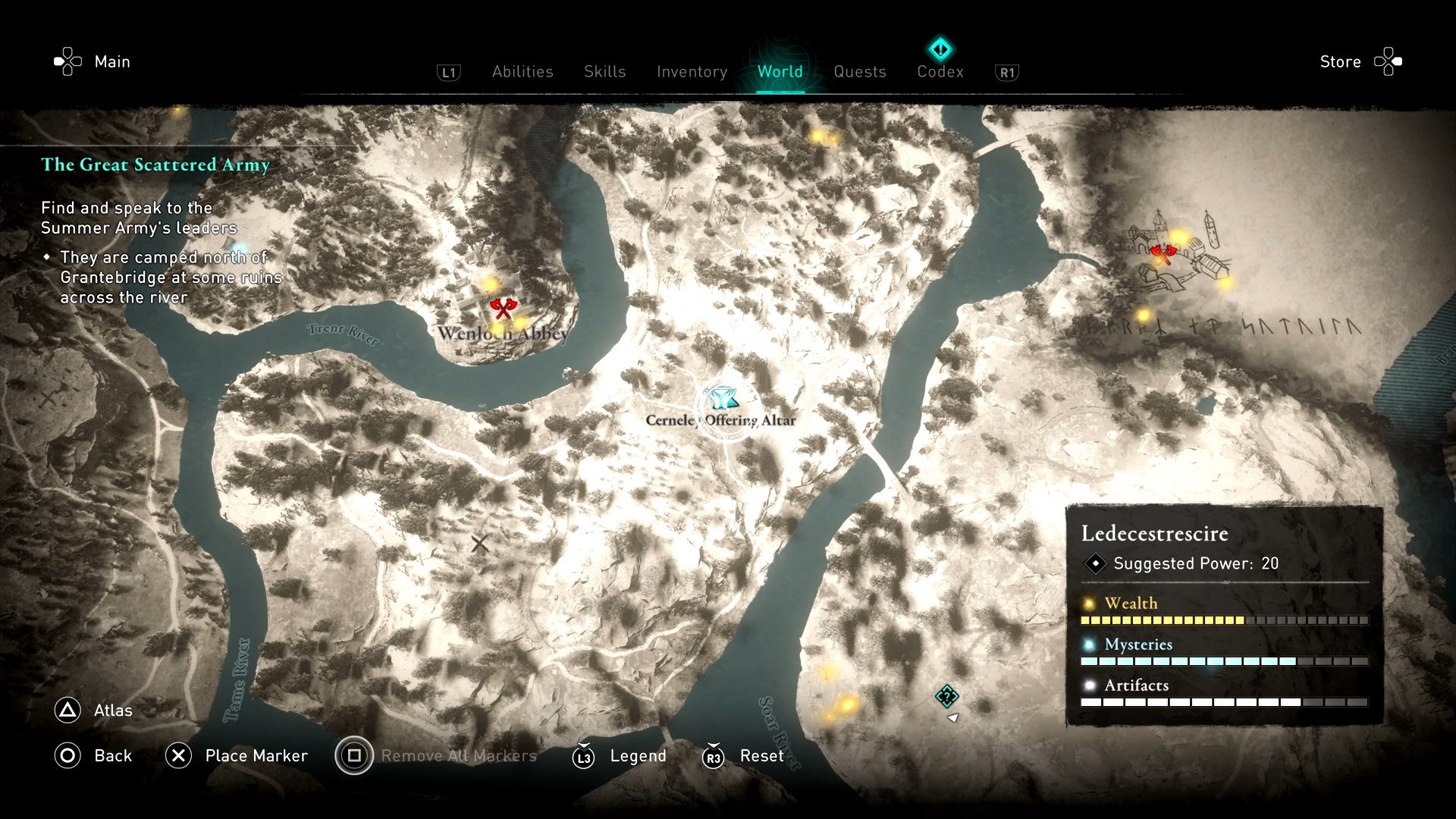 When you get to this location, you'll see that it's in the middle of a clearing.
Pretty easy to locate.
Approach the altar, and nearby you should see a note.
Specifically, this note is A Dane's Offering.
Make sure you read it if you wish to find out more about the offering you're about to make.
Good, so to complete this Offering Altar, we need to bring 3 x Hare's Foot.
How To Get Hare's Foot
The good thing about the Hare's Foot we need to find is that it comes from rabbits, and they roam nearby.
The bad thing is that the drop rate is not 1:1, meaning that not every rabbit drops a Hare's Foot.
So, start hunting them using Odin's Sight.
The clearing around the altar is full of rabbits, but you'll need to constantly keep moving.
This means that you need to stay mobile, scan the area, and look for the small creatures that are highlighted in white. Like the one you see below.
Since the drop rate is below 100%, you'll need to hunt more than 3. For example, I've got 3 x Hare's Foot after I killed 5 rabbits.
Make sure you use your bow and if you run out of arrows, return to the Altar to restock.
When you get the required amount or 3 x Hare's Foot, get back to the Cerneley Offering Altar to complete the Mystery. In exchange, you'll get 1 Skill Point.
And that's all you need to know about Assassin's Creed Valhalla Cerneley Offering Altar, but you may also want to learn about the next one, named Elisdon Offering Altar. Happy hunting!