Assassin's Creed Valhalla Dunwic ability or Book of Knowledge can prove a bit difficult to find, so I thought I should give you a hand with this Wealth collectible just in case you need help in unlocking the Rush & Bash ability in the video game developed by Ubisoft.
Even if it's not as difficult as the one in Nottfall, the Dunwic Castle ability requires a specific key, and you'll also have to find a secret passage that will lead you to a locked door.
So let's quickly go over this one and see how you can unlock it while exploring East Anglia.
Where To Find The Dunwic Ability in AC Valhalla
Good, so on my map below, you can see that Rush & Bash ability is located inside Dunwic, which can be found on the Eastern Coast.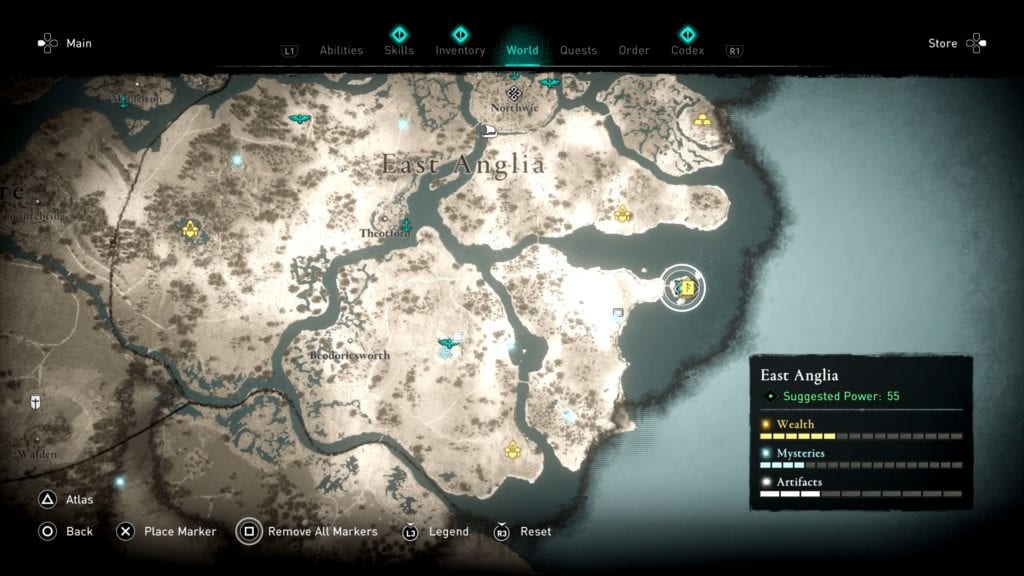 This is, as you can guess, a restricted area, but the good thing is that there are multiple entrances.
Depending on your build, you can approach it in various ways.
You can silently take out all guards, you can start a raid here by calling your crew, or you can take the guards head-on.
However, you see fit.
Once you clear the area is time to loot it.
Dunwic Castle Wealth Ability Location
The castle you need to explore has multiple structures but only one main building.
Which is, well…destroyed.
Your goal here is to first find a key, and this key is carried by a rather strong opponent.
He can be found on the second level of the castle, and if you approach him silently, you can dispatch him while he is taking a nap.
In the picture below, you can see the level where that opponent is located, although I already killed him.
Make sure you do that as well, then grab the Dunwic Door Key.
Now, moving back to the picture above, you can see several explosive jugs on the right side.
In the center, you can see the entrance that can be destroyed by throwing one of these jugs.
Or you can place it on the entrance and shoot an arrow.
Once you destroy the rocks blocking the tunnel, follow it down, and you'll reach another dead end.
Move the shelf you see in front of you to the right, and you'll reveal a hidden door (also pictured).
Unlock the Dunwic locked door using the key you got from the opponent above, and enter the next room.
The Book of Knowledge is on the left side, behind the door you just opened.
Easy right? Just make sure you don't leave the area without this one, Viking.