Assassin's Creed Valhalla Skidgardr Gear Wealth unlocks the Fire Giant Armor, part of a five-piece set scattered all over Svartalfheim, the new map added by the Dawn Of Ragnarok expansion.
The set is very potent and esthetically pleasing, so I recommend getting it as soon as possible. You can find the armor and two other pieces in the Gullnamar region.
However, the developers at Ubisoft did not make things easier for you because the set is quite hard to get if you don't know exactly where to look and what to do.
Let's focus on the Skidgardr Fire Giant Armor Wealth, and we'll help you get it throughout the following guide.
AC Valhalla Skidgardr Gear Wealth Location – Where To Find
You will have to go southwest of the Grenhellir Shelter for the chest in question, following the location pinpointed on the map below.
You have to go through the river and reach the Skidgardr highpoint. Then, if you haven't already, you might as well synchronize it and activate the fast travel.
There you will find a logging area with lava all over it that's relatively easy to spot.
To find the exact location of the Skidgardr Gear Wealth, you have to go all the way down using the zip line in front of the highpoint.
Once you reach the bottom, look behind you.
You will see a small cave on your left and, inside it, the chest. Also, on a small box at the cave entrance, you will find a note saying that you need two keys to open the Skidgardr Gear Wealth (you have a screenshot below).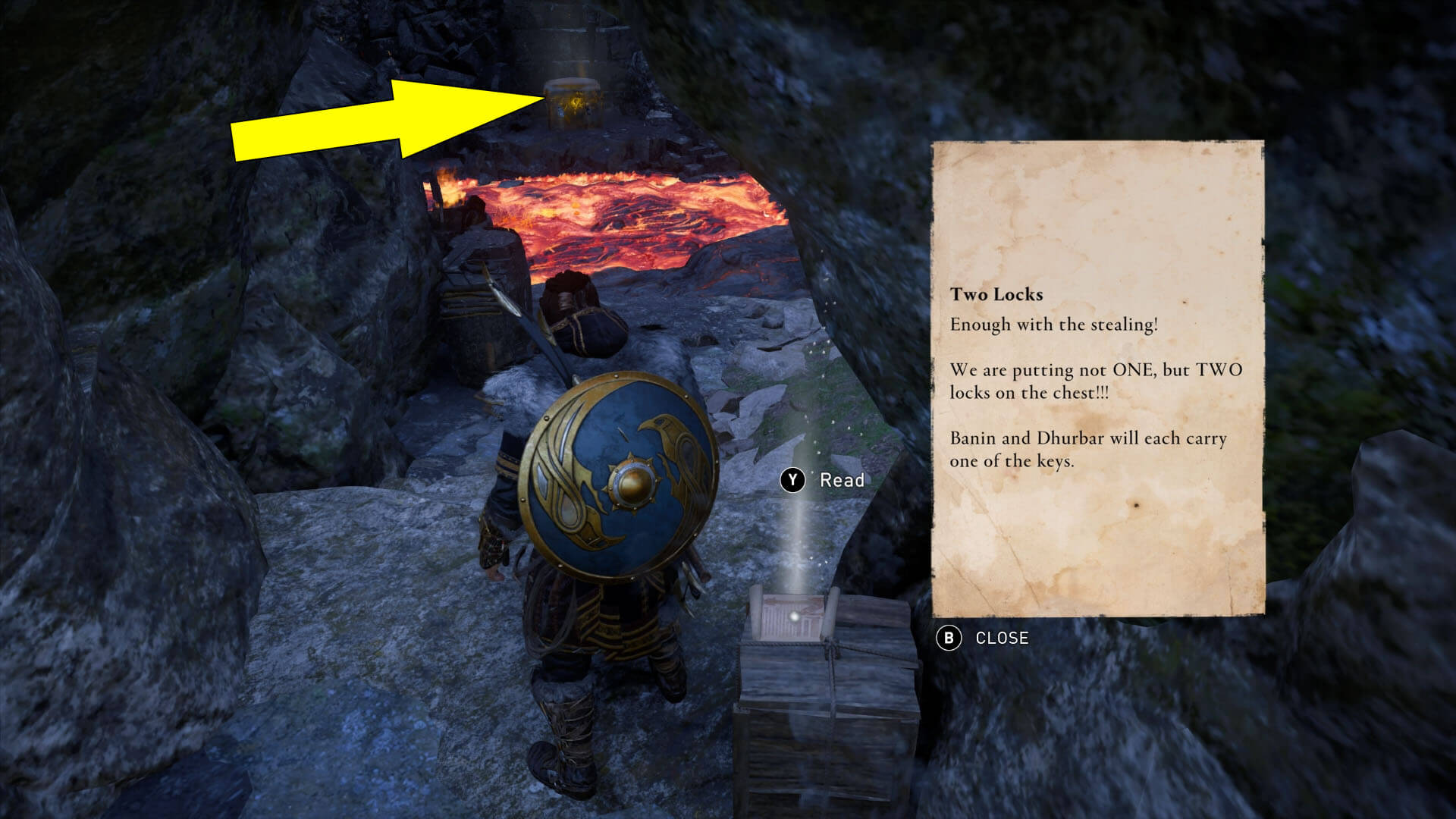 Now let's try finding those keys.
First Skidgardr Chest Key – How To Get
Start from the landing spot of the zip line and turn left to see a platform on a tree (pictured).
Use the Power of the Raven to get up there and smash the only jar on the platform to get the first chest key.
You can also find the Skidgardr Platinum Ingot Wealth on the same platform.
It is worth mentioning that some raven enemies are flying around the area if you don't have the power required to get there.
Second Skidgardr Chest Key – How To Get
You have to go back to the highpoint for the second chest key and look down at the circles formed by lava. The key is in the middle of the area, as shown in the screenshot below.
You have two options to get there. You can go commando and jump directly from the zip line or from the ground, go straight through the lava (you will not take any damage if you use the Power of Muspelheim).
Now that both keys are in your possession, you can go back to the chest in the cave and open it.
Congratulations! You now own the Assassin's Creed Valhalla Dawn Of Ragnarok Skidgardr Fire Giant Armor.