The Elk Of Bloody Peaks is the first Assassin's Creed Valhalla Alpha Animal you'll encounter in the game developed by Ubisoft. This Legendary Animal counts as a Mystery, and it can be found in the Rygjafylke region or, if you want, the first region you'll explore early in the game.
Since this mighty beast can put up a good fight, below, you'll find several hints I want to share with you in case you want to know how to defeat the AC Valhalla Elk Of Bloody Peaks.
AC Valhalla Elk Of Bloody Peaks Location
Let's start with the actual on-map location for this Alpha Animal. As you can see, it is located southwest of Fornburg on top of a mountain. Its location is marked on the map below, and honestly, this is a very strange habitat for an Elk.
But it is what it is, and all you have to do is follow the path up the mountain. On foot or by riding your horse. Depending on how fast you want to get there.
How to Defeat the Rygjafylke Alpha Animal
Even though this Alpha Animal may look scary at first sight, it is quite an accessible opponent as long as you learn his attacks.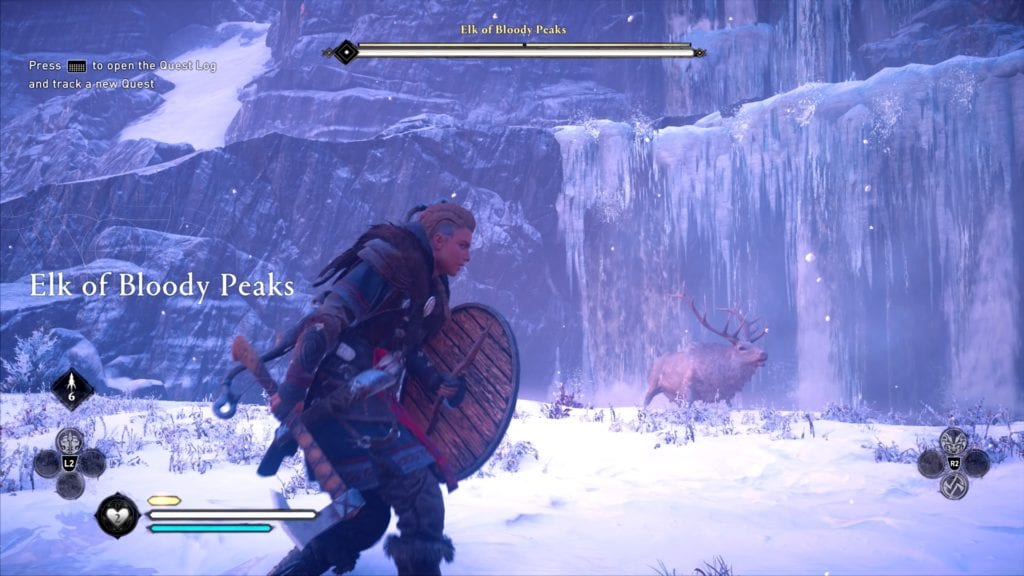 Before we talk about them, though, one important aspect must be cleared up. This animal takes a lot of damage from arrows, so the bow is your best friend. The problem is that you have only a limited number of arrows, so try not to waste them.
Ideally, you'll want to aim for the beast's weak spots above its front feet. This will stun the beast, allowing you to perform a stun attack and quickly deal more damage. Dodging its charging attacks is also mandatory, mainly because they'll launch Eivor in the air and drain your health bar quickly.
If you run out of arrows, just stay mobile and observe the Elk's attacks. At some points, the animal will stumble in the snow, creating the perfect opportunity for you to strike from behind; however, do not loiter behind the beast too much because the Elk will hit you with an unblockable attack.
It goes without saying that standing behind the beast as much as possible is mandatory because the Elk's primary weapon is his horns. The battle against the Elk Of Bloody Peaks is a game of patience, not skill, and your character's power is not as important as you think. The key here is to wait and strike only when the opportunity arises.