Hogwarts Legacy All's Well That Ends Bell is a late-game side quest in which you'll have to return the missing bells to the tower.
To complete All's Well That Ends Bell Quest way easier, make sure to learn the Wingardium Levioso Spell during Professor Garlick's Assignment 1.
Finding the missing bells can be tricky, so follow our guide to learn where to find them and how to return them to the tower in the action video game developed by Avalanche Software.
How To Unlock All's Well That Ends Bell Side Quest In Hogwarts Legacy
To unlock the All's Well That Ends Bell Quest in Hogwarts Legacy, you'll have to advance the storyline until you've finished In The Shadow Of The Mine Quest with Sebastian.
Then, speak with the Hufflepuff, Evangeline Bardsley, in the Astronomy Wing of Hogwarts Castle to see why she's upset and start the side quest.
Evangeline Bardsley will ask you if you can return the bells in the tower to their correct places.
How To Go To The Music Room
After you finish the conversation with Evangeline Bardsley, follow the quest marker through Hogwarts Castle leading to the Music Room.
You can also find one of the many Field Guide Pages here.
Where To Find The Tower Bells
The tower bells are located above the Music Room.
Head up the stairs until you see two rows of bells of different sizes, with each row missing a bell.
How To Return The Missing Bells To The Tower
So, you'll have to find the two missing bells and place them in their rightful place.
You might've encountered the first bell when you climbed the stairs from the Music Room to the tower bells.
Pick it up with Wingardium Leviosa and place it on the bottom row, as seen in the image above.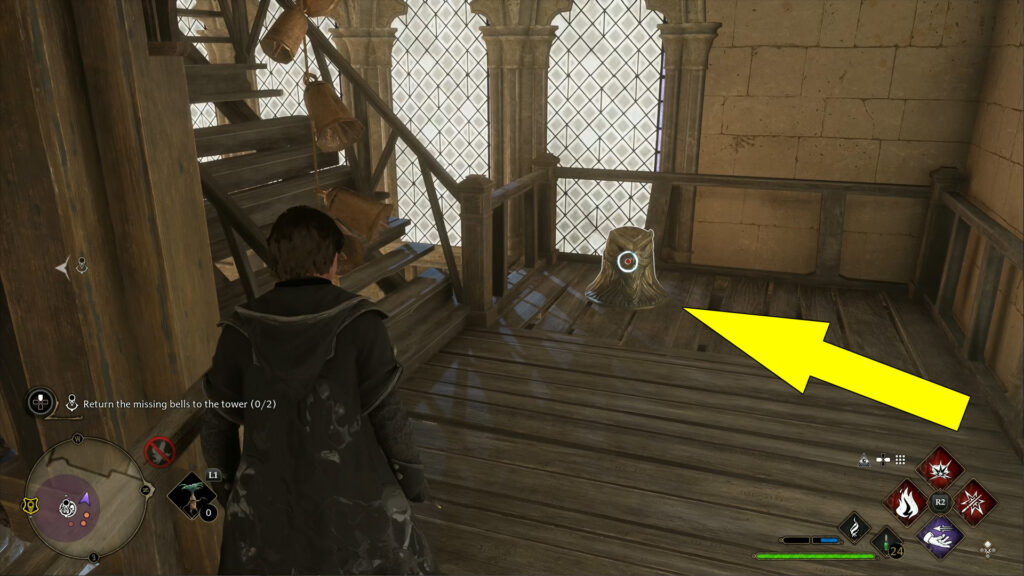 The second bell can be found further up the stairs above the bells on a platform that goes behind the stairs.
We've also marked its location in the image below.
Grab it with Accio, go down the stairs, and place it on the top row of the bells to make all of them start ringing, marking the puzzle completion.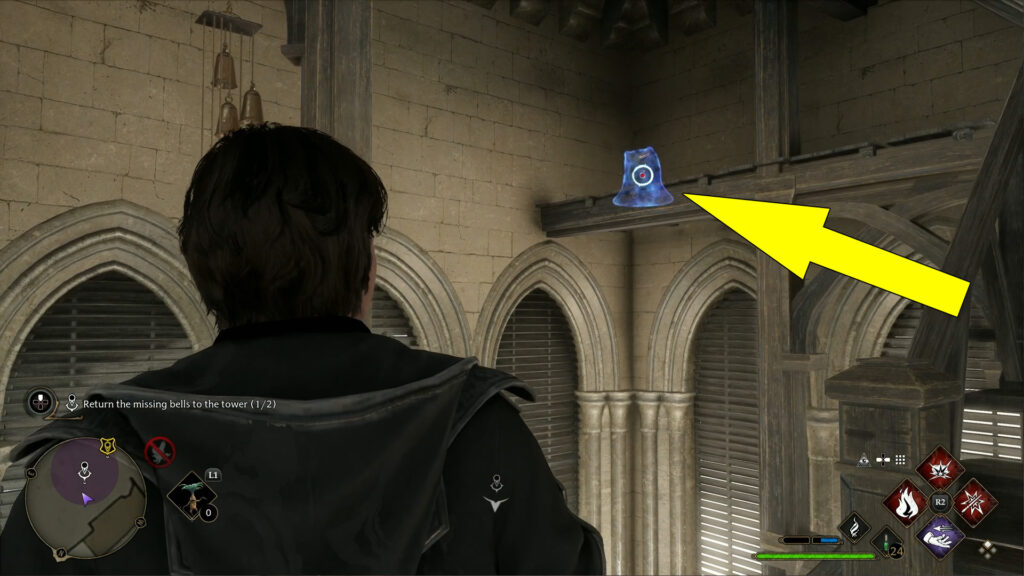 Return to Evangeline Bardsley and give her the good news, who'll be thrilled about your success in returning the bells to the tower.
And this marks the end of the All's Well That Ends Bell in Hogwarts Legacy. If you wish to complete more quests or find collectibles, consider visiting our Wiki Hub Here for the best guides you can find about the game.