In The Shadow Of The Bloodline is the first Hogwarts Legacy relationship quest as part of Sebastian Hallow's questline, which allows you to unlock the Unforgivable Curses.
In The Shadow Of The Bloodline, Sebastian and Ominis argue about the Dark Arts and the secret scriptorium. The quest is mandatory to complete if you want to unlock all three Unforgivable Curses. You can learn more about them in our Hogwarts Legacy Spells Guide here.
To unlock In The Shadow Of The Bloodline Relationship Quest, you must advance the story until you've completed the Astronomy Class Main Quest. Then, fast-travel to Great Hall Floo Flame to find Sebastian and Ominis arguing about using Dark Arts and Salazar Slytherin's scriptorium.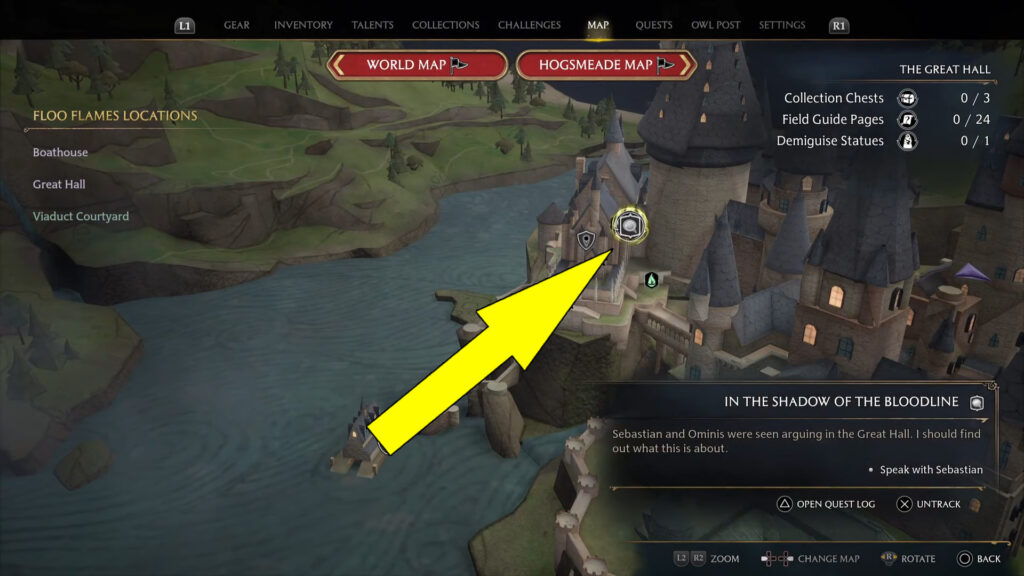 How To Complete in the Shadow of the Bloodline Quest
After Ominis and Sebastian finish their conversation, speak with Sebastian to learn why they were arguing. You'll learn that Ominis expresses concern about the dangers involved, while Sebastian believes that the scriptorium holds the answers they need to find a cure for Anne.
Pick the "I'm curious about the Dark Arts." dialogue option, followed by "You can tell me." to progress the quest and learn more about the Dark Arts. You can pick whatever dialogue option you want; it won't affect the end result of the questline.
Then, Sebastian will reveal that Ominis learned Dark Magic from his parents and was once forced to cast the Cruciatus Curse, which causes immense pain, on others. However, he struggled to cast it the first time and was punished by having the curse cast on him.
This led to a rift between Ominis and his family, which only grew until Sebastian came along. So, Sebastian decides to remind Ominis of their trust when he sees him again and assures you that he will make him understand and change his mind.
After you finish the conversation, you'll complete In The Shadow Of The Bloodline Quest without any notification. The next quest in line as part of Sebastian Hallow's questline is In The Shadow Of Discovery.