Hogwarts Legacy Potions Class is a main quest featured in Chapter 3 of the video game developed by Avalanche Software, and although it's similar to Herbology Class, it comes with a choice you'll have to make regarding a Fwooper Feather.
Hogwarts Legacy Potions Class quest also allows you to unlock the Potions Station in Sharp's Classroom and use it to brew your own potions whenever you need them.
Alongside the Potions Station, you'll get 260 XP, and if you have already completed The Girl from Uagadou, you'll be able to progress your story as a fifth-year Hogwarts student.
But first, you'll need to prepare a potion for Sharp and deal with the Hogwarts Legacy Fwooper Feather for Garreth.
Therefore throughout the following Potions Class walkthrough, we'll tell you how to complete all objectives and what happens if you steal Garreth's Fwooper Feather from Sharp's office.
Where To Find The Potions Class In Hogwarts Legacy
The Potions Class in Hogwarts Legacy is found in the Library Annex area, and if you have already explored the castle, you can fast-travel to the Potions Classroom Floo Flame.
If not, get the closest Floo Flame fast-travel point you have unlocked, then while tracking the quest, press Up on your DPad to mark the route on your minimap and summon the golden whisps to guide you to Sharp's Classroom.
Upon reaching the Potions Classroom, press (▢) – PS / (X) – Xbox while standing on the golden circle on the ground to start the quest.
After Sharp briefs you about his lessons and tells you what he expects from you, you'll get the chance to see how brewing Potions in Hogwarts Legacy works.
Specifically, you'll get the chance to brew a Wiggenweld Potion you can later use to heal some wounds. Not all of them as Sharp outlines.
To brew the Wiggenweld Potion, you'll have to complete a mini-game involving several steps:
Rotate the Right Thumbstick clockwise to crush the ingredients
Press X/A to add a pinch of Dittany
Press X/A to add Horklump Juice
Rotate the Right Thumbstick clockwise to stir in the cauldron
Good job! But even though Sharp seems happy with the Potion you managed to brew, he has a new task for you. And this specific task requires you to brew an Edurus Potion.
While you have the recipe from your trip to Hogsmeade as part of the Welcome To Hogsmeade main quest, you still need the ingredients:
Ashwinder Eggs
Dark Mongrel Fur
Luckily, the Edurus Potion ingredients are inside Sharp's office. Since he unlocked the office for you, head to the northern side of the classroom and try getting inside the office through the wooden door.
As you approach the door, you'll be interrupted by Garreth Weasley asking you if you can enter Sharp's office.
Be honest and answer with "You heard correctly," and he'll tell you that he is working on a potion that requires a Fwooper Feather.
Obviously, the Fwooper Feather in Hogwarts Legacy is found inside Sharp's office, and since you already have access to it, he will ask you to bring him the feather. Or help him brew his Potion if you want. Now, you'll be presented with two choices:
"I can get you that feather"
"I'm not sure that's a good idea"
Hogwarts Legacy Potions Class Fwooper Feather Choice
From the start, you should know that no matter what you choose, your decision will not affect the story, and it won't lock you out of any side-quests in the game.
However, if you choose not to get the feather, you'll miss a rather funny cutscene, and you won't unlock the Fwooper in your Beast Collection. You will be able to unlock it while exploring the world, though.
For these two reasons, you'll want to get the feather for Garreth, so accept his proposal and get inside the office.
As you enter, you'll find the Ashwinder Eggs, on the left side of the office, behind the door, and the Dark Mongrel Fur on Sharp's desk.
There are also a chest and a note inside the office, while the Fwooper Feather is located on the right side of the door.
As you can see below, it's pink and quite hard to miss.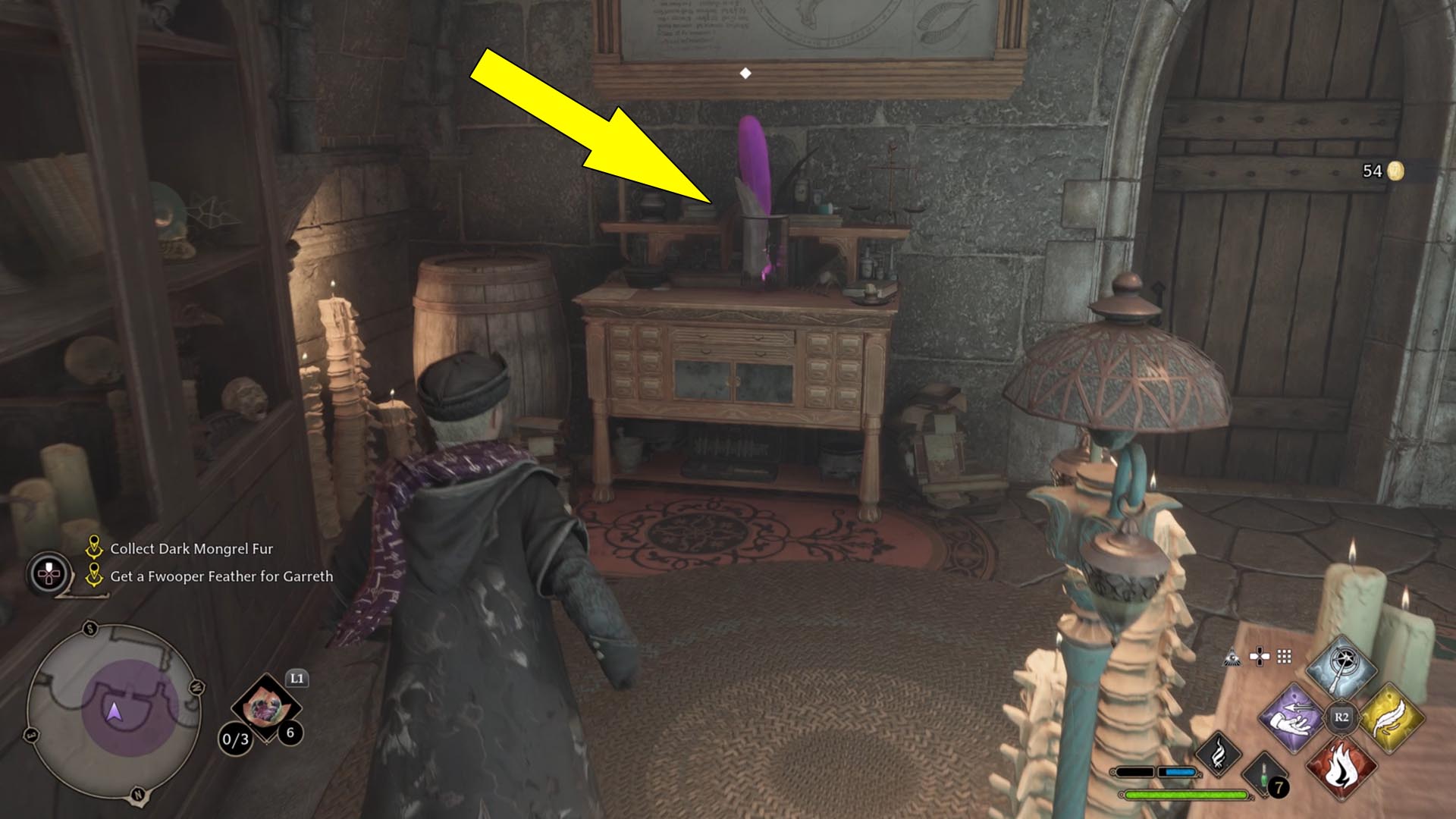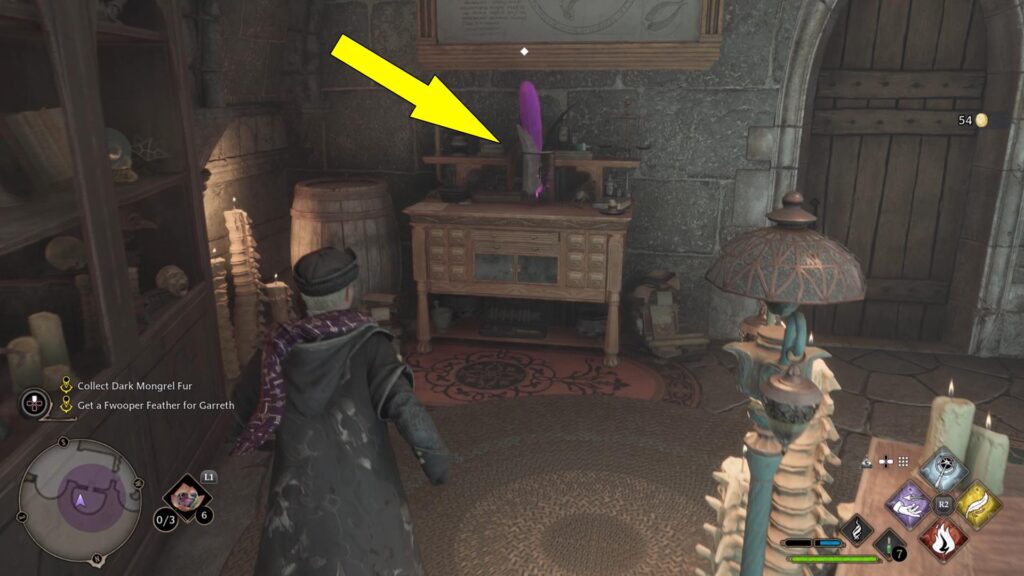 With your Fwooper Feather in your inventory, head back to the classroom and first talk to Garreth Weasley, who will thank you for finding it.
Now, you'll need to brew your Edurus Potion at the Station nearby.
How To Brew The Hogwarts Legacy Edurus Potion
To brew an Edurus Potion in Hogwarts Legacy, first, interact with the Potions Station by pressing (▢) – PS / (X) – Xbox.
Now from the list of Potions on the right side of the screen, select the Edurus Potion.
Now, press X/A to start brewing.
As you can see in the screenshot above, it takes only 30 seconds in real time to brew this type of Potion.
After you finish brewing, you'll witness a funny cutscene showing Garreth's station blowing up. This is a consequence of your earlier choice, and it won't occur if you refuse to bring Garreth the Fwooper Feather.
The second consequence takes place when you bring your Edurus Potion to Sharp. Talk to him, and he'll tell you he knows you took the Fwooper Feather from his office.
Now, you'll want to apologize, and he'll tell you that he'll forgive you because you have the courage to take responsibility for your actions. As you can see, Sharp, unlike Snape, is quite friendly. Despite his leg injury.
Regarding your Edurus Potion, Sharp also seems very satisfied with your work, so now the Hogwarts Legacy Potions Class ends, and you can start the next main quest named The Girl from Uagadou.