Hogwarts Legacy Spell Combination Practice 2 is another training side quest where you will learn to create spell combinations to keep the enemies even longer in the air.
Even though this side quest isn't mandatory like Spell Combination Practice 1, it is an excellent opportunity to learn new combinations using more spells.
So, follow this guide to learn how to complete the Spell Combination Practice 2 side quest in Hogwarts Legacy.
How To Start Spell Combination Practice 2 In Hogwarts Legacy
Spell Combination Practice 2 becomes available after you complete the Tomes and Tribulations Quest by bringing the book you've found in the Restricted Section to Professor Fig.
Afterward, find Lucan Brattleby in his usual spot in The South Wing part of Hogwarts Castle, near the Clock Tower Courtyard Floo Flame.
When you talk to him, select the first prompt message to begin the Spell Combination Practice 2 side quest.
How To Complete Spell Combinations In Hogwarts Legacy
To complete the Spell Combination Practice 2 Quest, you will go through three rounds of spell combinations using the following spells:
The first spell combination is relatively easy. You'll have to cast Accio, Incendio, and Levioso in this order. Make sure to have all of them equipped.
For the second spell combination, you'll have to start by casting Levioso, followed by three consecutive Basic Cast attacks by pressing (R2)/(RT), then cast Accio, and end it with Incedio.
While performing this combo, don't let the training dummy hit the ground.
The final spell combination is tricky and might require a couple of tries until you successfully perform it.
To complete the final spell combination, cast your spells in the following order: Accio, (R2), Incendio, (R2), (R2), (R2), Levioso, (R2), (R2), (R2), Accio, Incendio, (R2), (R2), (R2), (R2). Swap (R2) with (RT) if using an Xbox Controller.
Don't rush your Basic Cast attacks (R2)/(RT) because Incendio has a longer cooldown, and you might be unable to cast it in time for the second time.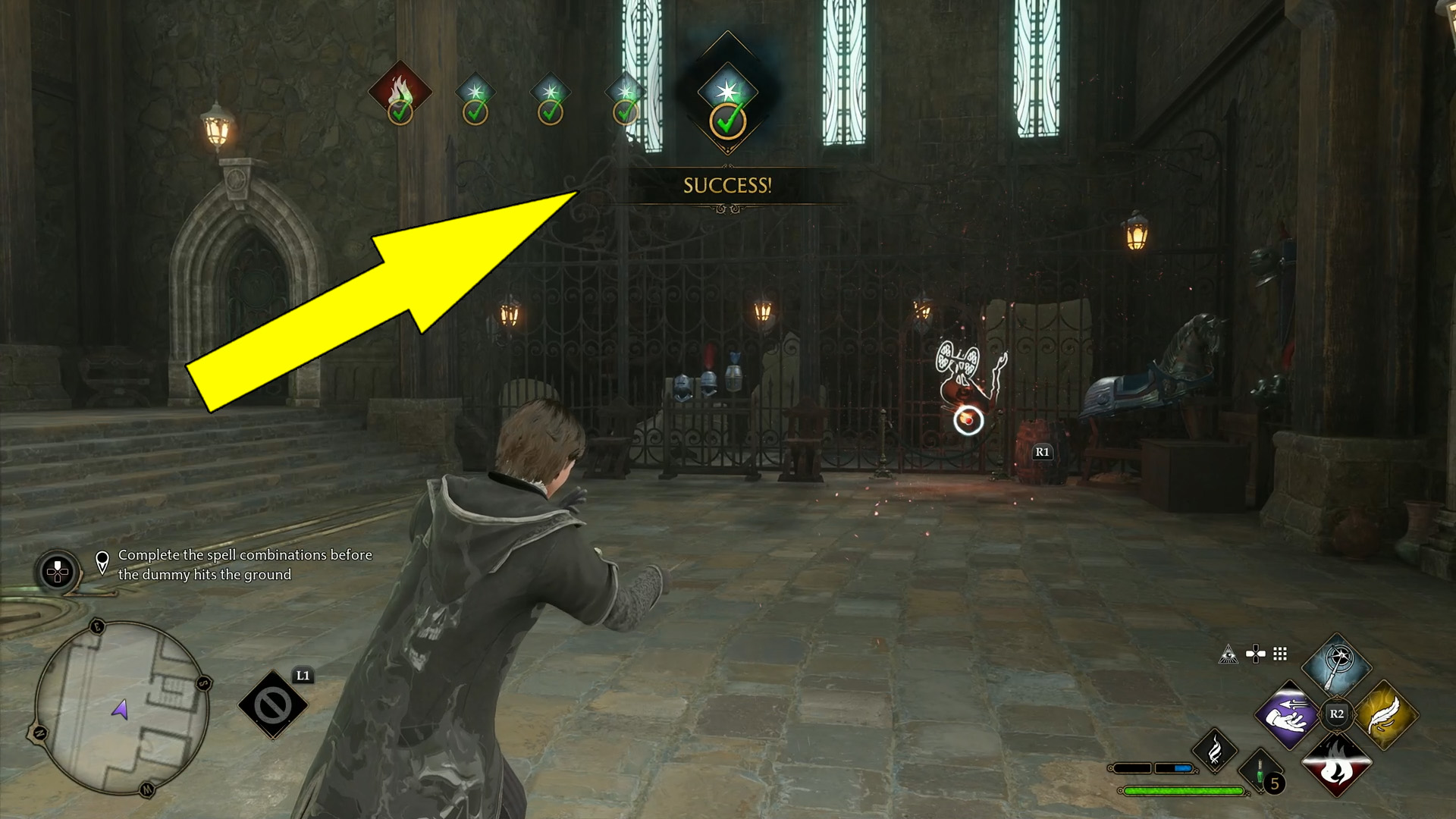 Also, if you have trouble performing this spell combination, you can skip this sequence if you change the game's difficulty in the settings to Story Mode Difficulty and fail this stage three times in a row.
It is less likely you will ever perform this spell combination in your adventures, but it is useful to know that you can do such things as this.
And that's how you complete the Spell Combination Practice 2 Side Quest in Hogwarts Legacy. If you are looking to solve more quests or puzzles around Hogwarts Castle, check out our Wiki Hub here for additional help.