Hogwarts Legacy Professor Sharp's Assignment 2 is a side quest focused on teaching you how to use the Invisibility and Thunderbrew Potions in the latest video game developed by Avalanche Software.
It is similar to Professor Sharp's Assignment 1, which must be completed to unlock the second task you'll receive from the Potions teacher at Hogwarts. Professor Sharp's Assignment 2 in Hogwarts Legacy, just like the previous one, can be completed in less than 5 minutes, or it can turn into a fetch quest if you decide to brew your own Potions.
Regardless of how you wish to approach it, our Hogwarts Legacy Professor Sharp's Assignment 2 walkthrough below covers both methods while explaining how to use the Thunderbrew and Invisibility Potions to complete the required tasks. To start Professor Sharp's second assignment, first, you'll have to complete the first series of tasks, or Sharp's Assignment 1.
Then, you'll have to keep an eye on your Owl Post because you'll receive another letter from Sharp.
You don't need to progress the story because Sharp's Assignments have the same requirement. Now make sure you read Sharp's letter, which reads:
Complete the task I've given you, and then meet me in my classroom to learn Diffindo, the Severing Charm. It's typically used to cut an object but can be a powerful weapon when needed.
So, as you can see, besides 150XP, you'll unlock one of the 34 Hogwarts Legacy Spells by completing this new quest Sharp has for you. Now, check the quests tab in your Field Guide, and you'll notice that there are two objectives you'll need to complete:
Acquire and use an Invisibility Potion.
Acquire and use a Thunderbrew Potion against enemies.
Now, let's go over these two objectives and cover them individually.
How To Acquire and Use an Invisibility Potion
The fastest and cheapest way to acquire and use an Invisibility Potion in Hogwarts Legacy is by completing A Demanding Delivery side-quest for J. Pippin because, during the said side-quest, you'll need to deliver some Invisibility Potions to Fatimah Lawang.
After you find her, she'll ask you to drink one of them, and the first Professor Sharp's Assignment 2 objective will also be completed. Since you receive the potions from Pippin, you won't have to spend a single Galleon for this first task. If you have finished A Demanding Delivery, open your Field Guide Map and select Hogsmeade.
Now, fast-travel to the small town and visit J. Pippin's Shop marked below. You may remember it from the previous assignment.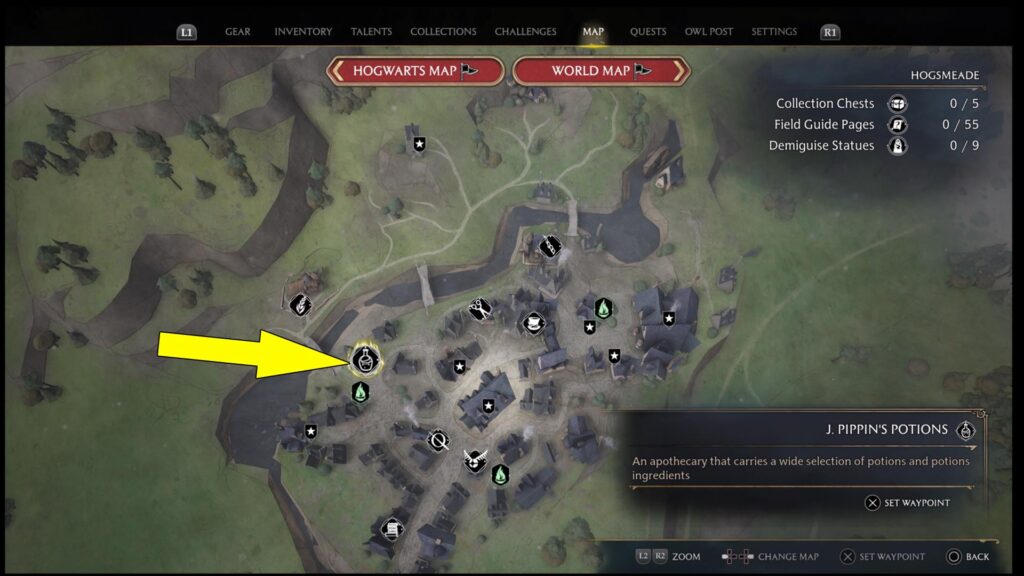 Enter J. Pippin's Potions shop and talk to the vendor. Make sure you buy the Invisibility Potion from his inventory for 800 Galleons. Now exit the shop, and while standing outside, equip the Potion by pressing and holding down L1/LB and selecting it from the Tools Wheel using the Right Thumbstick.
Release L1/LB after you select the Potion. Now, simply tap L1/LB to use the Invisibility Potion. The third method to complete the first task is to brew the Invisibility Potion, but for this, you'll need the following ingredients:
Invisibility Potion Recipe – Obtained from J. Pippin for 800 Galleons
1 Leaping Toadstool Cap – Obtained by gathering the red mushrooms which grow everywhere
1 Knotgrass Sprig – Obtained by growing Knotgrass at any Potting Table or from The Magic Neep shop in Hogsmeade
1 Troll Bogey – Dropped by Trolls after defeating them
After you get all the necessary materials, you can brew the Potion at any Potion Station, such as the one in the Potions Classroom, and then use it following the steps above.
How To Acquire and Use a Thunderbrew Potion Against Enemies
To acquire and use a Thunderbrew Potion against enemies, first, you'll need to get your hands on a Thunderbrew Potion. Luckily, you can also buy this one from J. Pippin's Shop, marked on the map above, for 1.000 Galleons.
If you don't have enough money, consider selling some of the Gear you no longer use. Once you buy the Potion, equip it following the steps above. However, this time, you'll need to use the Thunderbrew Potion on enemies, so you'll have to do some exploration until you find a group of enemies. Make sure that there are at least two enemies in the said group.
While you can do this on any group you want, for the sake of our Hogwarts Legacy Professor Sharp's Assignment 2 guide, we recommend visiting the ruins east of East Hogsmeade Valley Floo Flame.
At the location we have marked, you'll find a small camp, and the Poachers there are perfect for testing your Potion. Simply enter the camp, let at least two enemies get close to you, and then tap L1/LB while the Thunderbrew Potion is equipped. You'll summon a storm, and to complete the task, you'll have to hit two enemies with lightning.
Similar to the previous Potion, you can be the Thunderbrew Potion if you have the following materials:
Thunderbrew Recipe – Obtained from J. Pippin for 1200 Galleons
1 Leech Juice – Obtained from Leeches found around most water sources (rivers/lakes)
1 Shrivelfig Fruit – Obtained by growing Shrivelfig at the Potting Table or by purchasing it from The Magic Neep Shop in Hogsmeade
1 Stench of the Dead – Obtained by killing Inferi
Regardless of how you choose to obtain the Potion, once you have it, use it to damage two enemies. After completing the second task, it's time to pay Sharp a visit, so open your map, navigate to Hogwarts, and select the Potions Classroom Floo Flame in The Library Annex.
After talking to Sharp, you'll get the chance to learn the Diffindo Spell by completing the associated mini-game. Simply guide your wand (blue arrow) on the pattern on the right side, and press the buttons that appear on the pattern when your wand is above them.
After you unlock Diffindo, you can also practice the new spell on the dummy in Sharp's office, but make sure you equip it by pressing Right on your DPad. And that's it! You completed Hogwarts Legacy Professor Sharp's Assignment 2, so now you should focus on the main quest named In the Shadow of the Undercroft.