Ghost Of Our Love is a Hogwarts Legacy treasure hunt quest in which you'll have to find a treasure using the clues from the Map with Floating Candles. But if you're not a fan of treasure hunting, it can be pretty challenging to find the treasure, especially if you haven't visited the locations marked on the treasure map.
Ghost Of Our Love Side Quest has two different starting locations, but how you complete it is the same. The first starting location is at the Apollonia's Hideout underneath Hogwarts along the coast of Black Lake, inside a chest. You'll visit Apollonia's Hideout for the first time during Scrope's Last Hope Main Quest, where you try to recover a ring for Scrope and meet with the decapitated ghost named Richard Jackdaw.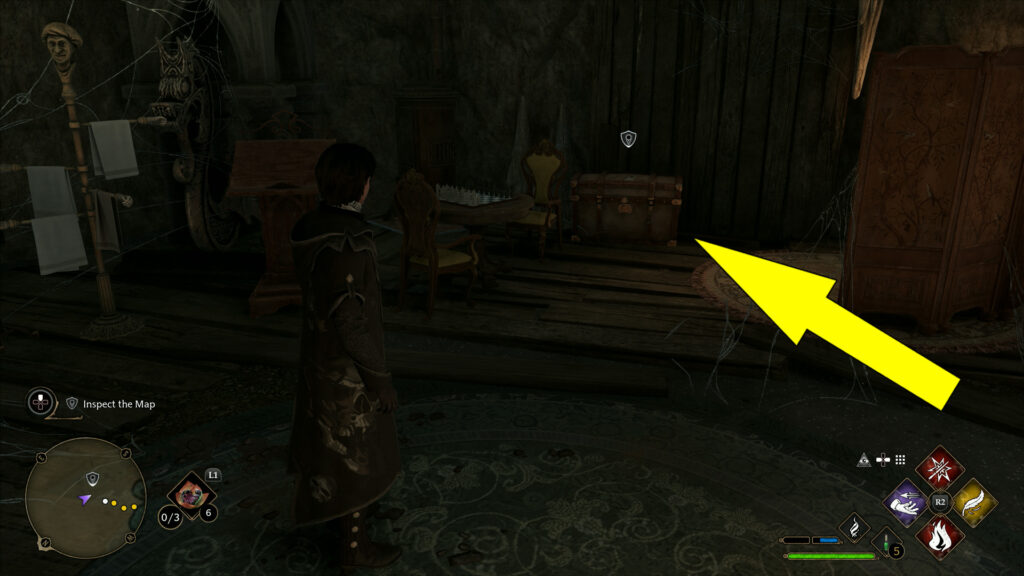 The second starting location is in Upper Hogsfield, part of the Hogsmeade Valley region, inside a similar chest behind Claire Beaumont's vendor stall. The chest will spawn at the location below only after you complete the Potions Class Main Quest.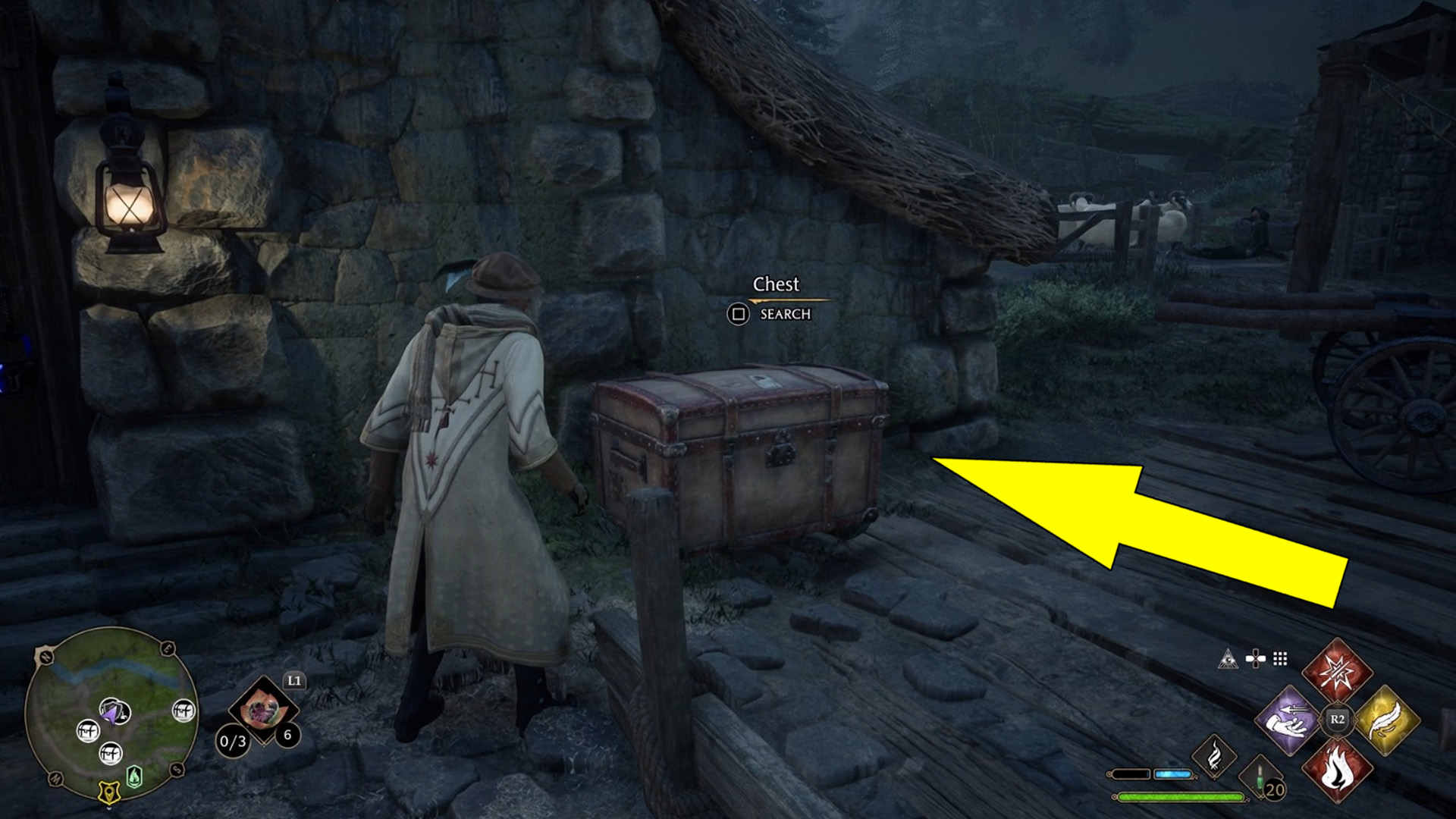 After you search inside one of the chests mentioned above, you'll obtain a treasure map, starting the Ghost Of Our Love Quest.
How To Use the Map With Floating Candles
The map shows you a stone bridge near the Forbidden Forest. Open the map, select the Forbidden Forest Floo Flame, which you've unlocked on your way to Hogsmeade during Welcome to Hogsmeade Main Quest, and press (▢)/(X) to fast-travel.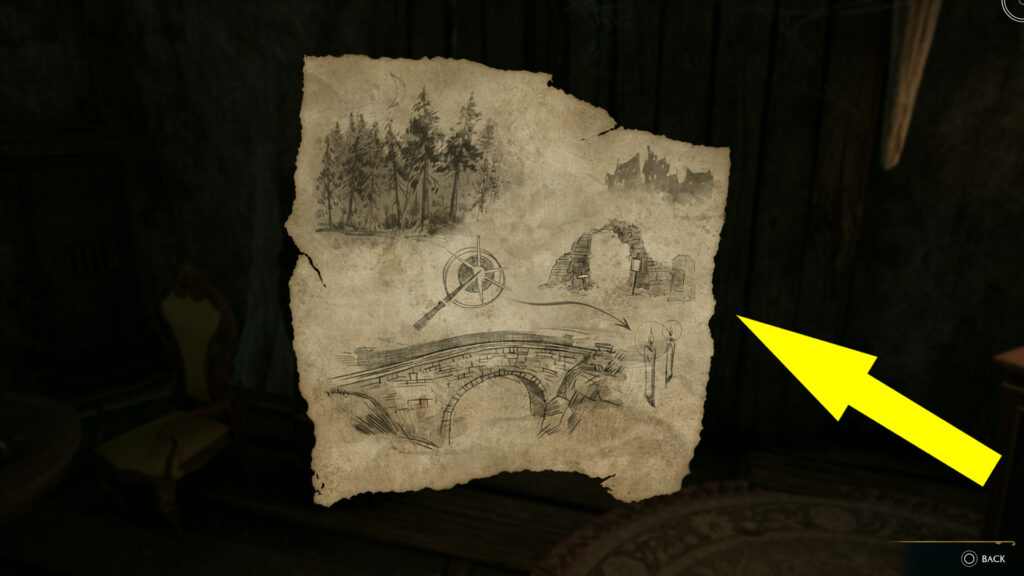 We've also marked the location of the Forbidden Forest Floo Flame on the map below in case you don't have it unlocked.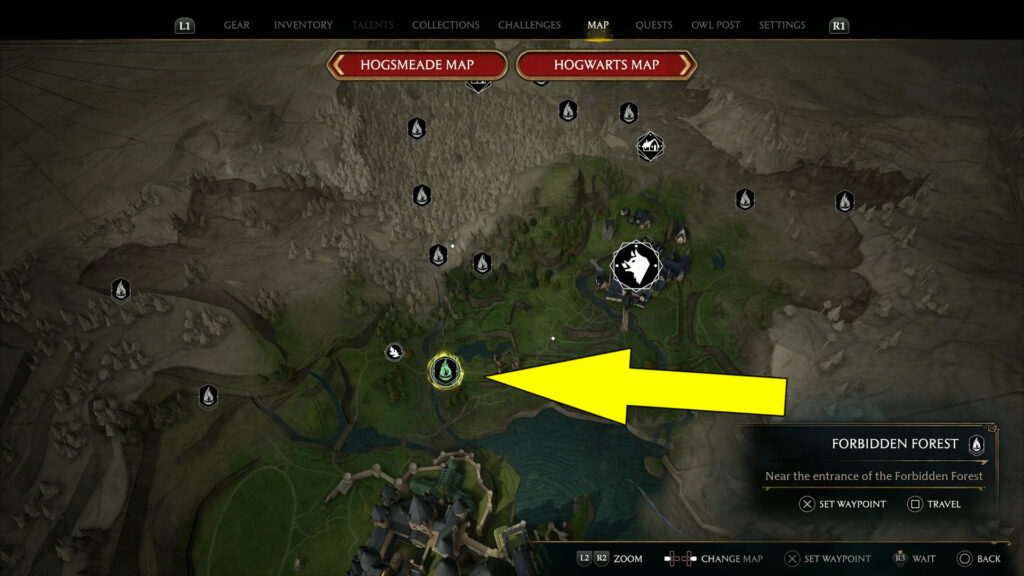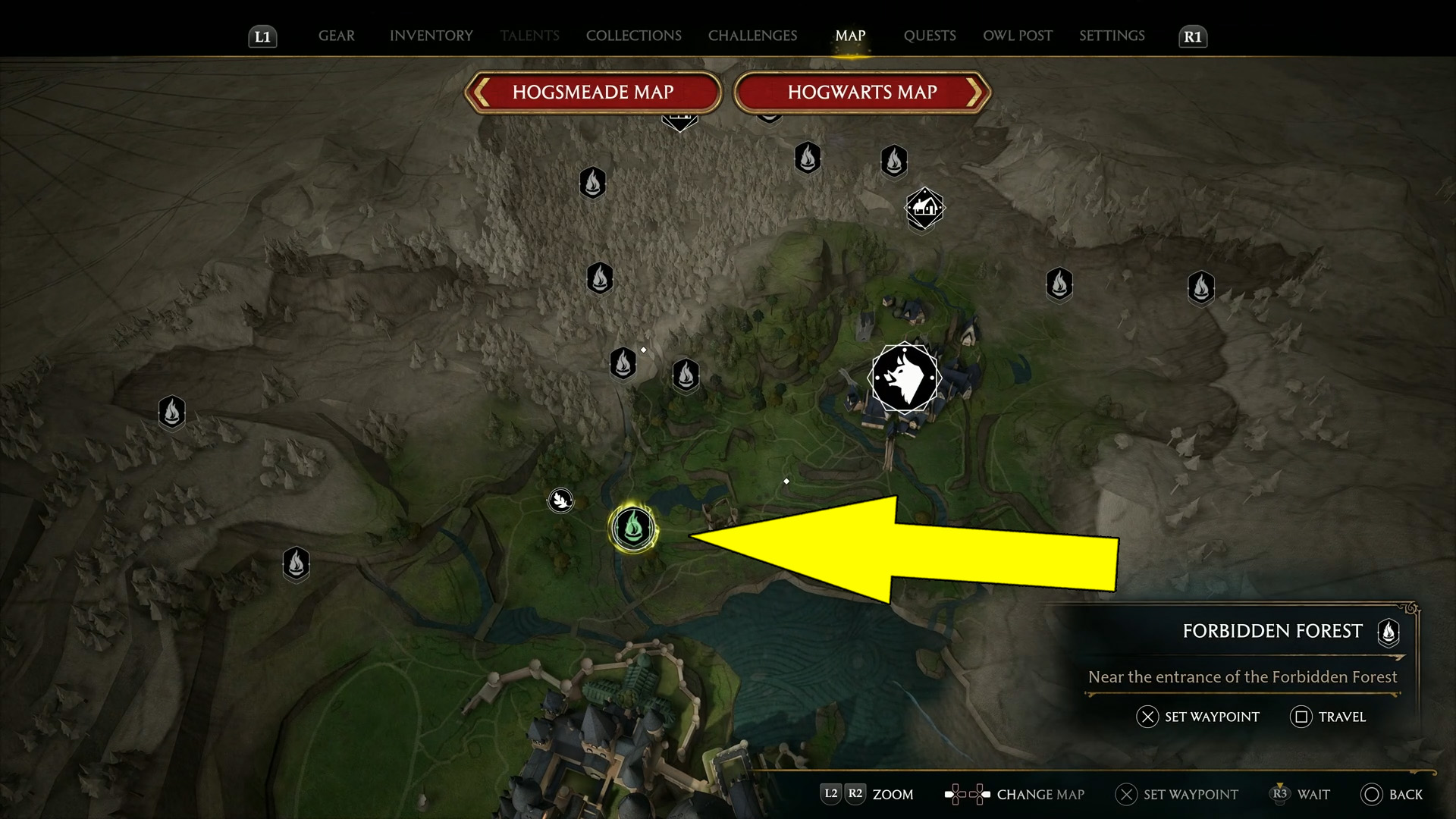 If it's daytime when you get there, open the map and press (R3)/(RS) to advance time from day to night because the map shows you the Forbidden Forest during nighttime. Once it's nighttime, get close to the stone bridge to the west near the Forbidden Forest Floo Flame and cast the spell Lumos. A couple of Floating Candles will appear in front of you.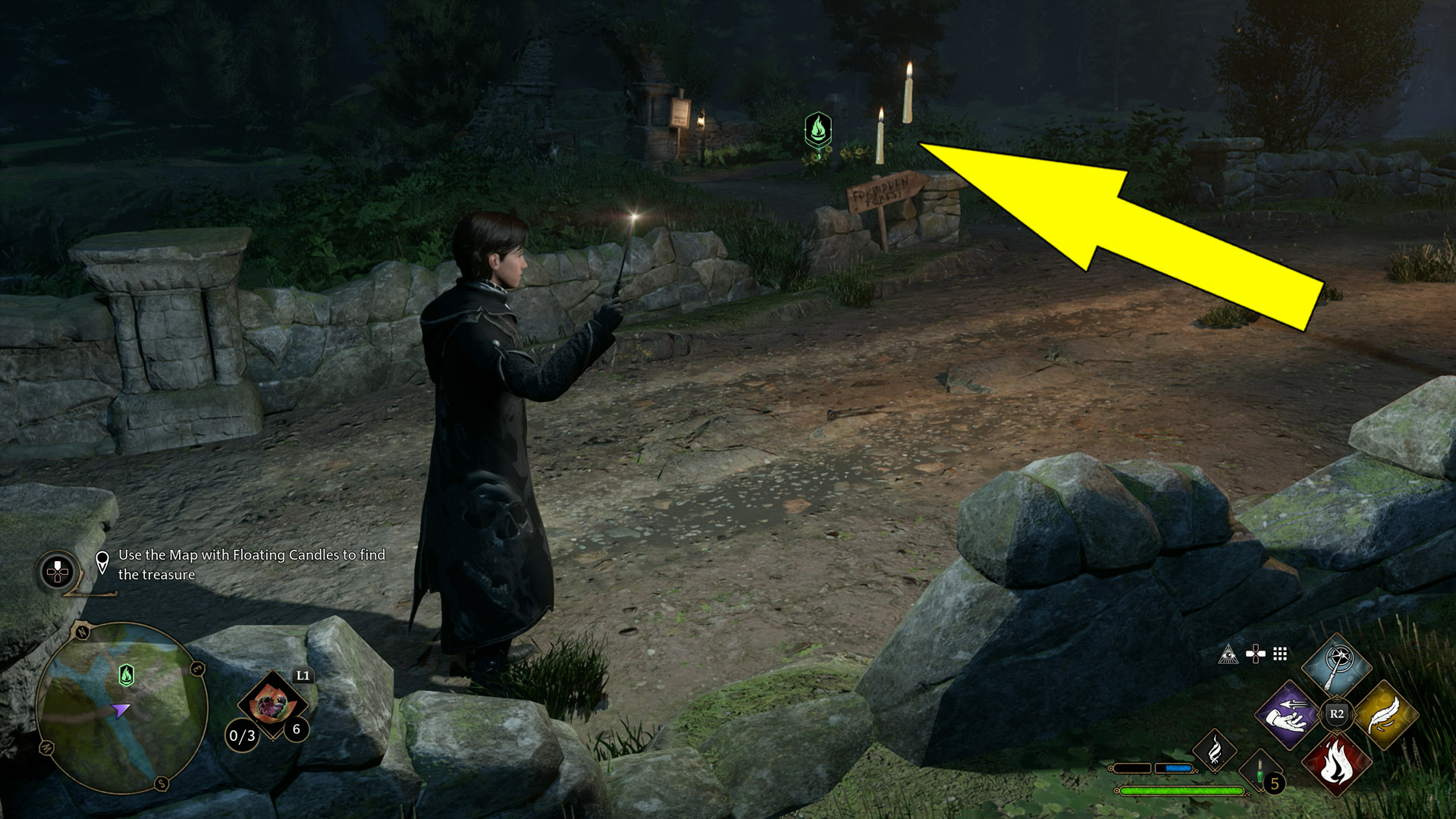 Follow the Floating Candles through the Forbidden Forest. Once you reach a white dining table with two chairs, they will reveal the chest containing the treasure.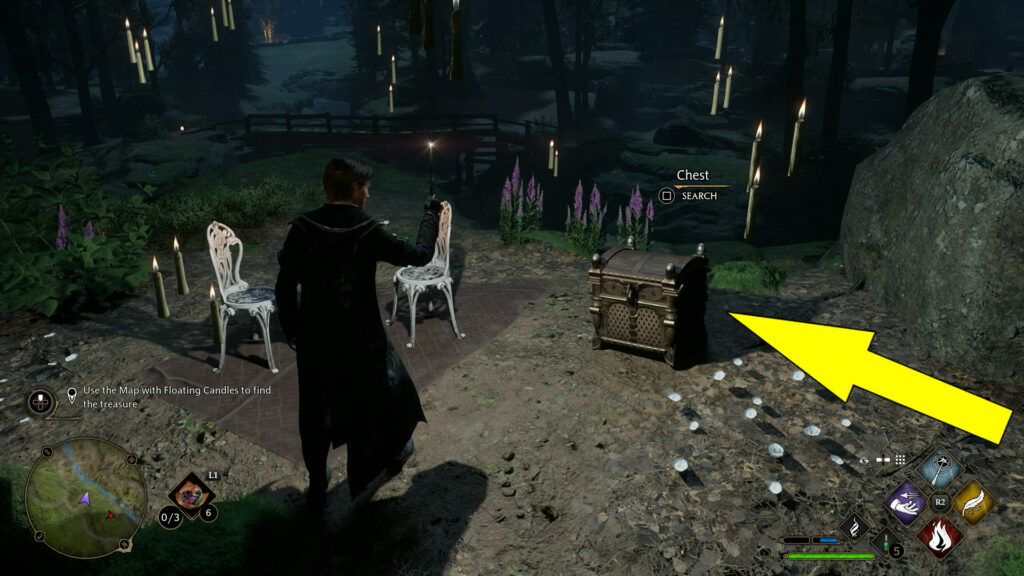 Open the treasure chest to receive Treasure-Seeker's Scarf Gear Appearance, 400 Galleons, and 180 XP, which will finish the Ghost Of Our Love in Hogwarts Legacy.