Madam Kogawa's Assignment 2 is the second and final Assignment you'll receive from your Flying Class Teacher in Hogwarts Legacy, the Harry Potter-inspired video game published by Warner Bros. Games.
Hogwarts Legacy Madam Kogawa's Assignment 2 is very similar to Madam Kogawa's Assignment 1, even though the objectives or tasks you'll receive look different.
Basically, to complete the second Madam Kogawa Assignment, you'll need to pop 10 Balloons or two Balloon Sets found at fixed locations.
For completing your task, you'll be able to unlock a new spell and add it to your Hogwarts Legacy collection of Spells.
As such, throughout the following guide, we'll discuss how to practice flying in Madam Kogawa's Assignment 2.
How To Start Madam Kogawa's Assignment 2 In Hogwarts Legacy
Madam Kogawa's Assignment 2 starts shortly after finishing the previous Assignment when you pop the first two Balloon Sets.
You don't have to progress the story or visit your Flying Class teacher, but you'll need to keep an eye on your Owl Post for a second letter sent by Kogawa.
As usual, you'll be notified when the letter arrives, so check your Owl Post Tab in the Field Guide, then open Madam Kogawa's Tab to find the second letter.
Hello,

I believe you are ready to learn Arresto Momentum, the Slowing Charm. It allows you to freeze objects or people in midair. Simply complete a few tasks and then come and see me.

Madam Kogawa
As you can see, this second Assignment unlocks the Arresto Momentum. To learn more about the tasks mentioned by Kogawa, check your Quests Tab, and you'll learn that you have to:
Practise flying near the Spires
Practice flying near Keenbridge Tower
Both locations are in Hogwarts Valley, south of Hogwarts School of Witchcraft and Wizardry. Let's go over these objectives in order.
How To Practise Flying Near The Spires
To practice flying near the Spires, first, you'll have to reach the location marked on the map below.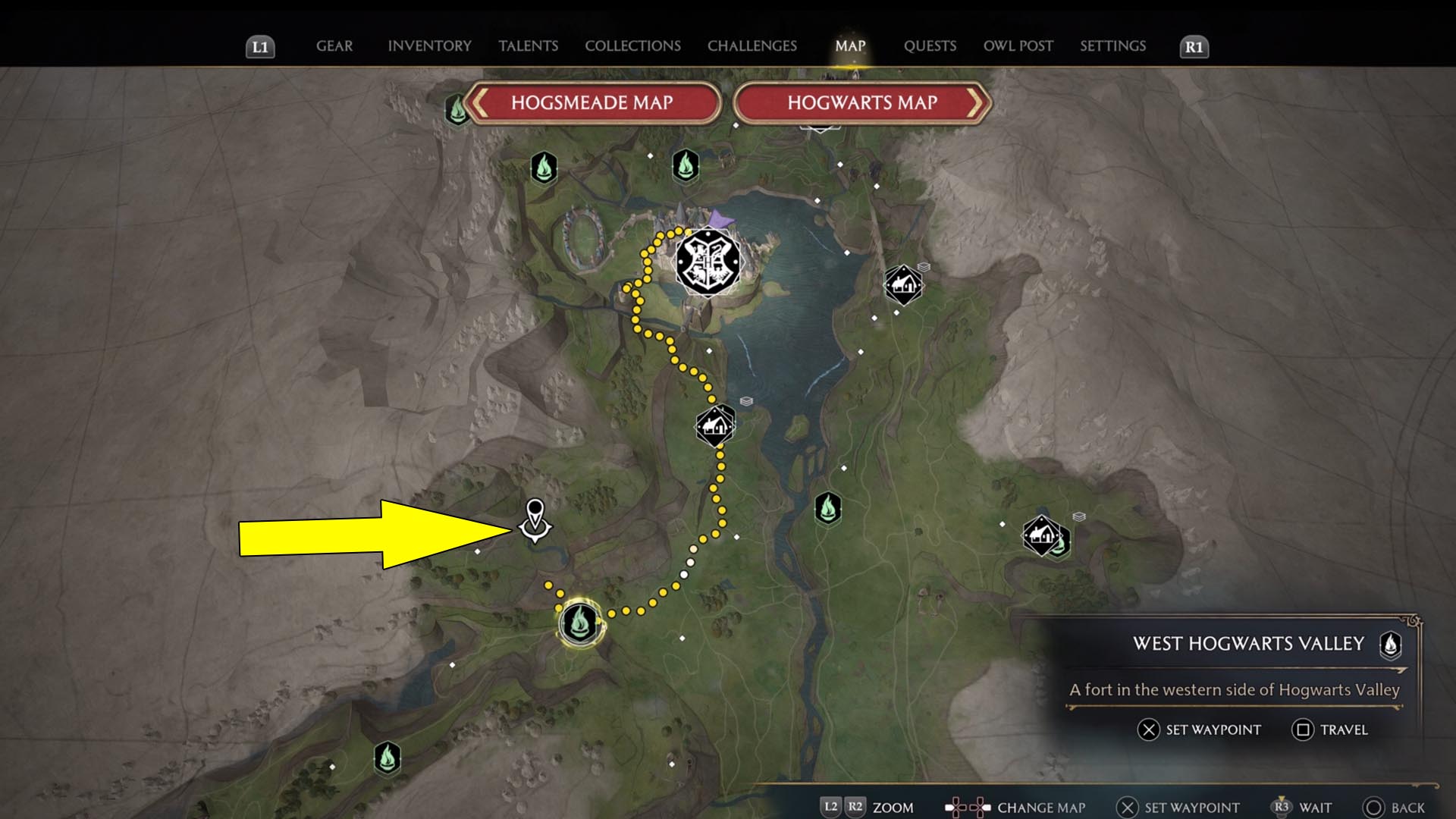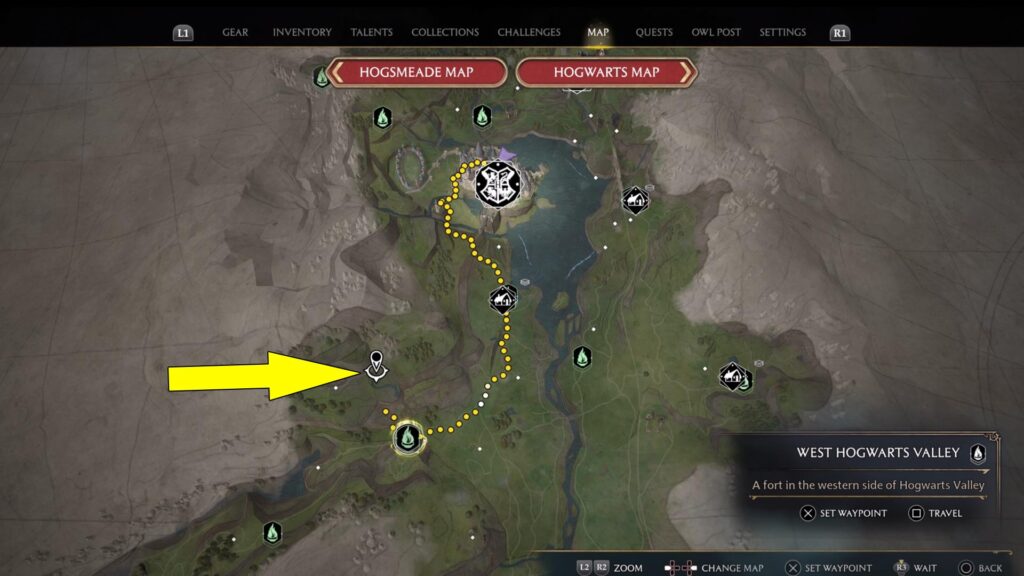 The fastest way to do this is by fast-traveling to the West Hogwarts Valley Floo Flame and then using your broom to fly northwest toward the search area.
If you didn't unlock the Floo Flame, you'd have to fly southwest of Hogwarts after you track the current quest.
Regardless of how you decide to get there, when you get to the pointer on your map, you must look for more flying Balloons.
The Balloons you'll need to pop are aligned, as you can see in the following screenshot, and your objective is to pop all 5 of them. Or the entire set if you want.
Even though there is no timer if you want to pop all of them as fast as possible, consider starting with the westernmost Balloon (in front of the archway) and flying east in a straight line.
Great job! Now let's see where to find the next set.
How To Practice Flying Near Keenbridge Tower
Hogwarts Legacy Keenbridge Tower is also found in Hogwarts Valley, southeast of your current location, as you can see on the following map.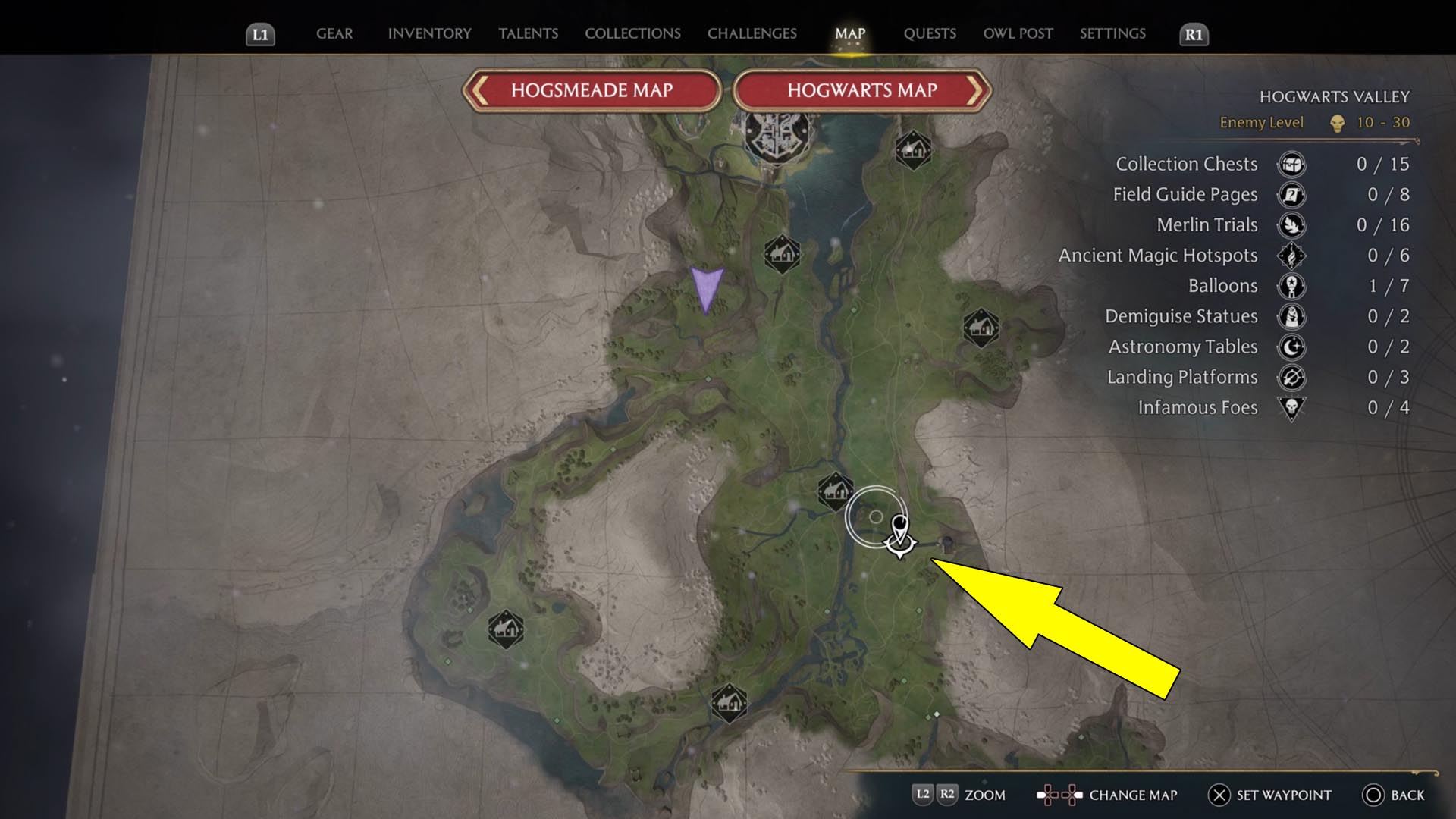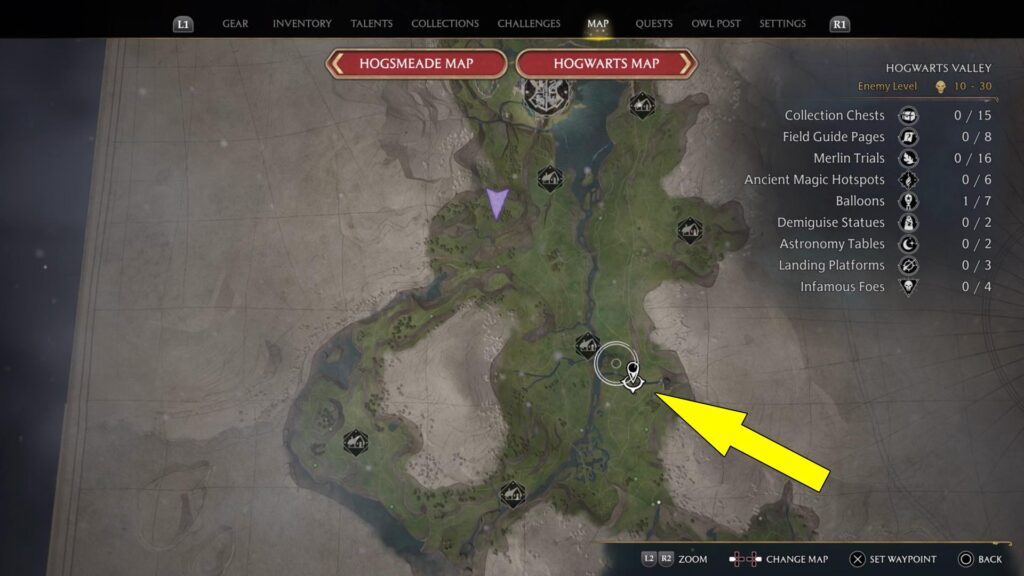 Again, fast-travel to the closest Floo Flame or use your broom to get to the search area.
While flying around, you'll find another set of 5 Balloons you'll need to pop by bumping into them.
Similar to the previous set, for the Keenbridge Tower Balloons, you'll want to start with the one above the small castle (westernmost) and fly east, following the glowing bubbles you can hit to speed up.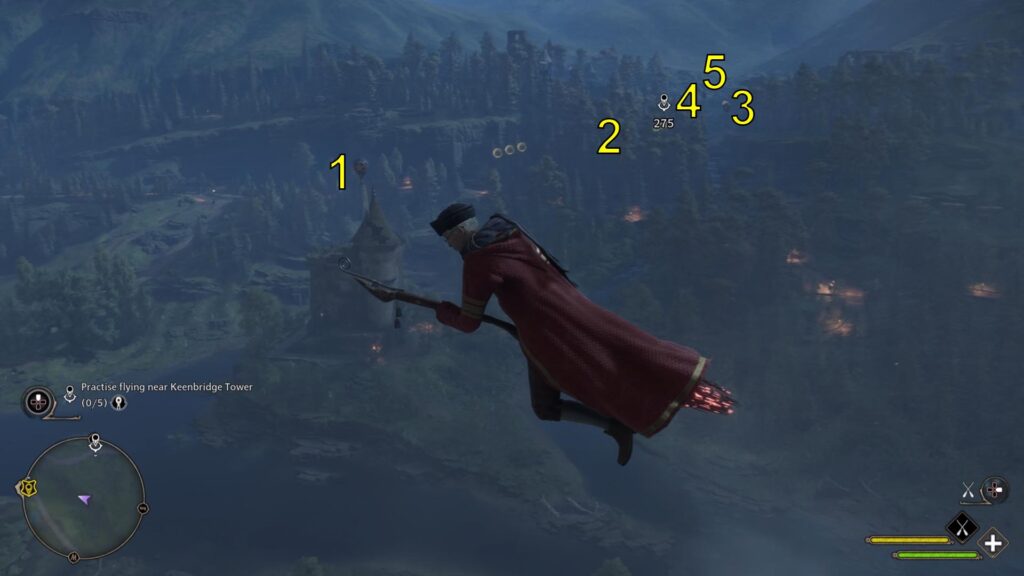 Remember that there is no timer, so you don't have to rush. Now, before heading back to Madam Kogawa, you should know that the two sets of Balloons you just popped count as collectibles. This means that out of 7 Hogwarts Valley Balloon Sets, you just found 2.
Great! Now, open your map, and select the Hogwarts Map, followed by The Bell Tower Wing and the Flying Class Lawn Floo Flame.
After you fast travel, find Madam Kogawa and talk to her inside the small office on the school's exterior wall.
Finally, you'll be able to learn the Arresto Momentum Spell by completing the associated mini-game, which requires you to guide your blue wand following the pattern on the right side of the screen. Make sure you hit the corresponding buttons when your wand is above them to speed up.
After finishing Madam Kogawa's Assignment 2, feel free to find more Balloon Sets, and if you need help, check our Hogwarts Legacy Wiki Hub for all collectibles locations.