Hogwarts Legacy Prisoner Of Love is a Hufflepuff-exclusive main quest in which you can help solve a decades-old murder and find the missing pages from the book you found earlier in the story.
You can complete Prisoner Of Love only after finishing the Trials Of Merlin main quest, where you meet Nora Treadwell.
Nora will introduce you to the Merlin Trials, which are puzzles scattered through the beautiful world of the video game developed by Avalanche Software.
When you are done with your first Trial of Merlin, you can speak with Eldritch Diggory and start the Prisoner Of Love main story quest, which features a puzzle that can be tricky if you don't know what needs to be done.
Since Prisoner Of Love is exclusive to the members of the Hufflepuff House, it's worth knowing that if you opted for the Slytherin House, you'll get to play another quest named Scrope's Last Hope.
On the other hand, Gryffindor members will have to complete The Hunt for the Missing Pages, and Ravenclaw students, the main quest named Ollivander's Heirloom.
How To Start Prisoner Of Love In Hogwarts Legacy
As mentioned, to start this story quest, you have to talk to Eldritch Diggory, who is waiting for you in the Hufflepuff Common Room.
So, open your map, select the Great Hall flag on the west part of Hogwarts Castle, and track the Prisoner Of Love quest by pressing X/A (on your PlayStation/Xbox controller) on the corresponding icon.
Now to get there, you can either follow the tracker on your minimap or fast travel to the Hufflepuff Common Room Floo Flame.
When you reach the location of the yellow marker, you'll see that Eldritch Diggory is actually a painting, but that doesn't stop him from speaking with you, starting the Hogwarts Legacy Prisoner Of Love main quest.
Where To Find Helen Thistlewood
Eldritch wants you to solve an old murder and sends you to his great-nice, Helen Thistlewood, who was a skilled Auror in her day.
The murder Eldritch is talking about was Helen's case, and that is why you must speak with her.
Therefore, make your way to Helen's hamlet, Upper Hogsfield, north of Hogsmeade.
There is a Floo Flame right in Upper Hogsfield that you can use to fast travel to. If you don't have it unlocked, just follow the quest's tracker, and you'll get there at your own pace.
Helen's house is right in front of the Upper Hogsfield Floo Flame, to the northeast.
Head inside, where you can find Helen and Eldritch. Talk to the retired Auror to see what's next in the Hogwarts Legacy Prisoner Of Love main quest.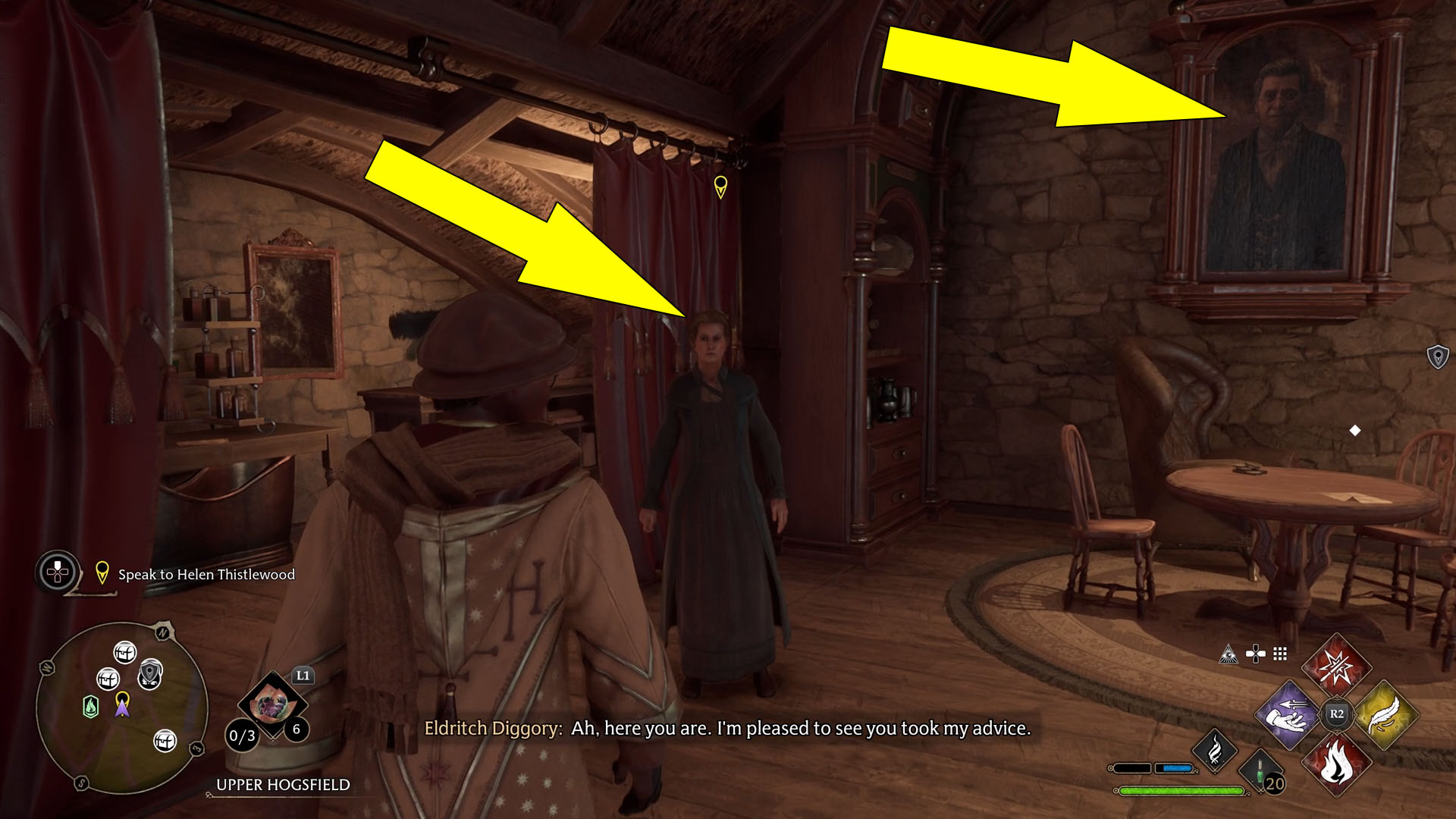 She will tell you that a student named Richard Jackdaw disappeared decades ago after meeting a girl named Anne.
Long story short, Anne got convicted of Richard's murder and got sent to Azkaban.
Now, you must go with Helen to Azkaban and talk to Anne yourself. Luckily, Helen can Apparate (teleport) you both there.
After a short cutscene, you'll find yourself in the scary Azkaban, and you must follow Helen to Anne's cell.
Anne gives you hints that the missing pages that will exonerate her and that you are looking for are located in a vault in some ruins near Upper Hogsfield.
Where To Find What Jackdaw Left For Anne
After your discussion with Anne, she will attack Helen, and you'll find yourself back in Upper Hogsfield because the Auror used her magic again to transport you here.
Now you must find the ruins Anne told you about. It will be fairly easy because their location it's tracked, and you can use your minimap to get there, northwest of Upper Hogsfield.
Following the tracker, you'll end up in a cave where the ruins are located.
Explore the cave, and you'll reach a blocked entrance leading to the vault Anne was talking about.
To enter the vault and get a step closer to completing the Prisoner Of Love quest, you must solve a little puzzle.
Position yourself in front of the vault's entrance so you can see all the handles on the wall (the ones to the left and the ones to the right).
Now press the Right button on the D-pad of your controller to cast Revelio, and some of the handles will get highlighted.
To continue, you have to pull the highlighted handles using the Accio spell, learned in the Charms Class Main Quest.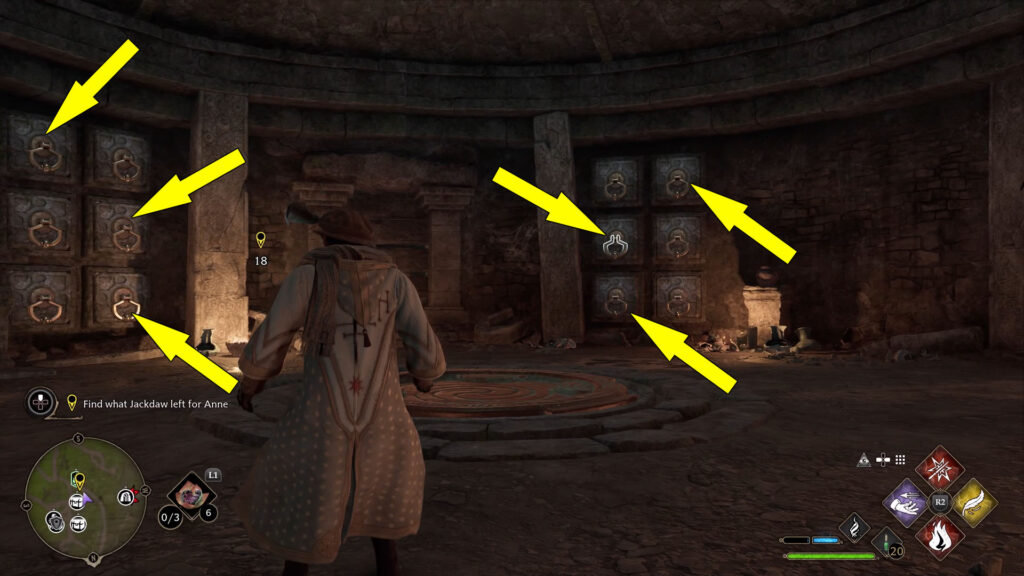 You have to pull the handles one at a time, and the order doesn't matter, but if you pull one that is not highlighted, you have to restart.
Doing so will clear the entrance to the vault for you to enter.
Inside on the left side, you'll find a note for Anne that you must read.
Then head outside the cave to meet Jackdaw's ghost, whom you have to speak with.
After the conversation comes to an end, so does the Hogwarts Legacy Prisoner Of Love main quest. But the story goes on as you still haven't obtained the missing pages, and if you encounter any difficulties along the way, don't forget to check our Hogwarts Legacy Wiki Hub for more helpful guides.