South Hogwarts Region Infamous Foe, or The Insatiable Spider, is a level 25 Hogwarts Legacy boss enemy that can be hard to beat if you are not at the same level. Just like with other Infamous Foes in Hogwarts Legacy, you won't just fight The Insatiable Spider alone because his minions will accompany him.
Before reaching the boss enemy, you'll also have to fight a level 27 Thornback Matriarch, who can be even more difficult to defeat because of the higher level.
Where To Find the South Hogwarts Region Infamous Foe in Hogwarts Legacy
If you are wondering why you can't find the South Hogwarts Region Infamous Foe even though you've explored the area carefully, it's because The Insatiable Spider can be defeated only during the Tangled Web side quest. To start this quest, you must talk to Crispin Dune at The Three Broomsticks Inn in Hogsmeade.
Then, you'll have to travel to the Aranshire hamlet, east of Hogwarts Castle, at the location marked on the following Hogwarts Legacy map.
Once in the small hamlet, you must fight a bunch of spiders; then you must look for Mary, whose body is wrapped in a spider web in the first house north of the Floo Flame. Interact with the spider web, then leave the house and go to the cellar behind the building.
Now let's see how to defeat The Insatiable Spider, who is waiting for you somewhere in Mary Portman's Cellar.
How to Defeat the Insatiable Spider
After entering the cellar, you must first find 12 Egg Sacs and destroy them. If you have problems finding the Egg Sacs, refer to our Tangled Web side quest guide. Make sure you stock up on Ancient Magic energy along the way because you'll need it to defeat the stronger enemies.
Once you've destroyed the Egg Sacs, you must follow the quest's tracker to find the source of the eggs. However, the level 27 Thornback Matriarch we've mentioned will get in your way, and we suggest using Ancient Magic on the tanky enemy. But make sure you save enough for the final boss.
Upon defeating the Thornback Matriarch, continue following the quest's tracker, and you'll finally find The Insatiable Spider.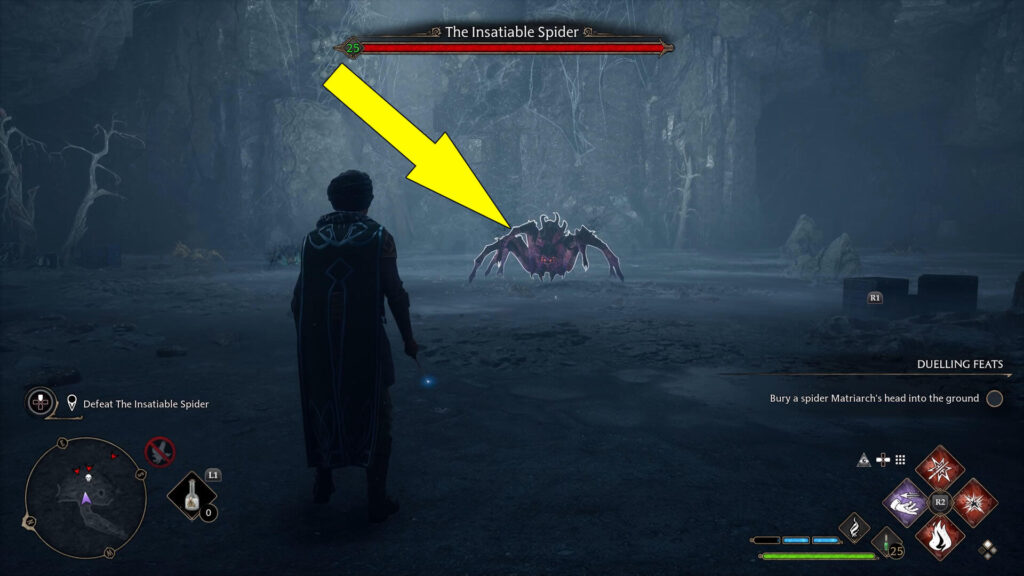 First, try to defeat the smaller mobs, then focus on the boss. Use all the remaining Ancient Magic shots on the boss, then finish the Infamous Foe with regular damage spells (the red ones). Don't forget to dodge his powerful attacks by pressing the Circle/B button on your PlayStation/Xbox controller.